Summary
Des Dearlove is a British business journalist, management theorist and a prolific author. He is also the co-founder of Thinkers50, the first global ranking of management thinkers with Stuart Crainer.
A BSc in Politics and Economics from the University of Southampton. Des Dearlove has an extensive background in journalism. He is a former columnist to The (London) Times and contributing editor to Strategy+Business. He was the co-editor (with Stuart Crainer) of the Financial Times Handbook of Management.
As an author, Des Dearlove has recently released a compilation titled 'Certain Uncertainty: Leading with Agility and Resilience in an Unpredictable World' released as a co-branded book series in collaboration with Wiley and Thinkers50. In 'Certain Uncertainty', he discusses how to build resilience and agility into our lives and businesses, and he does it through advice and fresh thinking from accomplished business leaders.
He is a prolific author and has co-written several other books including: Generation Entrepreneur (FT.com), Gravy Training: Inside the Business of Business Schools (Jossey-Bass), and The Ultimate Book of Business Thinking (Capstone).
Des Dearlove has also written fiction books under the pen name of D.D. Everest. He has authored Archie Greene, a trilogy for children (published by Faber & Faber). In 2014, Archie Greene and the Magician's Secret was shortlisted for the National Book Awards.
Des Dearlove has also taught at leading business schools, including IE Business School, and the Saïd Business School at Oxford University, where he is an associate fellow.
Biography
Desmond (Des) Dearlove (born 1960s) is a British management journalist and business theorist, known for his work on the history and state of the art of management theory. Dearlove obtained his BSc in Politics And Economics at the University of Southampton in 1986. In the late 1980s, he started as columnist for The Times and worked as business journalist, editor and ghost writer. From 1999, he co-founded Suntop Media Ltd. with Stuart Crainer.
Visiting professors at IE Business School in Madrid, Des Dearlove and Stuart Crainer created and championed business ideas. Des and Stuart are the creators of the Thinkers 50 (www.thinkers50.com) – the original global ranking of business thought leaders. Their work in this area led Management Today to describe them as "market makers par excellence."
Launched in 2001, Thinkers50 was the first-ever global ranking of management thinkers and remains the world's pre-eminent ranking of its kind. The Thinkers50 Awards Gala was introduced in 2011. The event celebrates the very best in management thinking and provides a forum for the Thinkers50 community to share the leading business and management ideas of our age.
As journalist and commentator, Des has been asking difficult questions for over two decades. Now, he helps leaders come up with their own wicked questions and explore how best to engage with people and communicate the answers. He was an adviser to the 2009 British Government report on employee engagement and is an associate of the Management Innovation Lab at London Business School. Their recent clients include the Swarovski Academy, Ruby Wax and Heidrick & Struggles.
Des is former columnist to The (London) Times, contributing editor to the American magazine Strategy+Business, and editor of the bestselling Financial Times Handbook of Management. In collaboration with Stuart, their books include The Management Century, Gravy Training, The Future of Leadership, and Generation Entrepreneur. They are available in more than 20 languages.
Des has taught MBA students, professors and senior executives on programmes all over the world. These include the Oxford Strategic Leadership Programme at the Saïd Business School at Oxford University, Columbia Business School in New York, the Tuck Business School at Dartmouth College in New Hampshire, IMD in Lausanne, Switzerland, and London Business School.
Published books
One of Des Dearlove's notable collaborations is the book "Actions Speak Louder" (1992), co-authored with David Clutterbuck and Deborah Snow. This book explores the crucial role of actions in effective leadership and management, offering valuable insights into decision-making, communication, and implementation within the business realm.
In his book "Key Management Decisions" (1998), Des Dearlove provides a comprehensive examination of the critical decisions faced by managers. Through this work, he equips managers with the necessary tools and frameworks to make informed choices and achieve positive outcomes in their roles. Furthermore, in "The Interim Manager" (1999), co-authored with David Clutterbuck, Dearlove delves into the significance of interim managers and offers practical guidance for both interim managers themselves and the organisations that engage them.
Des Dearlove has collaborated extensively with Stuart Crainer on multiple books, covering various aspects of business and management. These collaborations include works such as "The Ultimate Business Guru Book" (1997), "Gravy Training: Inside the Business of Business School" (1999), "The Ultimate Book of Business Brands" (1999), "MBA Planet" (2000), "Generation Entrepreneur" (2000), "Business Minds" (2001), "Firestarters!" (2001), "The Financial Times Guide to Business Travel" (2001), and "The Career Adventurer's Fieldbook" (2002). These publications explore diverse topics such as business strategy, branding, entrepreneurship, management education, and career development, providing readers with valuable insights and practical advice applicable to their professional endeavours.
---
Vision
Des Dearlove's vision revolves around advancing management thinking and shaping the future of business through thought leadership. As the co-founder of Thinkers50, the world's premier ranking of business thought leaders, Des aims to identify and recognize the brightest minds in the field.
In a recent interview with Dinis Guarda, he said:
"It's the diversity of thought and perspectives at thinkers50 that we present a variety of angles to the people in the corporate world. There is a high-quality threshold that is future oriented and challenges us to step out of the old and obsolete paradigms into fresh ones."
---
Recognition and Awards
Every two years, Thinkers50 salutes the leading business and management ideas of our age with its Ranking of Management Thinkers and Distinguished Achievement Awards, known as "The Oscars of management thinking" (Financial Times). The Thinkers50 annual Radar list identifies emerging thinkers with the potential to make a significant contribution to management theory and practice, and the Thinkers50 Hall of Fame recognises and celebrates the legacy of thinkers whose lifetime's work has had a lasting influence on business and management. The Thinkers50 brand, built on the core values of independence, integrity, and accessibility, is admired globally for objective market intelligence, positioning Thinkers50 as the leading authority in management ideas.
---
References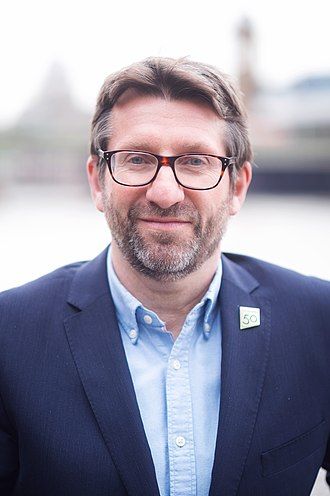 Occupation
Management thinker, author, business journalist, entrepreneur, speaker, columnist, business faculty, advisor, commentator
Known for
Contributor (FT Dynamo), Co-Founder (Thinkers50)
Accolades
National Book Awards (Shortlisted, Archie Greene and the Magician's Secret, 2014), The Oscars of management thinking (Financial Times, Ranking of Management Thinkers and Distinguished Achievement Awards, Thinkers50)
Education
BSc (Politics and Economics, University of Southampton)