Summary
Thinkers50 is the world's most reliable resource for identifying, ranking, and sharing the leading management ideas of our age. Based in London, with partners and affiliations around the globe, its ambition is to provide innovative access to ideas with the power to make the world a better place.
When it was launched in 2001, Thinkers50 was the first-ever global ranking of management thinkers. It has been published every two years since and remains the premier ranking of its kind.
Every two years, Thinkers50 salutes the leading business and management ideas of our age with its Ranking of Management Thinkers and Distinguished Achievement Awards, recognised as "The Oscars of management thinking" by Financial Times.
The Thinkers50 annual Radar list identifies emerging thinkers with the potential to make a significant contribution to management theory and practice, and the Thinkers50 Hall of Fame recognises and celebrates the legacy of thinkers whose lifetime's work has had a lasting influence on business and management.
The Thinkers50 brand, built on the core values of independence, integrity, and accessibility, is admired globally for objective market intelligence, positioning Thinkers50 as the leading authority in management ideas.
---
History
Thinkers50 is a renowned organisation that originated from the collaborative efforts of Des Dearlove and Stuart Crainer, prominent business writers and commentators. The idea for Thinkers50 took shape during a casual pizza gathering in 2000, and it subsequently materialised as the world's first global ranking of management thinkers in 2001. Since its inception, Thinkers50 has maintained its position as the premier ranking of its kind.
The driving philosophy behind Thinkers50 is the belief that ideas possess the potential to transform the world. This conviction inspired Dearlove and Crainer to establish the organisation, creating a platform to recognise and promote influential thinkers in the field of management.
In 2011, the Thinkers50 Awards Gala was introduced as an exceptional event to honor the finest contributors to management thinking. This grand occasion serves as a gathering for the Thinkers50 community, enabling them to share the most significant business and management ideas of our time. Held biennially in central London, the Thinkers50 Awards Gala attracts thinkers from around the globe to engage in thought-provoking discussions, debates, and networking opportunities. The highlight of the evening is an illustrious black-tie awards ceremony.
During the Gala, attendees are treated to a program brimming with insightful ideas presented by the world's leading business and management thinkers. Furthermore, the event serves as a platform for the announcement of the winners of Thinkers50's Distinguished Achievement Awards. Notably, the highly anticipated Thinkers50 Ranking of Management Thinkers is unveiled, revealing the esteemed individual who has attained the coveted top position on the list.
---
Goals and Purpose
The goals and purpose of Thinkers50 revolve around their core beliefs, mission, and values. Thinkers50 strongly believes that ideas have the power to change the world, and they recognise the crucial role of management in shaping human affairs. They are committed to promoting fresh and innovative thinking that can contribute to creating a better future for all.
The mission of Thinkers50 is to be the most reliable and independent source for management and business ideas worldwide. They aim to identify, rank, and share the very best management thinking from around the globe. By curating and promoting exceptional ideas, Thinkers50 seeks to drive positive change and advance the field of management.
Thinkers50 upholds a set of core values that underpin their work. Independence is of utmost importance to them, ensuring that their rankings and evaluations are unbiased and free from external influences. Integrity is another fundamental value, guiding their commitment to transparency, honesty, and ethical conduct in all their endeavors. Lastly, accessibility is crucial for Thinkers50, as they strive to make management and business ideas easily accessible and understandable to a broad audience, fostering a culture of learning and growth.
---
Impact
Thinkers50 has made a significant impact in various ways, providing valuable resources and opportunities for organisations, faculty members, and individual thought leaders. One notable impact is through the Thinkers50 Curated Partnerships, where organisations can collaborate with Thinkers50 to create tailored programs of webinars. By aligning the content with the organisation's strategy and context, Thinkers50 ensures that these programs address the most pressing business concerns. This collaboration allows organisations to access the expertise of renowned thinkers from the Thinkers50 community, gaining fresh insights and ideas to drive innovation and success.
The live webinars offered by Thinkers50 provide virtual experiences that grant access to exciting new ideas and thinkers. These sessions, lasting between 45 to 60 minutes, enable participants to engage with cutting-edge concepts and broaden their knowledge base. Additionally, these sessions can be recorded and compiled into a tailored learning resource, creating a library of content that is easily accessible to participants and supplemented by select Thinkers50 materials. This resource serves as a valuable reference for continuous learning and development.
Thinkers50 conducts targeted workshops for business school faculty and students. These workshops focus on maximising the reach and influence of research, as well as creating thought leadership outputs. Participants learn valuable skills such as working with the media and developing provocative ideas. By offering coaching and advice to individual thought leaders, Thinkers50 empowers them to effectively communicate their research and ideas, making a meaningful contribution to the business and management community.
---
References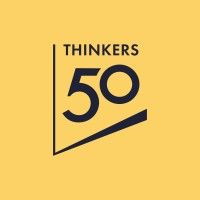 Stuart Crainer (Co-Founder)
Headquarters
The Studio Highfield Lane Wargrave RG10 8PZ United Kingdom
Address
The Studio Highfield Lane Wargrave RG10 8PZ United Kingdom