Summary
There's a reason why Karl Otto Lagerfeld is looked up to as 'Kaiser'. He was one of Fashion's most decorated designers, legendary for his cutting-edge pop-cultural aesthetic injected with cultural and historical references. In addition to his eponymous label he was creative director of Chanel and head designer of fur and ready-to-wear at Fendi. His visionary talent further expanded beyond fashion to include illustration- photography- styling and publishing. And he was celebrated for his personal style: white ponytail, white button- down shirt, starched detachable collars, black sunglasses and fingerless gloves!
Biography
EARLY YEARS
Born on September 10, 1933 in Hamburg, Germany, his father Otto Lagerfeld made a fortune in condensed milk and his mother Elisabeth Bahlmann was an accomplished violinist. As a teenager Lagerfeld showed keen interest in visual arts and fashion, and encouraged by his parents, made the decision to move to Paris. He had been there two years when he submitted sketches and fabric samples to a design competition and ended up winning International Wool Secretariat — Coat. "He continually explored various realms of design. This was fueled by an unrelenting mind and boundless sources of inspiration, from people and places to art and pop culture…" per the official website.
FASHION
The recognition landed Karl Lagerfeld a job with Pierre Balmain- as assistant and later apprentice- for three years. In 1958 he became Art Director, Jean Patou and designed several haute couture collections for the luxury fashion brand. In 1964 he studied art history in Rome and worked for Tiziano which designed Elizabeth Taylor's film costumes and red carpet looks but soon he was freelancing for Charles Jourdan, Chloé, Krizia and Valentino. In 1965 he was Head Designer of fur and ready-to-wear at Fendi and transformed the luxury fashion brand when he introduced the use of mole, rabbit and squirrel pelts into high fashion. In fact his visionary talent further expanded beyond fashion to include illustration- photography- styling and publishing.
Lagerfeld also designed collections under his own eponymous label which combines Parisian-inspired styles with a rock-chic design aesthetic. Its portfolio includes ready-to-wear for women, men and kids in addition to bags and small leather goods. Additional collections include watches- eyewear- footwear- perfumes- candles and fashion jewellery. However in 2005 Lagerfeld sold his brands -Lagerfeld Gallery and Lagerfeld- to Tommy Hilfiger but maintained full design involvement. Why? Despite his fame neither his label nor the collections he designed for Fendi achieved the cult status of his body of work for legendary maison: Chanel. In 1983 Alain Wertheimer- co-owner of Chanel- hired Lagerfeld. As chief Artistic Director for over thirty- five years he reinterpreted the tweed skirt-suit, little black dress, dual-toned footwear and quilted handbag without ever forgetting what Coco Chanel stood for: independence, freedom and modernity. Under his baton the interlocking C's and pearls became a cult. And he transformed the house which was struggling after its founder's death into a global powerhouse with reported annual sales of $9.6 billion in 2017.
Furthermore he was legendary for conceiving lavish sets for the collections including a rocket ship, reproduction of Eiffel Tower and a giant iceberg Chanel shipped from Scandinavia for Fall 2010. He also pioneered the concept of traveling pre-season shows… showcasing in Versailles, Scotland, Dallas, Seoul and Havana. In recent years Lagerfeld conceived Chanel Métiers d'art — shows that honour the craftsmanship of artisan collaborators whose work informs the spirit of the brand, including embroiderer Lesage, shoemaker Massaro, milliner Maison Michel, feather and flower expert Lemarié, pleater Lognon, grand flou atelier Paloma and goldsmith Goossens.
HIGH STREET COLLABORATIONS
Karl Lagerfeld was one of the first couturiers to embrace the high-street. In 2000, he collaborated with Puma for a streetstyle capsule collection. Two years later he designed a denim line for Lagerfeld Gallery with Renzo Rosso- founder- Diesel. It was presented during his showing at Paris Fashion Week and sold at Lagerfeld Galleries in Paris and Monaco and at Diesel Denim Galleries in New York and Tokyo. In 2004 he was the first designer to collaborate with Swedish high street brand H&M for a capsule collection.
PERSONAL LIFE
Lagerfeld was recognised for his white hair, black sunglasses, fingerless gloves and high, starched detachable collars. He had an eighteen-year relationship with French aristocrat Jacques de Bascher who died of AIDS in 1989. Following Lagerfeld's death, he was mourned by the fashion world and an extravaganza titled "Karl For Ever" took place in the Grand Palais—the venue that, until earlier this year, Lagerfeld had reliably transformed into some of the most over-the-top sets in fashion history from a snowy village in Switzerland to a beach with actual waves that washed ashore. Later it was reported that he would be cremated and ashes mixed with those of his late boyfriend- which he kept in an urn- or with those of his mother.
---
Recognition and Awards
1992: Created illustrations for The Emperor's New Clothes by Hans Christian Anderson 2010: The Fashion Visionary Award By Couture Council of New York's Fashion Institute of Technology 2014: Received his own Barbie Doll 2010: Bestowed with the Commander's Cross of the Legion of Honor by French President Nicolas Sarkozy 2017: Outstanding Achievement Award at British Fashion Awards 2017: John B. Fairchild Award by WWD
---
References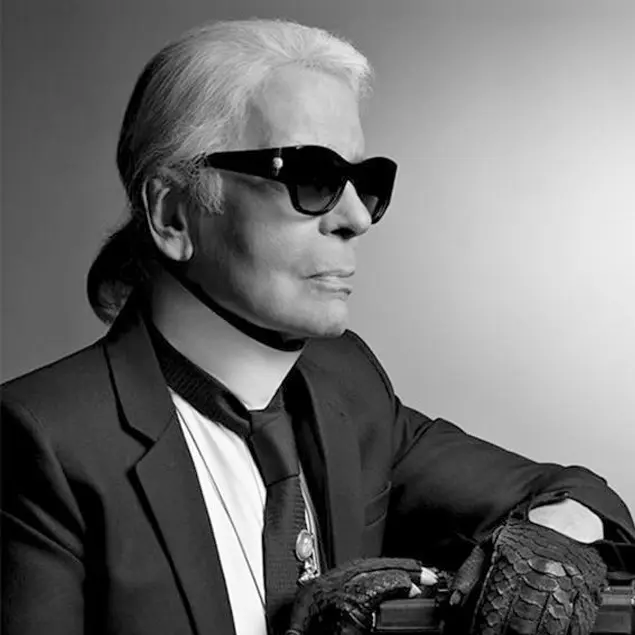 Occupation
Fashion Designer
Accolades
1992: Created illustrations for The Emperor's New Clothes by Hans Christian Anderson 2010: The Fashion Visionary Award By Couture Council of New York's Fashion Institute of Technology 2014: Received his own Barbie Doll 2010: Bestowed with the Commander's Cross of the Legion of Honor by French President Nicolas Sarkozy 2017: Outstanding Achievement Award at British Fashion Awards 2017: John B. Fairchild Award by WWD