Summary
Asad Sultan is a highly experienced and accomplished CEO in the finance industry, holding several key positions in notable organizations. Currently, he serves as the CEO of EcoConsortium, a groundbreaking venture established jointly by Verdana and EcoRegistry. EcoConsortium is the first digital carbon registry in the Asia-Pacific region, offering a platform that integrates digital measuring, reporting, and verification (dMRV) functionalities. Under Asad's leadership, EcoConsortium aims to revolutionize the way carbon footprint data is assessed, validated, and certified through its SaaS platform and end-to-end automation solution.
In addition to his role at EcoConsortium, Asad Sultan is the founder and CEO of Verdana, a company that specializes in providing comprehensive dMRV and asset management solutions. Verdana's platform enables organizations to accurately assess and analyze carbon footprint data, facilitating the certification process and aiding in sustainability efforts.
Asad Sultan also serves as an advisor to ZERO13, a regulated digital exchange known as SECDEX. ZERO13 offers a marketplace aggregation solution for carbon credits and ESG real-world assets, providing a platform for trading and exchange in the sustainable finance space.
Biography
Asad Sultan's journey in the finance industry is one defined by his remarkable expertise, influential leadership, and passion for driving innovation and sustainability. With a career spanning over three decades, Asad has held significant positions in renowned organizations and made substantial contributions to the field.
His professional voyage began in 1990 at Citibank in New York, where Asad embarked on his journey as an Equity Research Analyst. During his six-year tenure, he honed his analytical skills, delving into the intricate world of financial markets and establishing a strong foundation in investment banking.
Seeking new challenges and opportunities, Asad moved to Hong Kong in the late 1990s and joined Daiwa Bank. In this role, he contributed to the bank's operations and gained valuable insights into the Asian financial landscape, broadening his understanding of regional markets and cultivating a global perspective.
Building upon his success, Asad transitioned to Australia's Macquarie Bank, where he assumed the pivotal position of Division Director and Head of Asian Equities. Leading the bank's Asian equities division, he demonstrated exceptional leadership, overseeing operations, and capitalizing on emerging market trends. His tenure at Macquarie Bank further enhanced his expertise and solidified his reputation as a seasoned finance professional.
In 2001, Asad Sultan embarked on a new chapter in his career as the CEO of the Investment Technology Group (ITG) in Hong Kong. As regional CEO, he steered the company towards remarkable growth, establishing ITG as a prominent institutional equities brokerage firm in Asia. Under his leadership, ITG gained a reputation for excellence, offering innovative solutions and delivering exceptional service to its clientele.
In 2019, Asad took on the role of CEO at Deutsche Malayan Ventures (DMV), headquartered in Kuala Lumpur, Malaysia. DMV specializes in providing cross-border advisory services for high-value investment projects in Malaysia. Asad's visionary leadership and extensive industry experience positioned DMV as a trusted partner, delivering tailored solutions to clients and facilitating the execution of successful projects.
Recognizing the transformative power of technology and its impact on businesses, Asad Sultan assumed the position of Group Chief Executive Officer at KL Tech City. As the head of this venture studio, he actively invests in tech industry startups, fostering innovation, and driving the growth of Kuala Lumpur's burgeoning technology ecosystem.
In addition to his notable roles in the finance industry, Asad Sultan has also made significant strides in the realm of sustainable finance. He founded Verdana, a company that offers cutting-edge SaaS platforms and end-to-end automation solutions for assessing, validating, and certifying carbon footprint data and analytics. Furthermore, as CEO of EcoConsortium, a groundbreaking joint venture between Verdana and EcoRegistry, Asad spearheads the development of the first digital carbon registry in the Asia-Pacific region. Through these endeavours, he is actively shaping the future of sustainable finance and digital carbon solutions.
Asad Sultan's journey is characterized by his unwavering commitment to excellence, his astute leadership skills, and his passion for driving innovation in the finance and technology sectors. With his vast experience and visionary outlook, he continues to make a profound impact, transforming businesses and pioneering the path toward a sustainable future.
Throughout his remarkable career, Asad Sultan has exhibited a profound understanding of the investment banking industry, particularly in the dynamic Asian market. His strategic leadership, business acumen, and commitment to fostering growth have propelled him to the forefront of the industry. Asad's contributions have left an indelible impact on the organizations he has been a part of, shaping the financial landscape of the region and inspiring future generations of business leaders.
---
Vision
His vision can be found in a recent interview conducted by Dinis Guarda. In that interview, he said the following about Cultural background and multi-country background, First steps in the finance world, use of technology, China and Deutsche Malayan Ventures: Cultural background and multi-country background. From Indian boarding school to moving to the USA.
"I call myself a global citizen rather than from one specific place as my professional career has taken me from the US to China and Hong Kong, experiencing many different cultures and learning along the way. And all those experiences have made me better culturally speaking. Differences between Western and Eastern cultures. Historically, Western culture has seen history from a linear perspective, things happen linearly throughout history whereas in the East they see it cyclical."
First steps in the finance world "I studied law at University and after that, I was introduced into the finance world in different areas. Finance, in fact, is really complex and forex trading, for example, has nothing to do with investment companies. So I tried to learn as much as I could by myself to truly understand how all these different parts of the same world work. Along the way, I have changed the corporate world to the more modern entrepreneurial trend. The use of technology as it started to be deployed in the financial market changed everything. Technology actually decentralized and democratized the financial markets. Before that, financial markets were dominated by three or four hubs in the world. And I saw that first-hand when I was working at a large investment company in Hong Kong. We were one of the first companies in Asia to start using algorithmic trading and the latest technology to drive our activities."
China, "The first time I went to China it was an eye-opening experience. It was in 2000 and we knew China was going through massive developments and growing really fast but we didn't know that they were doing so much in such a short time. I understood at that moment the magnitude and the power that China was going to become. Across Asia, I think one of their strongest points is how fast they have embraced technology solutions. Another aspect that helped China take off as a global superpower is precisely the long-term view of their policies. India trying to become the new China is not feasible. It is as simple as that. Institutionally, the Indian government is approaching economy and growth differently. Culturally, they are really different and their goals are also different. However, India has a lot of potential to become a great superpower in the near future. And that breakthrough will come when India embraces technology to drive the economy. This milestone will come sooner rather than later as lack of country-wide infrastructure and physical resources will oblige companies and individuals to shift to technology solutions to keep growing. And that is India's most important opportunity.
Overall, long-standing industries are reluctant to adopt emerging technologies and 4IR-based technologies. For example in Finance. Fintechs are called Challengers, they actually challenge the status quo that has been in place for years. That is why traditional banks are so reluctant to do it. Nevertheless, the innovations brought by technology are undeniable. In the finance sector, where I am more involved, it has become a game-changer.
Countries and governments are also seeing that and have promoted specific areas within their major cities to harness and leverage tech-based companies as they understand that this innovation can greatly improve businesses, efficiency and people's lives." Deutsche Malayan Ventures "The opportunity I saw in Malaysia was that in 2015 there was the first change in government in many years. And the new government had the vision to improve and modernize the country's old infrastructure and systems. So I gathered a team of experts, including officials from the country and technologists to help develop where we could. One of our main projects was to develop a KL tech city. We developed a Master Plan and took an active role that took into consideration different aspects and the sectors we wanted to promote, for example, fintech and other technological-based sectors. We wanted to drive capital and build collaborations between the government and the private sector to build a truly smart city in Kuala Lumpur. We studied the market and the ecosystem and aligned our goals to bring those companies and projects that we were sure were going to bring value to the table.
About being a producer in the media industry: music and films. I have always seen the media industry as a passion and out of that we built a cross-platform to distribution, collaborations and other types of producing intellectual property from India and Asia to the US and the other way around. The most important takeaway from Covid-19 is the decentralization that will come after it. We are already in a trend whereby technology and the global economy are interconnected and technology is accelerating that greatly. Covid-19 is actually speeding up that process to the next level."
---
Recognition and Awards
Asad is a twenty-five year veteran of the investment banking industry, including fifteen years in Asia.
---
References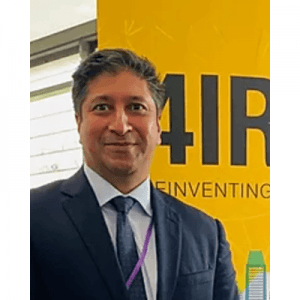 Occupation
CEO of EcoConsortium, Verdana, and Deutsche Malayan Ventures
Known for
Expertise in Investment Banking, Leadership in Sustainable Finance, Pioneering Digital Carbon Registry & Venture Capital and Tech Industry Investments
Education
Master of Business Administration (M.B.A.) in International Finance from Fordham University (1990-1993) Bachelor of Business Administration (BBA) with a focus on International Finance from John Carroll University (1987-1990)