Study: The office of 2017 will use biometrics but not business cards or fax machines
Only 18% of adults have used business cards and 14% have used fax machines for business in the last three months
Experts say that biometrics will replace passwords to protect sensitive information in the workplace, that we'll choose cloud computing over USB drives and that we'll use pharmaceuticals instead of coffee
New research undertaken by
has revealed trends around the office of the future.  The 1,000 participants of the survey were simply asked which office technology we may see as standard issue had not been used by them in the previous three months.  Insights on what will be key features in the office of 2017 were also gathered from futurists and industry leaders including Penelope Trunk, Martin Lindstrom, and Dr. James Canton. Some of these findings included;
Only 18% of participants had used business cards in the previous three months, indicating that the use of online options such as LinkedIn are more popular for professional information sharing,
25% of people from New York have used business cards in the last three months, while only 15% of Californians have done the same
25% had used a business landlines in the same time period, indicating that most people are now using smartphones as a more convenient alternative for working on the go,
Unsurprisingly, fax machines were the least commonly used piece of office technology with only 14% saying they had featured in their office over the past three months.  Only 9% of millennials (aged 18-34) had used them.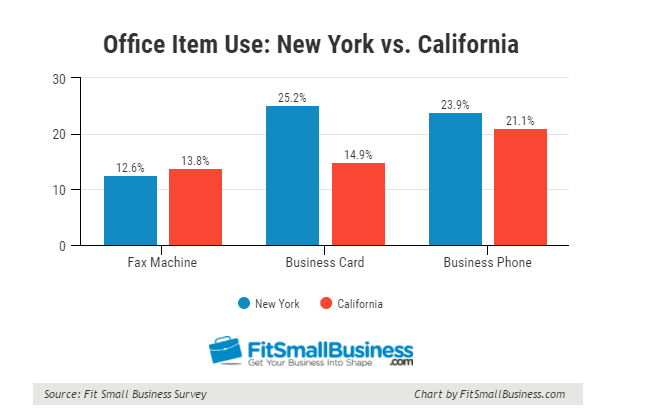 There were also some interesting insights offered by industry leaders: Martin Lindstrom, futurist, branding consultant, and New York Times bestselling author offered that work-life boundaries will become a thing of the past saying "With the rise of technology, work and private life have become blurred. We can receive our work emails anytime of the day or night on our smartphones, and we feel like we must respond immediately, whether we are just waking up or eating dinner."  Penelope Trunk, entrepreneur and writer, thinks that coffee is on the way out; "everyone will use pharmaceuticals as a more customized solution". Others interviewed mentioned that we will no longer see the use of passwords, with biometrics being favored as the most secure alternative, and that the office of the future will be open plan, with no cubicles or individual offices for employees, encouraging a collaborative, teamwork-centered atmosphere.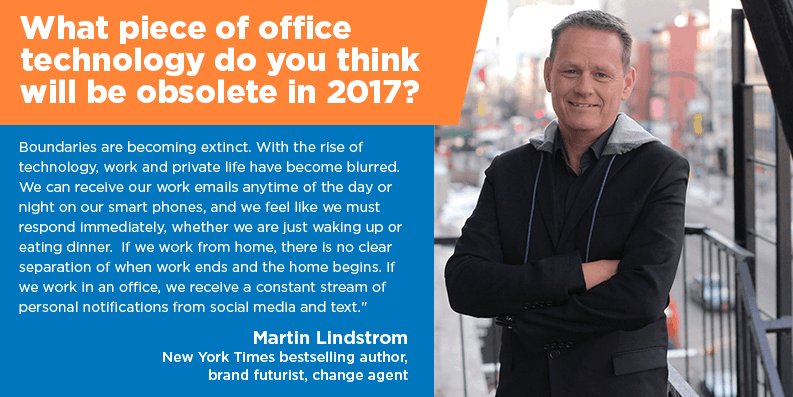 Fit Small Business was founded in 2013 by Marc Prosser and David Waring. Together, Marc and David share 25 years of experience in small business management and marketing. They've advised clients ranging from dentists on Main Street to financial companies on the New York Stock Exchange. Before Fit Small Business, they always had friends, family, and colleagues asking them advice on how to run a successful business. While they were happy to provide the advice, they were surprised that there was not an online resource where business owners could turn for this same advice. There are 28 million small businesses in the U.S. They account for 55% of all U.S. jobs. And yet these brick and mortar businesses were being completely neglected.