New book The Trillion Dollar Shift sets out to inspire all businesses to venture beyond their comfort zone and explore new ways of creating profitable business, while positively impacting the planet and the people who call it home. The UN's 17 development goals – from eradicating poverty to education for all, gender equality to decent economic growth, climate action to peace and wellbeing – identify what we should all be striving for. The book offers a fascinating insight into the progress made so far, the new meaning of growth and the shared value model – how "business for good" is good business. Combining profound research with concrete case studies, the book demonstrates how sustainable companies can build stronger competitive market position, be more attractive to employees and customers, build better brands and have better commercial results. The book challenges business leaders to be bold and lead by example – exploring how they can pave the way to shifting focus from within company walls to a whole world perspective.

Unlocking New Markets Worth Trillions.
Trillions of dollars in public and private funds are to be redirected towards the SDGs, creating huge opportunities for responsible companies to deliver solutions. The book explores the myriad opportunities that will emerge within each business sector and how unlocking them is a necessity – as well as how advanced tech will be the biggest accelerator of all time.
---
Why this book matters
Experts are concerned we're not meeting UN's Sustainable Development Goals for 2030
Governments need business's help to change the world for good
SDGs will create new markets worth estimated US $12 trillion by 2030 and have the power to create 380 million jobs
Author Marga Hoek is leading the global mission to transform towards sustainable business and capital
The Trillion Dollar Shift is the first ever business book on the opportunities the Sustainable Development Goals unlock for business and capital
---
From Unilever to Ikea and Nike to Nestlé - 50 exclusives case studies.

The book features 50 exclusive case studies of the world's biggest brands. Each offers a unique insight – exploring the challenges they face, how they're successfully working towards sustainable development goals and their strategies for the future.

How every sector, from tech to agriculture, can lead transformational change.

The book reveals the game-changing ways new tech can propel us closer to reaching our SDGs. The book then provides in-depth analysis, sector by sector, of how each industry – from food and agriculture to education and learning, cities and transportation to health and wellbeing and energies and resources – can sustainably prosper. The book also explores how capital expenditure in one sector can enhance another – resulting in multi-sector benefits.
The Author
Marga Hoek is an award-winning global thought-leader, CEO and author. She has made it her mission to show people that "business for good" is good business. Marga Hoek has decades of experience as a CEO of multi-million-Euro businesses and is a non-executive director for global companies including Aon Insurance, as well as a board member and advisor to organisations such as Green IT, Earth Capital and the Bank of Montreal. She was CEO of The Sustainable Business Association, The Netherlands, Chairman of the Dutch Sustainable Science Collection and is currently a partner at Chairman Mentors International. Marga is on the prestigious Thinkers50 list 2019 and is a global voice for G20, G7 Climate Change and Cop23. She is a sought-after keynote speaker around the world.
---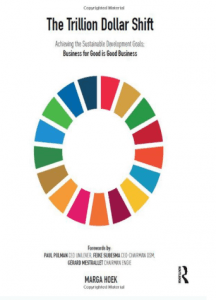 The Trillion Dollar Shift
The Trillion Dollar Shift
By Marga Hoek
Out Now
Published by Routledge
Paperback Version: £30.99