If you would like to create a great atmosphere at the office, you will need to design the space with your employees' needs in mind. Whether you are looking to adopt flexible working patterns, improve collaboration, or simply share knowledge throughout the company, a modern design can facilitate your needs. Below you will find a few tips on how to get started with giving your business a modern feel.
Natural Light
The main element of a modern office space is natural light. If you can install extra windows and above the door glass panels, you will be able to create a better, lighter, and more contemporary environment. You can also connect the indoor space with the outdoors by adding glass panels and having some greenery throughout the space. Let natural light flow wherever possible, so you can improve the mood of all workers.
Minimalist Design
You should forget about the old oak furniture, and go for something that is funky and has loads of character. Whether you are opting for modern mesh desk chairs with lumbar support or standing desks that will help your colleagues move around more freely, you can impress even the most critical interior designer. Reduce clutter and use cabinets on the wall that are not only practical, but also decorative, creating a great contrast with the floor systems and walls, so you have more space to walk around.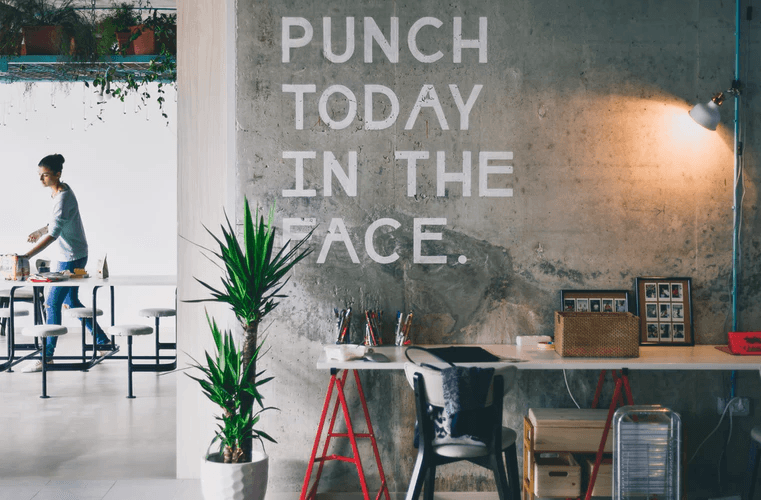 Image source Johnson Wang
Open Communication Channels
An open plan office design will not only feel your employees connected, but also encourage communication and collaboration. You can even remove the space separators and allow everyone to talk to each other whenever they need help or advice. It is a much better solution than getting everyone their own office. Allow people to swap places any time they want, so they are not feeling like they are tied to the same desk all day.
Funky Furniture and Decor
Apart from minimalist pieces, you will also have to get some funky office furniture that will keep all the senses engaged. From bright and colorful drawers and filing cabinets to desks with hidden storage to save space and hide all the gadgets your employees might want to use while working, there are several ideas to consider. A huge painted upcycled oak table in the chillout area, for example, will encourage your workers to spend more time connecting with each other during their lunch breaks.
Tech Integration
Of course, no office can be considered truly modern if you don't integrate modern technology. Add a Bluetooth speaker, and allow all computers to connect to a large wall projector, so your employees can share their work, show their solutions, and even present their ideas to the rest of the team. Creating a modern office for the employee of the 21st century has several benefits for companies. Open spaces allow and encourage collaboration, minimalist design makes the space more adaptable, and technology integration enables open communication and teamwork. Implement these ideas in your design and motivate your workers effortlessly.