Although human beings are known to be irrational, they are at least irrational in predictable ways – and what can be predicted, can be managed. World-leading organisations now recognise this and employ teams of behavioural scientists to truly understand the psychology behind what people do. It enables them to accurately predict outcomes before making more informed decisions and taking action to influence human behaviour. But what really is behavioural science, and how can it be applied to improve business performance in an ethical way? Now a new book,
Applying Behavioural Science to the Private Sector
has been published to provide an accessible guide to the principles and theories behind behavioural science, and give practical steps leaders can apply within their own organisation. The author, Dr Helena Rubinstein, is a world-leading behavioural scientist. Having lectured on social psychology at the University of Cambridge, held senior positions in marketing communications companies and led behavioural science projects for organisations including Southwest Airlines, Heineken, Procter & Gamble and Shell, she is perfectly positioned to reveal how businesses can derive real commercial value from behavioural science.
---
Why this book matters:
Behavioural science has hit the headlines for being used unethically by organisations to manipulate behaviour, including the recent Cambridge Analytica scandal. This book explains how organisations can ensure behavioural science is used in a positive way.
Organisations are currently working in extremely uncertain market conditions, but behavioural science allows them to predict how customers and staff will behave in different scenarios so they can strategize accordingly.
Behavioural science is most effective when applied across multi-disciplinary teams in organisations, including marketing, HR, sales and research and development. This book explains how to overcome challenges and scepticism of behavioural science and get organisation-wide buy-in.
A 2018 report from CBI Insights highlighted that the number one reason why new products and services fail is because they don't solve a real problem for customers. Behavioural science helps businesses predict customer response to a new product launch to understand if there is a genuine need for it before investing further.
---
Applying Behavioural Science to the Private Sector
is divided into two parts. The first focuses on the theories and principles of behavioural science, while the second describes how the theory can be put into practice in commercial organisations. It draws upon real life examples to demonstrate how organisations can use behavioural science to add real value, including an in-depth case study of how Southwest Airlines created a market-leading customer experience using behavioural science.
About the author: Dr Helena Rubinstein
Dr Helena Rubinstein is Head of Behavioural Science and leads the Strategic Advisory Group at Innovia Technology, an innovation consultancy based in Cambridge, UK. Her academic background is in social psychology and she has lectured at the University of Cambridge on the application of social psychology to social issues and on the psychology of ageing. She has also conducted research in the field of health psychology.
Helena has extensive commercial experience and has held senior positions in advertising and communications. She was managing director of the global brand consultancy for Leo Burnett and a partner at Brunswick Group.
---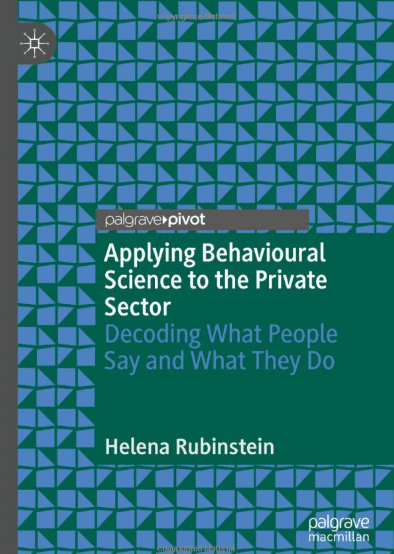 Applying Behavioural Science to the Private Sector
By Helena Rubinstein
Out Now
Published by Palgrave Pivot
Paperback Version: £49.99
ISBN: 978-3030016975