From Metaversive Banks, Digital healthcare, Virtual Retail and Commerce, to Tech Education…These are not mere concepts anymore. With progressive advancements in technology and tools, Metaverse is gaining traction among most industries, making its existence more relevant day by day. In this film, we highlight 10 specific industries that the Metaverse will revolutionise.
Metaverse is a promise that makes the world of fantasies come to reality. Just as Web 2.0 was crucial for smartphones and laptops, Web 3.0 will serve that role for the Metaverse.
This Metaverse Revolution is creating a brave, new world. With NFTs, Web 3.0, Internet, Blockchain, and AI-powered Avatars, the Metaverse is shifting us into new social-economic gamification models.
Our world will never be the same. Our industries won't either.
The Metaverse Revolution is creating a new admirable world. With NFTs, Web 3.0, Internet, Blockchain and AI powered by Avatars, the Metaverse is shifting us into new social economic reward gamification models. This will change our World and revolutionise our Society and all industries.
In this film we will highlight 10 industries the Metaverse will revolutionise.
Similar to the Web 2.0 on smartphones and laptops, Metaverse is the next-generation technology, a comprehensive world on Web 3.0, in a digital world where all industries and businesses play a pivotal role.
Metaversive Banks, Digital healthcare, Virtual Retail and Commerce, even Tech Education… These are not mere concepts anymore. With progressive advancements in technology and tools, Metaverse is gaining traction among most industries, making its existence more relevant by the day.
The global Metaverse revenue opportunity is expected to reach $800 billion by 2024. A question, then, arises as to which industries would be able to contribute to this growth, and make a breakthrough with their current systems.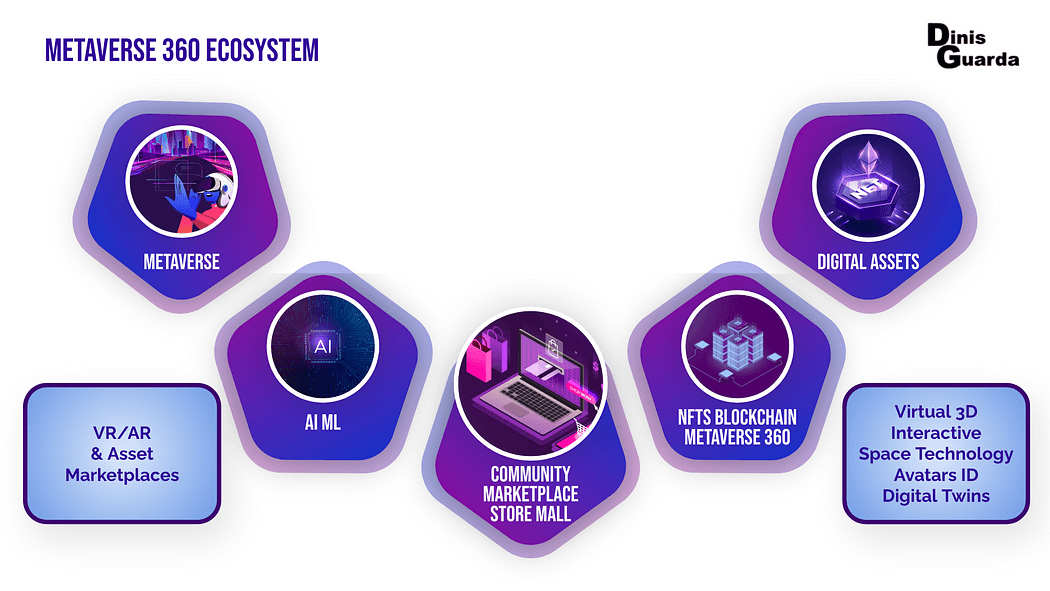 Let's find out 10 industries will be transformed by the Metaverse frenzy.
1. Financial Industry: Welcome Bank 4.0
With the increased digitalisation of processes, banks are progressively making swift transitions from existing infrastructure to virtual reality. Bank of America, notably, launched VR training for its employees in 4,300 financial centers across the nation. Upgradation of financial services is being the prime motive of institutions globally.
"The purpose is to pre-emptively respond to financial changes in the coming metaverse era and to internalise new financial service experiments and technological capabilities", Jinsoo Yoon, Vice President of Tech Group, KB Koomin Bank.
2. Real Estate Industry
Metaverse is being speculated to be used as an immersive tool for prescreening a property. With features like offering a 360-degree view and a virtual tour of the property, the virtual world has so much to offer.
Platforms like Decentraland, Somnium Space, Sandbox, or Upland are progressively opening fresh avenues to explore unlimited opportunities, like building a smart city or town. Global Metaverse Real Estate Market analyses the Metaverse real estate market poised to grow by $5.37 billion between 2022–2026.
Ecosystems like LynKey are planning to offer immersive benefits to their property holders from across the world.
"Virtual land is just one part of gamification. But the real business is the AR augmented reality driven by concrete solutions to property and experiences that will finance and enhance cities, neighbourhoods, investors, and property buyers and developers. If there is demand for that land, or if there is scarcity too, the investment will be beneficial. One has to think about the fundamentals", Dinis Guarda, Non-Executive Director of LynKey.
3. Education Industry: The budding up of 'Metaversities'
The pandemic-stricken education industry recuperated by making a swift transition to online platforms, making remote learning a preferred option that was not previously available- all thanks to technological advancements. Metaverse and blockchain technology gave a reliable way to leverage the students to explore even better opportunities that lay in the dark for so long.
"The Metaverse can be leveraged as a space to create more opportunities for learning, in particular, for hybrid learning and providing more access for students than what might exist in the physical setting", Rachelle Dené Poth, Educator, Consultant, Author, and Attorney.
Tools like AR and VR became popular methods for spreading the wealth of knowledge. The metaverse offers unique opportunities like the creation of comfortable digital space for classes, experiments, projects, and research. Real-time activities and hands-on experiences foster innovation and creativity in learning spaces.
4. Travel and Tourism Industry
The travel sector is another area where the potentials that metaverse holds are being rigorously harnessed. After serious disruptions hitting the industry due to the pandemic, Metaverse provides a much-needed respite offering critical tools for reliable and smarter tourism.
Technological advancements leveraged not only the logistics- bookings, transfers, local cuisine, leisure, and entertainment, it facilitated an altogether unimagined avenue for the industry- virtual tours (like that by Marriott Bonvoy).
5. Media and Entertainment Industry
Metaverse is the latest way to create connections and consume stories and experiences. VR concerts such as those by Imagine Dragons, and Ariana Grande have been the pioneers in space. Virtual reality theme parks such as those by Disney are an innovative way to engage audiences with personal experiences.
Bob Chapek, Chief Executive at Disney was recently appointed to oversee its metaverse strategy. He describes it to be "the next great storytelling frontier and a strategic priority".
6. Healthcare Industry
3D visualisation of the human body, carrying out virtual surgical procedures before carrying out a real surgery is one of the areas where Metaverse proves its worth. Medical Metaverse is a project by Treatment, a healthcare technology company in the US. The project focuses on AI-driven solutions for stakeholders in the healthcare sector, as well as inter-disciplinary collaboration.
Another project, Veyond Metaverse is a commitment to bringing the first Metaverse hospital and creating an ecosystem for both patients, healthcare workers, and doctors.
7. eCommerce and Retail Industry
Avatars (digital twin of the consumers) are being increasingly utilised to make informed choices and enhance the shopping experience. With advantages that include a decline in product returns and higher conversions, the industry is making an accelerated transition toward the Metaverse.
8. Manufacturing Industry
Imagine a platform where an entire production cycle can be simulated virtually. Changes and modifications could be so easily tested and optimised, while affecting the actual production. This is exactly similar to what BMW did, unlocking greater efficiencies while empowering manufacturers to design and innovate.
9. Gaming Industry
Uniting the global community across a plethora of devices, gaming has been, so far, the most extensively ruled kingdom by the Metaverse. Fortnite, Roblox, and Minecraft are popular games where players have been interacting with each other as avatars. More advanced games like Win NFT Horse, a GameFi game from Tron, is another dynamic step that is gaining popularity among its players with innovative use of NFTs (Non-Fungible Tokens) to engage their audiences.
10. Architecture and Engineering Industry
Building cities and real estate projects are being leveraged by technologies like AR (that enable stable two-way audio and video annotations) and Scene Tracking. Multiple screens and software are being used to create a simulated environment where architects, engineers, and designers from around the globe can collaborate from anywhere on the same 3D assets.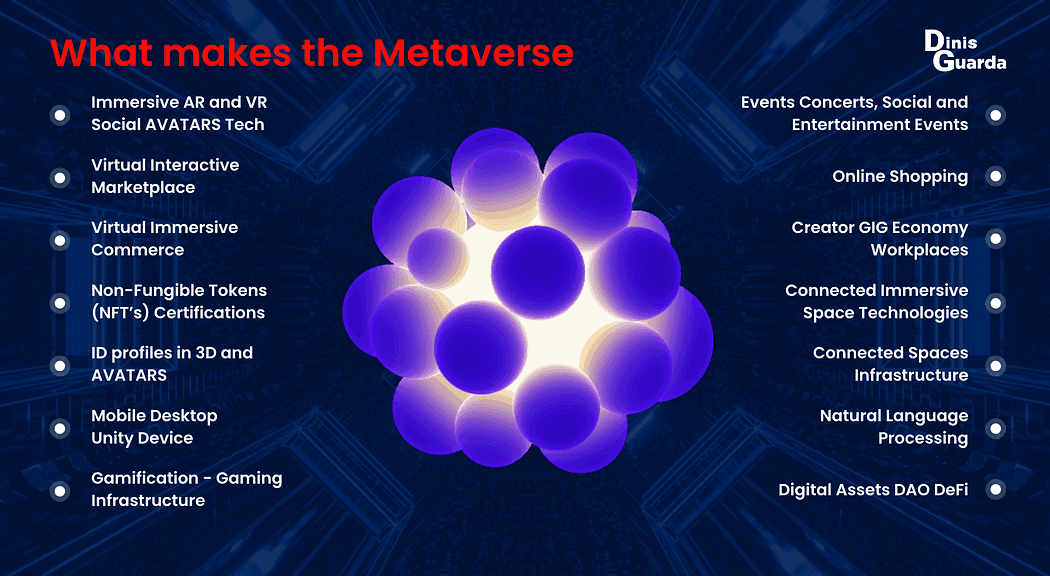 The Metaverse for everything and everyone
A blank canvas, where upcoming technologies can create a better portrait of the world, there are still some advancements, like 5G technology, required to unlock the true potentials that lie at the bedrock of the vast ocean. The grand vision for a constructive virtual reality space holds immense promise for an interactive realm where users will be allowed to move seamlessly with all the accumulated wealth of assets and avatars.