Yale School of Management is unique among business schools due to its close intellectual and programmatic connection with its home university. The business school strives to create a community of broad-minded, intellectually curious students who will become leaders for business and society. Yale SOM prepares students to thrive in profit, non-profit, government and entrepreneurial enterprises. The business school is committed to promoting diversity and creating a community that cultivates a wealth of perspectives. They recognise diversity as an essential force in the business world and believe that the key to success is exposure to experiences, ideas and values from different backgrounds in order to develop a broader global perspective. The business school has an integrated curriculum that focuses on a broad-minded view of roles in an organisation and diversity is embedded throughout the programme. They have also created a diverse community that holds the beliefs of open dialog, respect for individual views and life-long learning. Additionally, the business school offers over 45 student clubs aimed to allow students to share similar backgrounds, personal interests and professional aspirations and collaborate together. Yale SOM also hosts a faculty who is fully engaged in fundamental subjects of relevance in today's economy. The faculty is renowned for their cross-disciplinary research in the fields of behavioural finance and economics.
The Full-time MBA Programme is one year and has a mission to teach students how to understand business in a broader context. Students will develop fundamental business skills and abilities to draw connections between ideas and develop solutions. During the programme, students move through the integrated core curriculum and learn from a collection of required programmes. The programme begins with an orientation to management that develops fundamental concepts within students needed to understand markets and solve complex business problems. Next, organisational perspectives are covered, followed by a faculty-led international experience. The programme ends with an integrated leadership perspective course that is seven weeks long. Throughout the entire programme, leadership development is integrated into each area.
The MBA for Executives: Leadership in Healthcare is a 22-month programme that has participants work closely with other professionals to share ideas and approaches to problem-solving for the healthcare industry. Students spend two in-residence periods lasting two weeks and one week in years one and two, alongside courses every other weekend on Fridays and Saturdays. Classes are structured in individual and group assignments and formal and informal interactions with faculty and healthcare leaders. The classes are cohort-based and the curriculum is designed around the three elements of a multidisciplinary perspective, a broad-minded, intellectually curious approach to business and the use of raw cases to deliver course materials. The programme also contains an independent study programme that allows students to broaden their global knowledge, and an SOM Healthcare Conference, which allows students to spend time with network and industry leaders. Below is the programmes curriculum, provided by Yale.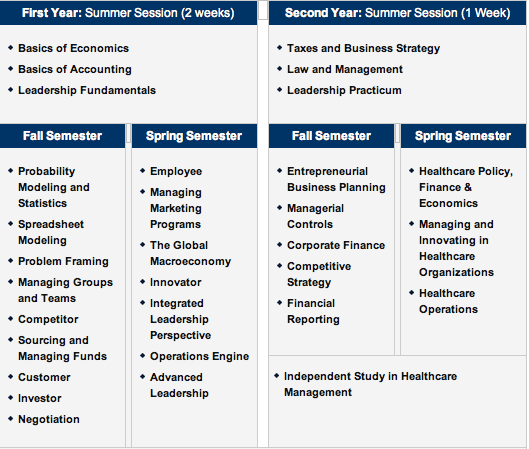 Yale SOM also offers Executive Education through customised programmes and the Chief Executive Leadership Institute (CELI). CELI hosts CEO Summits from all over the world to bring together top business leaders and policy makers in a unique learning environment. One-day seminars are held in conjunction with the CEO Summit and offer small groups of executives opportunities to engage leaders in an intimate environment.
Although Forbes and US News do not rank MBAs globally, they were included for their impact in the US
Forbes Rank – 11
Financial Times Rank – 14
US News and World Report Rank – 13
Bloomberg Businessweek Rank – 21
The Economist Rank – 26
Yale School of Management 135 Prospect St New Haven, CT 06511 United States t: +1 203-432-5932 w: mba.yale.edu