Summary
Luxury fashion brand Versace is acclaimed for its synthesis of culture and luxury fashion. The brand's reverence of classical arts and myth- as represented by brand signifiers like the Medusa head and Greca motif- meets contemporary style through the use of prints and a powerful design aesthetic. Gianni Versace S.r.l. is now part of Capri Holdings Limited global fashion luxury group.
---
History
Giovanni Maria Versace grew up with his parents, elder brother Santo and younger sister Donatella in Reggio Calabria, Italy. His elder sister Tina sadly died at twelve. As a young man- Versace was strongly influenced by ancient Greek history which dominates the historical landscape of his birthplace. He attended Liceo Classico Tommaso Campanella where he studied Latin and ancient Greek- and was also influenced by Andy Warhol.
Versace began his apprenticeship at a young age at his mother's sewing business which employed a dozen seamstresses. He was also became in architecture before moving to Milan to seek a career in fashion design. Lady Luck smiled at him. After opening his Milan boutique in 1972.. Versace quickly became a sensation on the International fashion scene. His designs used vivid colors- bold prints- sexy cuts which were a refreshing contrast to the prevailing muted colors and minimalism. From 1978, Versace built the company with the support of his family, employing his sister Donatella as Vice President and his brother Santo as President of Versace.
Among Versace's most famous creations was his 1982 invention of super-light chainmail called "Oroton" which became a signature material in his collections. His suits were inspired by his experience in female tailoring.. departing from masculine Savile Row models and accentuating the male form. Versace was very proud of his southern Italian heritage and integrated his designs with motifs inspired by historical fashion and art movements- especially Graeco-Roman art. This is evident in the company's logo- the Medusa Head- and recurring motifs like the Greek key. He also allowed his love for contemporary art to inspire his work.. creating graphic prints based on the art of Roy Lichtenstein and Andy Warhol.
In 1982 Versace expanded the business into jewellery and houseware.. designing luxury furnishing, china and textiles. In 1989, the firm expanded into haute couture with the launch of Atelier Versace. Per Vogue: "He was the first to realize the value of the celebrity in the front row, and the value of the supermodel and put fashion on an international media platform- Vogue Editor in Chief Anna Wintour said in 1997."
Pretty soon, Versace became known for using celebrities in his campaigns and seating them in the front rows of his fashion shows. He is also credited with creating the "supermodel" in the Nineties by discovering and featuring supermodels like Naomi Campbell, Christy Turlington and Linda Evangelista.. whom he featured both on the runway and in his advertising campaigns.
Per GQ: "There's no question that Gianni Versace's vision was crystalline, the desire he built around his collections dazzling and his commerciality indisputable <at the time of his death the designer had an estimated net worth of £362 million>. He also helped to define the visual language of a generation."
Soheil Abedian of Sunland Group approached Versace in 1997 proposing a luxury hotel built for the Versace brand. The first Palazzo Versace opened on Australia's Gold Coast on 15 September 2000 and was sold to a Chinese consortium in December 2012. Palazzo Versace Dubai was completed in December 2015 and Palazzo Versace Macau is under construction as part of a partnership with Macau's largest casino operator SJM Holdings.
In 1982 Gianni met his long-term partner Antonio D'Amico with whom he enjoyed a fifteen- year relationship until his tragic death. In 1997 the iconic fashion designer was tragically shot dead by Andrew Cunanan on the steps of his Miami home after arriving home from his morning walk. He left a fashion empire reportedly worth £500 million behind him. His sister Donatella Versace, who was famously also his muse, took over as designer of the fashion house while his brother Santo became CEO.
In July 2012 Donatella staged the label's haute couture autumn winter 2012-13 show at Ritz Hotel in Paris.. the last place she saw her brother alive. The showing was staged on a glass catwalk held over the swimming pool. Donatella has led the company's design vision since.. helping to re-invigorate its product lines over the years. In 2009 she brought in Christopher Kane to design for Versus and re-invent the brand.. followed in 2012 by Jonathan Anderson who designed a capsule collection for the label. In 2013 Versace announced that Anthony Vaccarello would be the latest designer to produce a capsule collection for the label. The success of this methodology resulted in Vaccarello being hired as Versus Versace's Creative Director. The brand doubled its year-on-year revenues in 2014 — he departed in 2016.
Under her aegis it became- in 2011- one of the first super-brands to partner with Swedish high street juggernaut H&M: a move that brought the label to the attention of a new young consumer.. and she was one of the first major designers to court customers in Russia and the Middle and Far East. As a result, in the past decade Donatella has helped almost double the revenues of the company from £210m in 2006 to £600m in 2016.
Donatella has designed advertising campaigns for Versace that featured powerhouse celebrities like Jennifer Lopez- Madonna- Courtney Love- Christina Aguilera- Demi Moore- Nicki Minaj- and Lady Gaga and made Beyoncé and January Jones the personae and images of Versace. Her popularity grew when she designed the green Versace dress of Jennifer Lope- also known as the Jungle-Dres- which was worn at the Grammy Awards in 2000.
She also added luxury watches into the product portfolio. "When I create a new piece I never consider the differences between a fashion and a complication watch. My goal is to create something unique" she told GQ. "The Versace Watches collections display a highly original and contemporary style.. the highest quality and I guarantee that each timepiece is created following rigorous quality control procedures."
As of 2016 more than 1,500 boutiques operated worldwide and the first boutique outside Italy opened in Glasgow- Scotland in 1991. In 2018 the company was acquired by Michael Kors Holdings — now rebranded Capri Holdings — for a value of $2.1 billion. Donatella and her family now own €150 million ($176 million) in group stock. As a tribute Gianni Versace on the 20th anniversary of his death Donatella hired '90s supermodels Naomi Campbell, Cindy Crawford and Claudia Schiffer to walk the runway.
The celebrated designer has also overseen the repositioning of the Versus line appointing Christopher Kane in 2009 to revive the brand followed in 2012 by Jonathan Anderson who designed a capsule collection for the label. In 2013 Versace announced that Anthony Vaccarello would be the latest designer to produce a capsule collection for the label. The success of this saw Vaccarello hired as Versus Versace's permanent creative director...
Sustainability is one of the brand pillars. In 2018 Versace stopped using fur in its products and in 2020 announced it would stop using kangaroo leather. In October 2018 Versace announced its first Pre-Fall season show in New York, scheduled on Gianni Versace's birth date. In 2021, Versace opened its first SoHo, New York boutique.
Today Versace markets a variety of product lines from apparel and accessories to home ware- fragrance- jewellery- footwear- furniture and operates two hotels. Donatella also designed the Palazzo Versace on the Gold Coast in Queensland-v Australia. The Burj al-Arab in Dubai- United Arab Emirates has Versace furniture and bedding. Donatella has also played a major role in the design of the Palazzo Versace Dubai- the second Palazzo Versace hotel which opened in November 2016.
---
Mission
Versace aims to modernise and innovate founder Gianni Versace's image of style and beauty for the glamorous contemporary consumer.
---
Vision
The Versace vision favours glamorous statement pieces. Under the leadership of Donatella Versace—just as in the Eighties and Nineties when the luxury fashion brand was founded and helmed by her brother Gianni Versace—it is a universal symbol of glamour and decadence. This vision extends to fashion- home furnishings- watches- jewellery- and luxurious hotels.
---
Key Team
Donatella Versace (Artistic Director)
---
Recognition and Awards
From October 2002 to January 2003- Versace's famous looks was displayed in a special exhibit by the Victoria and Albert Museum in London. In 2008 Donatella was awarded the FGI Superstar Award. In 2008 Versace was appointed as an honorary chair of London's Fashion Fringe. In 2017 Donatella was awarded Fashion Icon of the Year at British Fashion Council's The Fashion Awards. The following year she became the first woman to be named as Designer of the Year at the 2018 GQ Men of the Year Awards in the UK and in China. She also received the International CFDA Award and was honored at The Green Carpet Fashion Awards for her work for sustainability. Lastly Donatella was honoured as Fashion Icon at GQ Awards in Berlin.
---
Products and Services
Versace now encompasses a variety of product lines including haute couture- ready- to-wear- accessories- footwear- jewellery- luxury watches- homeware- china- furniture and operates two hotels.
---
References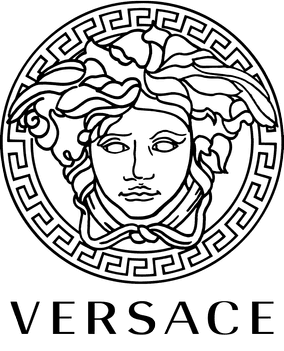 Donatella Versace (Artistic Director)
Jonathan Akeroyd (CEO and President of Versace.)
Lisa Hellman (Senior Vice President of Versace.)
Industries
Fashion and Textiles
Retail and Consumer Goods
Products/ Services
Haute couture and ready to wear for men and women- jewellery- watches- eyewear- fragrances- footwear- homeware- furniture. The brand also operates luxury hotels.
Number of Employees
1,000 - 20,000
Headquarters
Piazza Luigi Einaudi, 4, 20124, Milan, Italy
Company Registration
04636090963