Summary
Satya Narayana Nadella is an Indian-American business executive and the CEO of Microsoft Corporation. He was born on August 19, 1967, in Hyderabad, India. Nadella joined Microsoft in 1992 and has held various leadership positions within the company.
Nadella became the CEO of Microsoft in February 2014, succeeding Steve Ballmer. Under his leadership, Microsoft has undergone a significant transformation, focusing on cloud computing and AI-driven technologies. Nadella played a crucial role in shifting Microsoft's strategy towards a cloud-first, mobile-first approach, leading to the success of products such as Microsoft Azure and Office 365.
Known for his inclusive and empathetic leadership style, Nadella has prioritized diversity and inclusion within Microsoft, emphasizing the importance of empowering employees and fostering a culture of innovation. He has championed initiatives aimed at promoting accessibility, ethics in AI, and digital skills development.
Nadella holds a Bachelor's degree in Electrical Engineering from Manipal Institute of Technology in India. He went on to earn a Master's degree in Computer Science from the University of Wisconsin–Milwaukee and a Master's degree in Business Administration from the University of Chicago.
Satya Nadella's leadership has propelled Microsoft to become one of the world's leading technology companies, driving innovation in cloud computing, AI, and productivity solutions. He has received numerous accolades for his contributions to the tech industry, including being named one of the "World's 50 Greatest Leaders" by Fortune magazine. Nadella continues to guide Microsoft's strategic direction, focusing on empowering individuals and organizations to achieve more through the power of technology
Biography
Early years
Satya Nadella was born in the city of Hyderabad, in the state of Andhra Pradesh (now Telangana) in India. His father was an official in the Indian Administrative Service. Satya attended a public school in Begumpet. He studied at Mangalore University, where at the Institute of Technology in 1987 he defended and earned a title of electronics and telecommunications engineer. Nadella then went to the United States to continue his education and completed his master's degree in computer science at the University of Wisconsin-Milwaukee. He received his diploma in 1990 and later obtained an MBA from the University of Chicago Booth School of Business.
Satya said he "always wanted to create things." He knew that computer science is what he wanted to explore.
Career
Satya Nadella worked at Sun Microsystems before joining Microsoft in 1992. At Microsoft, Nadella led large projects, including the development of cloud computing as one of the largest cloud solutions in the world. He also worked as a senior vice president of the R&D department and vice president of the Microsoft Business Division. He also assisted in the development of Microsoft, Windows Server and Azure databases.
Revenue from cloud services increased to $20.3 billion in June 2013, from $16.6 billion, when it took office in 2011. Satya Nadella's previous positions include: President of the Server & Tools department (February 9, 2011 – February 2014), Senior Vice President of R&D (March 2007 – February 2011), Vice President of the Business Department, Vice President of Business Solutions and Search & Advertising Platform, Vice President of the Cloud & Enterprise Group.
On February 4, 2014, he was announced the new CEO of Microsoft. He is the third president in the company's history.
---
Vision
Satya Nadella's vision as the CEO of Microsoft revolves around empowering individuals and organizations to achieve more through the power of technology. He has laid out a clear strategy that focuses on three key pillars: cloud computing, AI-driven innovation, and a strong emphasis on fostering a culture of inclusivity and diversity.
Under Nadella's leadership, Microsoft has made significant advancements in the field of cloud computing with the growth of Microsoft Azure. He recognized the potential of cloud services early on and shifted Microsoft's focus towards a cloud-first approach. This strategy has allowed Microsoft to become a leader in the cloud market, providing scalable and secure solutions to businesses and individuals around the world.
Nadella also believes in the transformative power of artificial intelligence (AI). He sees AI as a critical technology that can enhance productivity, improve decision-making, and drive innovation across various industries. Microsoft has heavily invested in AI research and development, integrating AI capabilities into its products and services, such as Microsoft 365 and Azure AI.
Sharing his vision on the Metaverse, Nadella said:
"Fundamentally, we're moving from a mobile and cloud era to an era of ubiquitous computing and ambient intelligence. An era which will experience more digitisation over the next ten years than the last 40." "As the digital and physical worlds come together, we are creating an entirely new platform layer, which is the metaverse. We're bringing people, places and things together with the digital world in both the consumer space as well as in the enterprise."
In addition to technological advancements, Nadella has prioritized creating an inclusive and diverse culture within Microsoft. He believes that diverse perspectives and inclusive teams drive innovation and better serve customers' needs. Nadella has implemented initiatives to increase diversity and inclusion at all levels of the organization, striving to create an environment where every individual feels valued and empowered.
Furthermore, Nadella is committed to addressing the ethical implications of technology, particularly in the realm of AI. He advocates for responsible AI development and usage, emphasizing the need for transparency, privacy protection, and accountability.
Satya Nadella's vision centres around harnessing the potential of technology to empower individuals, drive innovation, and create a positive societal impact. Through his strategic leadership, Microsoft continues to evolve as a leader in cloud computing and AI, while fostering a culture of inclusivity and ethical technology development.
---
Recognition and Awards
One of Nadella's greatest accomplishments was pioneering the 'Cloud computing' division of 'Microsoft'. The annual turnover contributed by this division of the business was $16.6 Billion in 2011, when he was just appointed its head. In a matter of three years, the turnover saw a significant increase to around $20.6 Billion. AwardS: In 2018, he was a Time 100 honoree. In 2019, Nadella was named Financial Times Person of the Year and Fortune magazine Businessperson of the Year. In 2020, Nadella was recognized as Global Indian Business Icon at CNBC-TV18's India Business Leader Awards in Mumbai. In 2022, Nadella was awarded Padma Bhushan, the third highest civilian award in India by the Government of India.
---
References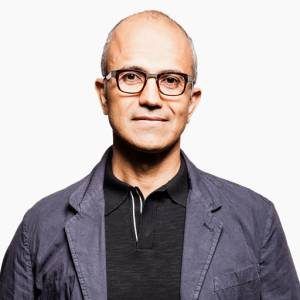 Residence
Washington, United States
Known for
Leadership, Technology, AI, Cloud Computing
Accolades
"World's 50 Greatest Leaders" by Fortune magazine.
Education
The Hyderabad Public School, Begumpet Manipal Institute of Technology, Manipal Academy of Higher Education, University of Wisconsin–Milwaukee, University of Chicago Booth School of Business