Robert H. Smith School of Business, University of Maryland, is an internationally recognised leader in the area of management education and research. It is one of the 12 schools at the University of Maryland. Smith School of Business has a goal to provide knowledge and thought leadership that transforms students into proper business executives while understanding the vast complexities of global economics and contributing to their company with thought leadership and innovative ideas. Smith School of Business places a strong emphasis on creating, understanding, and leveraging today's business models.
The business school also has a world-renowned faculty and a group of research centers that are fully integrated into classroom activities and help provide students with hands-on learning situations. The business school is committed to using business principles that will equip leaders with the skills to be successful in the business environment by providing social change and economically prosperous activity to their companies. The Centers of Excellence and Research focuses on applying academic thinking in real-world situations in a variety of different business settings so students can have hands-on experience while learning new methods.
Smith School of Business has the vision to be a leader in the world economy by generating new knowledge within emerging markets and new business paradigms. The business school strives to provide thought leadership knowledge to students, executives, and policy maker with the goal to transform them into active and socially responsible leaders.
They want to continue to be included in the group of top business schools in the country and be known for their excellence in education, students, and operations amongst the top business schools in the world.
The Full-time MBA Programme at Smith focuses on five different areas:
Consulting
Globalisation
Social Value Creation
Investing
Entrepreneurship
The course curriculum aimed to help students gain an appreciation for globalisation, develop an integrative systems understanding of organisational interactions, and learn strong quantitative, analytical, and communication skills. The students also develop an understanding of the role of businesses in today's society and the ethical challenges businesses face each year. The goal of the MBA programme is to help students master the core concepts of business operations in the areas of information systems, accounting, operations management, finance, and strategy. Below is a diagram of the core courses of the full-time MBA programme, provided by the Smith School of Business.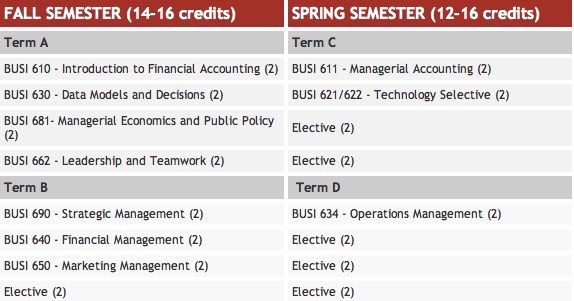 The Executive MBA Programme is a 19-month executives development experience that broadens executives' circle of connections and is based on four key concepts:
Foundation
Master
Leadership Development and Executive Coaching
Action Learning Projects
The programme uses a systems approach to help students "think big" by providing a wide breadth of knowledge across sever different business disciplines. Throughout the programme, students are given complex business situations that cross multiple functional areas and test them in applying their newly learned skills.
During the Leadership Development and Executive Coaching course, participants take part in three different activities:
An Executive Assessment Process
Executive Coaching
Multi-source Feedback
The course helps executives reflect upon their work ethics and standards, and refine their skills and leadership style based on detailed feedback. Participants also develop their own leadership plan that customises the actionable steps needed to make progress in their careers and lives. Action Learning Projects also help executives develop their ability to think and lead across an organisation. The courses are designed to address the areas of entrepreneurship, business process consulting, and leading change.
The Leadership EMBA in China is an 18-month programme that focuses on leadership and executive development. It is composed of 54 credits and focused on innovation and leadership. Classes meet four days a month, Thursday through Sunday, on UIBE Beijing campus. The programme has a particular emphasis on Chinese and Asian business methods with a foundation of core MBA courses.