---
History
The Mason School of Business at the College of William & Mary is driven by the distinctive ideals of public service, entrepreneurship and innovation, and the attitude to conquer the challenges of an economic revolution where commerce, integrity, hard work, and innovation will shape the world together.
The business school does this by training the next generation of principled business leaders to hold the spirit of this revolution and take up the challenge of rebuilding the global economy. Mason has a mission to serve the Commonwealth, the nation, and the global community by delivering high-quality education programmes and creating and sharing new business knowledge.
They achieve this through recruiting a faculty whose research, teaching style, and communication abilities influence students and other scholars and by engaging students with an innovative education that promotes creativity. The business school also mentors high ideals and focuses on leadership to create a learning environment filled with personal and professional opportunities for students and faculty members.
---
Courses
The Full-time MBA Programme offers students an integrated approach to management and focuses on deepening their specialised expertise and preparing them for careers in the areas of consulting, entrepreneurship, finance, marketing and operations, and information technology. The structure of the programme is designed to mirror the complexities of the business world through theory and practice so students can achieve a broad education of all the important areas of business in order to function in a global economy.
The programme gives students a variety of complex, real-world business experiences that are delivered through core courses, electives, international study, career acceleration modules, the field consultancy programme, and the leadership development experience. Below is a diagram of the programme's curriculum, provided by Mason.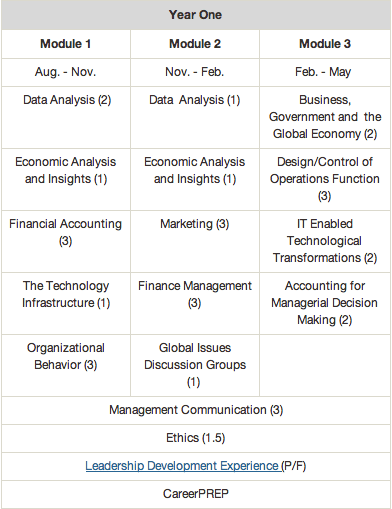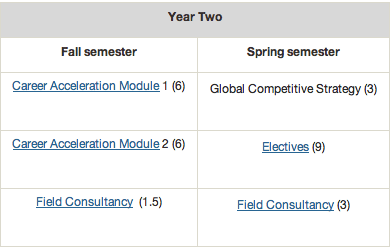 The Executive MBA Programme occurs two weekends a month on Friday and Saturday and classes start each January and end the following August. The curriculum has a general management focus and is spread over five semesters that last four months a piece. Domestic residency periods and international experiences are included and the programme is cohort-based so students remain in the same group throughout and learn together. The programme places an emphasis on collaborative learning through study teams and each day students hear fresh business perspectives from industry leaders. The goal of the programme is to build students' leadership and management skills while developing a global perspective on changing economies globally.
Mason also has a Centre for Corporate Education that provides open-enrollment and customised programmes that tackle tough business challenges with a revolutionary approach. The programmes include a combination of theory, interactive learning courses, and real-world applications to help executives develop new business perspectives and sustainable business strategies.
---
Global MBA rankings
Although Forbes and US News do not rank MBAs globally, they were included for their impact in the US
---
General information
Mason School of Business, P.O. Box 8795, Williamsburg VA 23187, United States
t: +1 757-221-4100
w: mason.wm.edu