Summary
Mark Notton is a technology entrepreneur, innovator, coach, consultant, biohacker, and nutritionist. He is a renowned leader in the mobile technology industry, with over 20 years of experience and notable achievements.
A Bachelor's in Marketing from The University of Huddersfield in West Yorkshire, England, Mark seasoned himself in marketing. He has held various top-level positions including the Head of European Product while Marketing Google Android Devices for Motorola and the Director of Product & Strategy Marketing for Samsung. He has played a pivotal role in launching Europe's first smartphone, the first branded Android phone, and the first mobile Sat Nav solution.
More recently, Mark has focused on innovation in the health tech sector, particularly in wearables and health tracking applications. As the Country Director of Progress Health and Wellness, a health tech business that could help people suffering chronic pain. The venture uses wearable technology and DNA sequencing to provide clients with personalised health programmes.
Highly sought-after as an expert on mobile technology, Mark has appeared on live media for the likes of Forbes, Reuters, the BBC, and NBC. In addition, to deepen his knowledge when developing health tech, Mark is studying for an advanced diploma in Nutrition and Biochemistry.
Mark is a certified Immune Centric Health Coach, specialising in Biochemistry and Nutrition. A world-class keynote speaker, Mark Notton is hired to speak on topics such as innovation, health tech, navigating workplace cultures, market planning, and overcoming objections in multi-layered multicultural organisations.
Biography
After his Bachelor's in Marketing from The University of Huddersfield, Mark began his career in October 2002 as an EMEA Product Marketing Manager for Windows Mobile and Linux devices at Motorola in Basingstoke, UK. In this role, he was responsible for managing the marketing of these devices across the Europe, Middle East, and Africa (EMEA) region.
After working in various product marketing roles within Motorola, Mark transitioned to the position of Product Portfolio Planning Manager for High Growth Markets in January 2006. Based in Singapore, he took charge of defining and managing the device portfolio for the Middle East, Africa, and Asia. Mark excelled in this role, analysing market trends, conducting competitive intelligence, and developing a compelling product roadmap to meet the diverse market needs of over 30 geographies.
In August 2007, Mark moved to Dubai, UAE, to become the Strategic Portfolio Planning Manager for EMEA at Motorola. In this role, he played a crucial part in defining and managing the product portfolio for the entire EMEA region. Mark introduced a comprehensive portfolio and market planning process that included internal stakeholder workshops, competitive intensity models, and Core, Growth, Breakthrough portfolio segmentation. His efforts resulted in a streamlined portfolio, improved performance tracking, and enhanced market alignment.
In April 2010, Mark took on the role of Head of European Product Marketing for Google Android Devices, still based in Basingstoke. Leading a team of product marketing managers, he was responsible for delivering devices and services across Europe. Mark managed a portfolio of eight Android devices, developed regional go-to-market propositions, and played a vital role in strategic portfolio planning alongside senior leadership.
In June 2014, Mark joined Truphone Labs as a Senior Global Product Manager. He focused on defining product propositions for the next generation of Truphone products and services, targeting emerging telecom consumers. Mark played a key role in shaping Truphone's first WebRTC offering and defining a VOIP app for B2B customers.
Mark's career took a significant turn in September 2012 when he became the Head of Portfolio Operations - Europe at Motorola, which had become a Google company. Based in Basingstoke, UK, he was responsible for the sell-in, launch planning, and delivery of the Motorola portfolio to mobile operators and retailers across Europe. Mark successfully managed the roll-out of physical and online propositions, including the Moto G and Moto X. He also built strong relationships with key partners in both the B2B and consumer sectors, resulting in significant market share growth for Motorola.
After leaving Motorola, Mark joined Samsung Electronics in Chertsey, UK, in February 2016 as the Head of European Product Management for the IM Division. In this role, he was responsible for running the $15 billion+ European consumer device portfolio. Mark led a team managing the entire portfolio of mobile devices across 17 European subsidiaries, major operator buying groups, and retail and distribution partners. He played a pivotal role in defining commercial schemes, managing pricing and positioning strategies, and ensuring the growth and competitiveness of Samsung's mobile business in Europe.
From March 2017 to March 2020, Mark served as the Director of Product Portfolio & Commercial Strategy at Samsung Electronics, still based in Chertsey. He took on additional responsibilities for the mobile portfolio and commercial and pricing strategy in Europe. Mark also became a presenter for global product launches at Samsung's "unpacked" events.
In 2022, Mark became Immune Centric Health Coach, and Level 4 Diploma in Nutrition from Natural Healthcare College. He established Progress Health and Wellness, a healthcare provider that specialises in assisting individuals with chronic pain. The platform employs innovative approaches such as remote health monitoring, DNA sequencing, and up-to-date immunology research to deliver effective solutions. Its comprehensive method includes leveraging state-of-the-art wearable technology from industry leaders like Apple, Google, and Fitbit for remote health monitoring.
Additionally, genetic sequencing is utilised to generate personalised health recommendations tailored to each client's unique genetic makeup. Furthermore, Progress Health and Wellness incorporates the latest findings in immunity and evidence-based nutrition to enhance their treatment strategies. All of these services are administered by qualified healthcare professionals within the convenience and comfort of the client's own home.
---
Vision
Mark Notton's vision is anchored in a relentless pursuit of innovation and transformative impact. With a foundation in marketing and product strategy, he envisions a future where cutting-edge solutions redefine industries and enhance lives. Throughout his career, Mark has consistently demonstrated a commitment to pushing boundaries, whether it's shaping strategic roadmaps for global tech giants or pioneering revolutionary healthcare approaches.
Mark envisions a future where healthcare is seamlessly integrated with cutting-edge technology and personalised wellness solutions. As the founder of Progress Health and Wellness, his vision is to revolutionise the approach to chronic pain management and overall health. Leveraging advanced remote health monitoring, genetic sequencing, and the latest immunology research, Mark aims to empower individuals with tailored strategies that address their unique needs.
---
Recognition and Awards
Mark Notton excelled in market analysis, competitive intelligence, and strategic roadmaps, empowering Motorola's presence in over 30 geographies. Mark's career evolved as he took on pivotal roles at Motorola and Samsung, demonstrating his prowess in leadership and growth strategies. As Director of Product Portfolio & Commercial Strategy at Samsung Electronics, he played a central role in steering the $15 billion+ European consumer device portfolio, leaving an indelible impact on Samsung's mobile business in Europe. In 2022, Mark's journey led him to establish Progress Health and Wellness, a healthcare provider specialising in chronic pain management. Leveraging his expertise and the latest advancements, he employs remote health monitoring, genetic sequencing, and immunology research to provide personalised and comprehensive solutions, championing innovation in the realm of healthcare.
---
References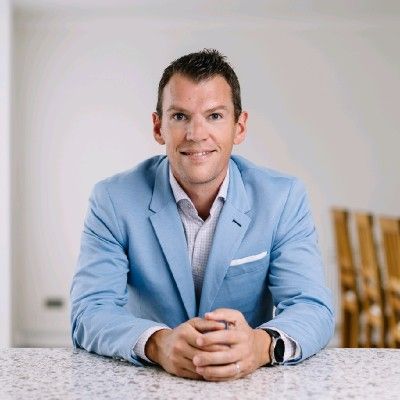 Occupation
Technology entrepreneur, innovator, coach, consultant, biohacker, nutritionist
Known for
NickWatch (smartwatch for kids, WatchinU and Paramount Nickelodeon joint venture), Progress Health and Wellness (Country Director)
Accolades
Immune Centric Health Coach (Biochemistry and Nutrition)
Education
Marketing (University of Huddersfield in West Yorkshire, England)