---
History
The business school's motto, "Think Bravely", is how Kellogg School of Management, Northwestern University approaches its mission of educating, equipping and inspiring leaders for today's global marketplace. It believes that business can be bravely led, passionately collaborated and world-changing. This has been Kellogg School's philosophy for years as a global-management educator in the 21st century.
Kellogg School strives to educate, equip and inspire leaders to build strong organisations and wisely leverage the power of markets to create long-lasting value. The business school uses a method of grounded wisdom, courageous and collaborative spirit, and a pioneering vision that challenges the conventions of the 21st century and drives change. Since 1908, Kellogg School has practiced in the field of Management. Since then, the scope of the curriculum has expanded into the fields of general management, finance and technology.
The core curriculum is a combination of decision making, business strategy, management, finance, and leadership classes the create a foundation for advanced specialisation within professional fields. Kellogg School also offers more than 200 electives.
---
Courses
The 2-Year MBA Programme is the largest MBA program at Kellogg University and classes go from Fall through Spring. The curriculum consists of nine courses in accounting, management and organisations, marketing, finance, decision sciences, and management and strategy. Each student must complete an internship during the summer between years one and two and all core classes must be passed in order to progress to year two. 24.5 credits must be completed over six quarters enrolled. Below is the course curriculum (provided by Kellogg's University website):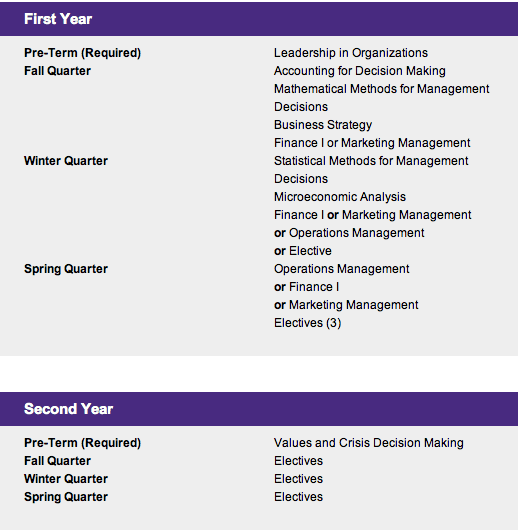 Kellogg School also offers a 1-year MBA programme where students must have already completed five of six graduate courses in accounting, finance, marketing, statistics, operations, and economics. Courses from any other business school are accepted but reviewed to make sure they satisfy the required core competencies. Students take 3-5 classes during the summer before the program and then must complete 13 additional courses from fall to spring. The curriculum for the 1-year program includes these areas of study:
Accounting Information and Management
Analytical Finance
Decision Sciences
Entrepreneurship & Innovation
Finance
Health Enterprise Management
Health Resources Management
International Business
Management & Organisations
Managerial Analytics
Managerial Economics
Marketing
Marketing Management
Media Management
Operations Management
Real Estate
Social Enterprise at Kellogg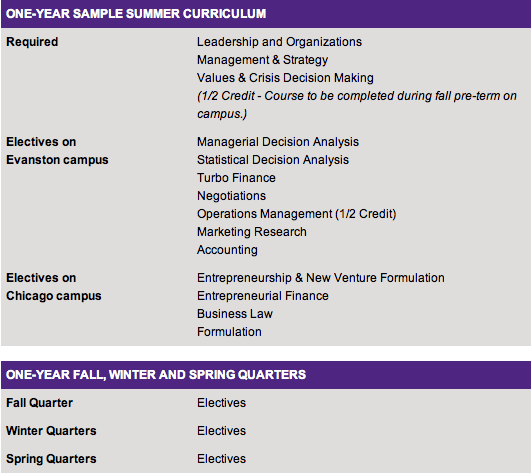 The Executive MBA Program is designed for senior and mid-career executives looking to further their knowledge in their specific areas of practice. The teaching methodology focuses on teamwork, cross-cultural collaboration, leadership, and adaptability. Four different schedules are offered to accommodate executives who are working and attending classes at the same time.
All of the programs are two years and begin in either September or January in Evanston, IL, or Miami, FL. For the Evanston location, classes meet every other week from Friday through Saturday. At the Miami location, classes meet once a month from Thursday afternoon through mid-day Sunday. Classes go for 9 months and are broken up into three trimesters. The first week of each year is a "live-in week," designed to submerge students in Kellogg's educational environment and have them meet other peers in a casual atmosphere. Students who begin in September also experience an "international live-in week" at the beginning of the second year.
Kellogg's Executive MBA Programme is designed to support the professional goals executives have aligned their career paths with and help them advance forward. The required curriculum teaches the fundamentals of management and provides a base for cross-cultural studies presented later. The programme requires students to complete 28-course credits, 9 of which are required core courses. 15 credits must be advanced courses and 4-6 are electives.
---
Global MBA rankings
Although Forbes and US News do not rank MBAs globally, they were included for their impact in the U.S.
Forbes
Financial Times Rank
U.S. News and World Report Rank
Bloomberg BusinessWeek Rank
The Economist Rank
---
Job integration rate
According to Bloomberg Businessweek's International Business School Ranking: High: 96% job offer three months post-graduation.
---
General information
Kellogg School of Management, 2001 Sheridan Rd Evanston, IL 60208.
t: 847-491-3300
w: www.kellogg.northwestern.edu