---
History
EMYlon Business School has offered unique business education for over 140 years that is focused on entrepreneurship, innovation, and humanism. The business school educates entrepreneurs of the world to create wealth and value for the world. They have a vision of creating leaders who possess the proper knowledge needed to succeed in the wide range of cultural and economic systems across the world.
EMYlon Business School has a mission to devote its resources to lifelong learning in entrepreneurial and international management. The education is comprised of day-to-day company management and theoretical practice and consists of stimulating the social responsibility participants should have as entrepreneurs. The business school holds the values of being creative, responsible, empowering and inspiring its students, and bold and genuine.
EMYlon lives by the motto "the power of Start". By this, they mean that they create people with initiative who don't wait to be asked but instead are already looking to advance and be open to change. The school method of "Start" helps students connect with each other while working in strong teams, and possibly grow into potential start-ups, high-growth companies, or dynamic organisations. The business school applies an entrepreneurial pedagogy by providing:
An active pedagogy that is project-based and encourages engagement to spark creativity and initiative.
A collaborative pedagogy that promotes teamwork and networks.
A systemic pedagogy designed for problem-solving skills and discovering connections between disciplines.
Open pedagogy exposes students to diverse cultures and perspectives.
Reflective learning encourages self-awareness, personal development, and learning through experience.
Critical thinking skills and the ability to question the status quo.
---
Courses
The EMYlon International MBA Programme combines a strong focus on entrepreneurship, a year-long consulting project, and a vast amount of diversity to deliver a project-based programme that explores alternate business models through learning trips. Also, lessons from corporate and social executives as well as successful entrepreneurs are provided. The objective of the programme is to develop participants' leadership skills, entrepreneurial competencies, and expertise in their chosen function or industry, and prepare them to boost their careers. The teaching methodology allows participants to adopt the entrepreneurial mindset in a dynamic learning environment through a mixture of lectures, simulation games, case studies, and project-based seminars.
Below is a diagram of the course structure, provided by EMYlon Business School.

Also included in the programme is the nine-month-long "Entrepreneurial Leadership Project", which allows participants to put their newly learned knowledge into real-life situations and make the most out of their experience at the university. Some examples of projects done in the past are assisting start-up activities, searching for opportunities in emerging markets, or finding solutions for inner-cities.
The Executive MBA Programme is an executive-oriented programme that focuses on turning ideas into action. Cutting-edge research is used in the unique approach to developing entrepreneurial leadership competencies in participants. The programme is directed by the essential values of conviviality, openness, and proximity. The programme is designed for senior managers with 10 or more years of experience who wish to fill a senior role at their company and obtain additional strategic responsibilities. It is offered in three different formats and is based on the core courses of entrepreneurial leadership, self-development, strategy, and decision-making. Learning trips to Shanghai and entrepreneurial workshops in Europe are also offered.
Below is a diagram provided by EMYlon showing the curriculum structure of the Executive MBA programmes.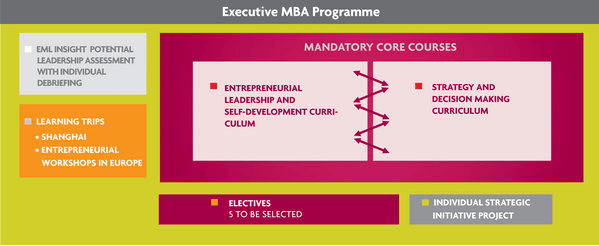 The IMM Global Executive MBA was launched in 1999 and offers participants international management education. The programme has an objective to foster the exchange of business ideas among international professionals, develop expertise in decision-making approaches, enlarge participants' understanding of the organisation and provide insights on the economic, social, technological, and geopolitical forces of corporations. The emphasis of the programme is on strategic decision-making in the setting of the global economy. It's designed to address changing business environments that senior executives may face in today's economy. The programme is delivered in five modules consisting of two weeks of in-residency sessions. The topics of study or delivered through professors, guest speakers, workshops, and field trips. The programme requires a minimum of five years of work experience.
The International Leadership Programme is an executive development programme that requires participants to come up with an areal international project of their own that is sponsored by their company. At the end of the programme, the participants' success is measured by the success of their project. The programme was built on the idea that "managers cannot simply learn international leadership competencies in a classroom, but must develop them through real-world experience". Below is a diagram showing the structure and curriculum of the programme, provided by EMYlon.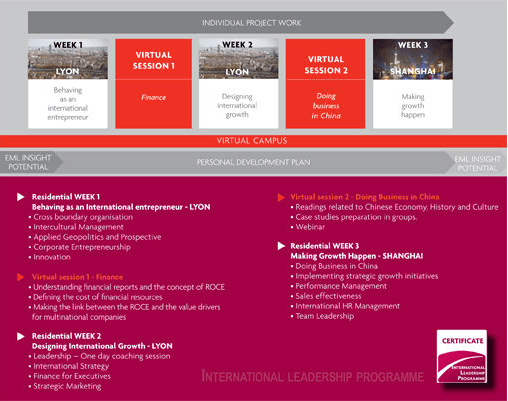 ---
General information
EMLyon Business School 23 avenue Guy de Collongue 69130 ECULLY France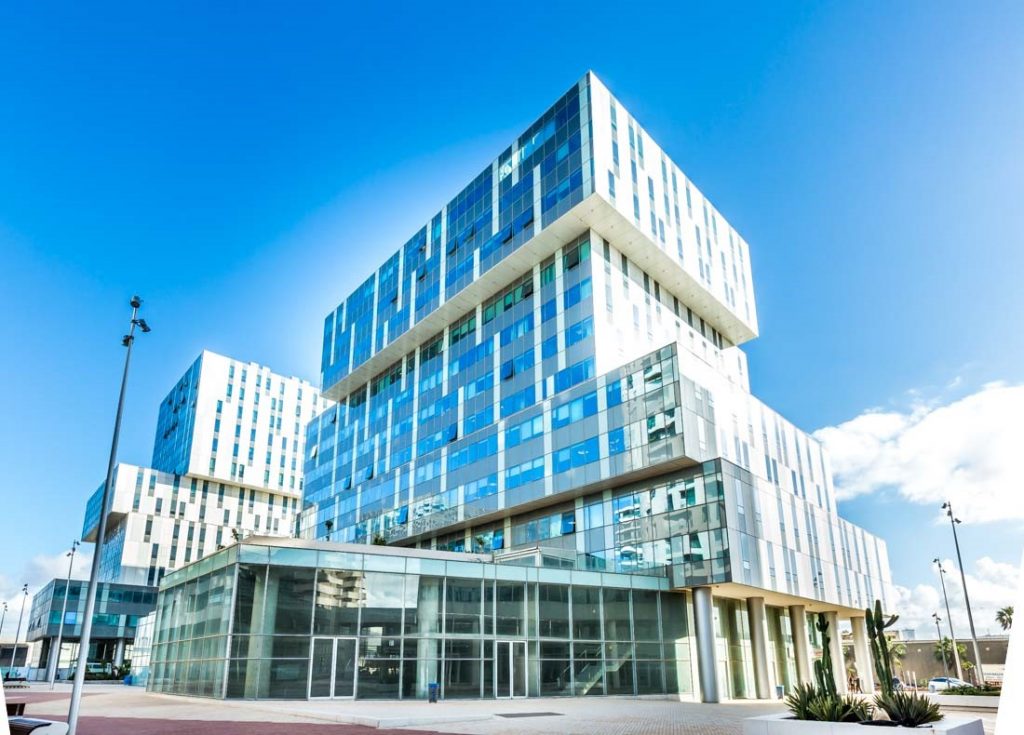 Locations
Écully, Paris, and Saint-Étienne, France Shanghai, China Casablanca, Morocco
Type
Private business school
Address
23 avenue Guy de Collongue 69130 ECULLY França