Summary
EDHEC Business School is a French grandes écoles business school with campus locations in Lille (France), Nice (France), Paris (France), London (UK), and Singapore, counting over 90 nationalities on its campuses. With over 55,000 alumni in 127 countries, it trains committed managers capable of dealing with the challenges of a fast-evolving world.
EDHEC holds the coveted triple accreditation of EQUIS, AACSB and AMBA. According to the Financial Times, the business school consistently ranks among the top 10 European business schools and is placed third in France, after HEC Paris and ESCP.
EDHEC offers its flagship Master in Management, MSc International Finance, MBA and EMBA programs, specialised MSc programs, PhD program and executive education.
In 2019, EDHEC had 8,600 students enrolled in traditional graduate and undergraduate programmes, 245 exchange and double-degree agreements with many academic institutions and a network of more than 40,000 alumni in over 125 countries.
---
History
EDHEC Business School's history dates back to its establishment in 1906. It was founded by entrepreneurs from the North of France, with Motte Duthoit, a prominent textile manufacturer and mayor of Roubaix, purchasing the land where the current EDHEC headquarters are located. The school's origins can be traced to a department for business studies at the "Ecole des Hautes Etudes Industrielles" in Lille in 1906. In 1921, it was officially founded under the name "Ecole des Hautes Etudes Commerciales du Nord" (EDHEC).
In 1958, it attained the status of an independent association with "Grande Ecole" status, granting it the ability to confer master-level qualifications. In 1971, the school received official recognition from the French Department of Higher Education and Research.
EDHEC has expanded its global reach and established strategic partnerships with renowned institutions. In 1983, it formed its first international agreement with the London School of Economics. The school continued to enhance its reputation with accreditations such as EQUIS, AMBA, and AACSB in 1999, 2003, and 2004, respectively. In 2011, EDHEC opened executive campuses in Singapore and Paris, further extending its presence internationally.
The school has also launched various initiatives to promote research and innovation. In 2001, the EDHEC Risk Institute (ERI) was established, focusing on finance and risk management. The launch of ERI Scientific Beta in 2012 marked another milestone, while partnerships with prestigious institutions like Yale and Princeton were formed. EDHEC has also demonstrated its commitment to entrepreneurship by establishing the EDHEC Incubator (EYE) in 2010.
---
Courses
EDHEC Business School offers a diverse range of degree programs to cater to different academic and professional interests.
At the undergraduate level, students can pursue a Bachelor's degree in Business Administration (BBA). This four-year program provides a comprehensive understanding of business fundamentals and offers three tracks: Global Business Track, Business Management Track, and an Online track. The BBA program includes work placements and academic exchanges worldwide, providing students with practical exposure and international experience.
For postgraduate studies, EDHEC offers the Master in Management (MiM) program, which is the school's flagship "Grande Ecole" program. The MiM is a two-year course that offers specializations in Financial Economics, Business Management, or Global Economic Transformation & Technology. Taught entirely in English, the MiM program awards a double degree: Master in Management and Master of Science. Students have the opportunity to choose from a variety of elective courses to tailor their studies to their specific career aspirations.
EDHEC also offers a range of specialised Master of Science (MSc) programs in fields such as Accounting & Finance, Corporate Finance & Banking, Entrepreneurship & Innovation, Marketing Management, and more. These one-year programs provide in-depth knowledge and expertise in specific areas of business and management.
For experienced professionals, EDHEC offers the Global Master of Business Administration (Global MBA) and the Executive MBA programs. The Global MBA is a 10-month program that allows students to customize their experience by choosing from key areas such as Entrepreneurship, Digital Innovation, International Finance, and Global Leadership. The Executive MBA is a part-time program designed for working professionals, offering flexibility in terms of format and schedule.
EDHEC Business School also offers a PhD in Finance, which is the highest degree conferred by the school. This program is designed for individuals seeking advanced research and academic careers in finance. The PhD program includes core courses, research workshops, and a final dissertation.
---
Global MBA rankings
In 2022, the school was ranked among the top-10 European Business Schools, reaffirming its reputation as a leading institution in business education.
EDHEC's Master in Marketing has consistently been ranked among the top 10 in the world, reflecting the program's excellence in preparing students for the dynamic and competitive field of marketing. Similarly, the Master in Finance offered by EDHEC has consistently achieved top rankings, often placing within the top 5 worldwide. In 2017, the Financial Times ranked EDHEC #1 globally for its Master in Finance, a testament to the program's exceptional quality and relevance in the finance industry.
EDHEC's Master's in Management has also garnered significant recognition. According to The Economist, the university ranks 3rd in the world for its Master's in Management, highlighting the program's strong curriculum, faculty, and overall educational experience.
---
Job integration rate
EDHEC's commitment to academic excellence and professional development equips students with the necessary skills and knowledge to thrive in the competitive job market. Its strong industry connections and extensive corporate partnerships provide valuable networking opportunities and facilitate direct engagement with top companies.
Additionally, the school's career services team offers comprehensive support, including personalised coaching, internship placements, and career fairs, to assist students in securing meaningful employment.
---
General information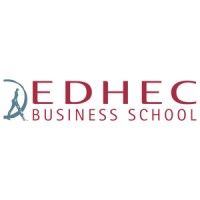 Locations
Lille, France;[3] Nice (France), Paris (France), London, (UK), Singapore
Afiliations
Catholic University of Lille Conference of Grandes Ecoles
Address
24 avenue Gustave Delory 59057 Roubaix cedex 01 França