Summary
Daryn Smith is the CEO of Huble, a CRM and creative marketing consultancy that supports large and mid-market enterprises with the expertise to implement and augment HubSpot, as well as develop and execute creative marketing, sales strategy and websites. The story of Huble starts when he co-founded MPULL in 2012, later merging it with B2B Marketing Lab to create Huble in 2020. Currently, as the Group Chief Executive at Huble Digital, Daryn oversees a team of 170+ professionals.
Daryn has over 25 years of experience in the fields of computer science and marketing, having held key roles in multinationals like InMobi and Verizon Business.
As an entrepreneur, he has founded other companies, like 'On The Bench' (2018), a multi-side platform for getting and providing support in real time within marketing platforms; and loadtheshow.com (Afro Canvas Media) (2006), the first ad funded music download website launched Worldwide.
Daryn holds a diploma in Brand Management from AAA School of Advertising, and in Web Development from Blue Chip Institute.
Beyond executive duties, Daryn shares insights through the Digital Surfing podcast, emphasising digital transformation and growth.
Biography
Daryn Smith is a visionary leader and entrepreneur with a rich background in both computer science and marketing. Graduating with a Diploma in Brand Management from the AAA School of Advertising in 2006, Daryn embarked on a remarkable journey that would see them at the forefront of innovation in the CRM and digital marketing space.
In 2012, Daryn co-founded MPULL, a HubSpot Solutions Partner based in South Africa, showcasing early on their commitment to cutting-edge marketing solutions. The company's subsequent merger with B2B Marketing Lab in 2020 led to the formation of Huble, where Daryn currently holds the position of Group Chief Executive. At the helm of Huble Digital, a leading HubSpot CRM and creative marketing consultancy, Daryn leads a team of over 170 professionals, providing expertise in implementing and enhancing HubSpot, as well as developing and executing creative marketing and sales strategies.
With a career spanning over 25 years, Daryn has worked in various leadership roles, including Chief Sales & Innovation Officer at Huble Digital and Head of Marketing for Africa & Middle East at InMobi. Additionally, as a Marketing Communications & CRM Specialist for Verizon Business, Daryn played a crucial role in shaping the brand identity in Africa and overseeing the development of product collateral.
Daryn's educational journey includes a Diploma in Web Development from the Blue Chip Institute and a Diploma in Computer Science from W S & L. Having attended Fish Hoek High School, Daryn's academic and professional pursuits demonstrate a well-rounded approach to personal and career development.
As the Group Chief Executive of Huble Digital, Daryn is on a mission to empower businesses to become more customer-centric, leveraging the power of HubSpot and other platforms. His extensive experience is reflected not only in successful client partnerships across diverse industries but also in their role as a Partner Advisory Board Member at HubSpot, where they contribute insights on product betas, partner tools, and engagement.
Beyond his executive responsibilities, Daryn is passionate about sharing knowledge and experiences. This passion is manifested through the Digital Surfing podcast, where he discusses the latest trends and best practices in digital marketing and CRM. With a focus on digital transformation and growth, Daryn Smith continues to make significant contributions to the ever-evolving landscape of marketing and customer relationship management.
Career
Huble Digital - Group Chief Executive
Oct 2012 - Present
HubSpot - Partner Advisory Board Member
Jan 2017 - Present
On The Bench - Co-Founder
Jan 2018 - Nov 2020
InMobi - Head of Marketing - Africa & Middle East
Feb 2012 - Oct 2012
MTN Business - Manager: Marketing Communications & CRM
Mar 2009 - Feb 2012
Published Work
Daryn Smith's published work covers a wide array of marketing-related topics, offering valuable insights for businesses and marketers. One of his notable articles, titled "7 Reasons You Shouldn't Trust a Designer with Your Site's Design," was published on Memeburn in July 2013. In this piece, Smith argues against entrusting web design solely to graphic designers or web designers, emphasising the need for marketing professionals to lead website design projects. He contends that marketing's primary focus on revenue generation should be the core priority of web design, ensuring websites are effective in achieving their business goals.
In his work, Daryn Smith also discusses the impact of mobile and social media on political campaigns and shopping decisions in Africa. He addresses the significance of content as a substitute for traditional corporate gifts in compliance with changing corporate governance policies. Furthermore, Smith explores the synergy between sales and marketing functions, advocating for shared revenue generation metrics to enhance collaboration. He also provides insights into the importance of mobile marketing for tourism in Africa and technical aspects of iPad advertising in the context of high-definition displays.
Overall, Daryn Smith's body of work showcases his extensive expertise in marketing and offers valuable insights into various aspects of the field, making him a valuable resource for marketers and businesses.

---
Vision
As he said in a recent interview with Dinis Guarda:
Daryn is committed to empowering businesses for customer-centric success through platforms like HubSpot. With a passion for innovation, Daryn shapes the future of marketing, emphasising digital transformation and growth.
---
Recognition and Awards
25 years of experience in the fields of computer science and marketing
---
References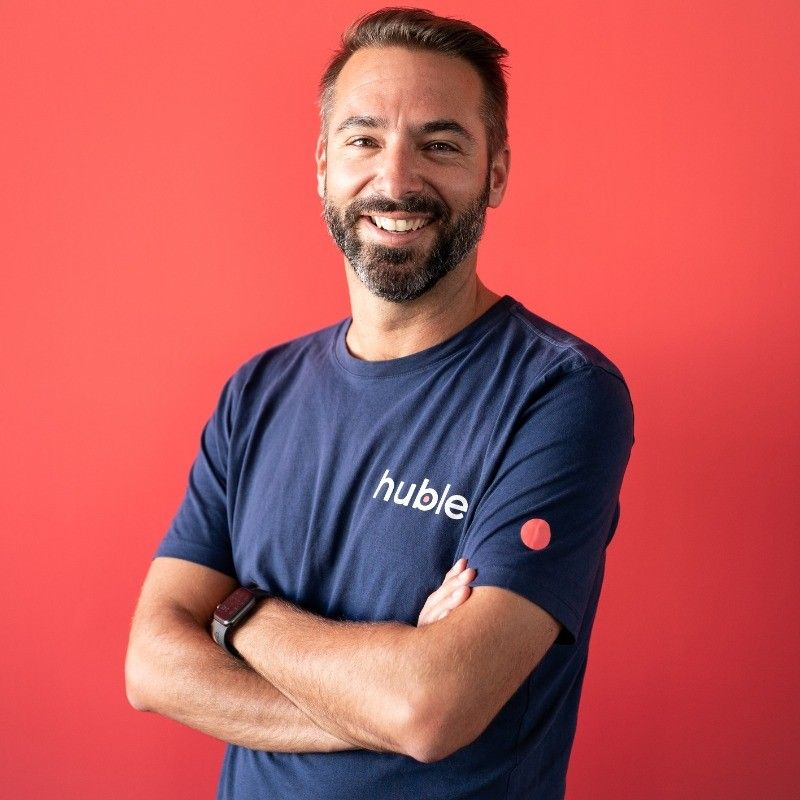 Residence
London, United Kingdom
Occupation
CEO of Huble, a CRM and creative marketing consultancy
Known for
Entrepreneur; Key roles in multinationals like InMobi and Verizon; CEO of Huble; Podcast Digital Surfing
Accolades
25 years of experience in the fields of computer science and marketing
Education
Diploma in Brand Management from AAA School of Advertising, and in Web Development from Blue Chip Institute