Católica Lisbon School of Business and Economics (CLS) is the arguably the best business school in Portugal and the only one to reach top 35 in the Financial Times ranks. The school practices quality in teaching and excellence in education and strives to be in the top 20 European business schools within 10 years.
The business school was founded in 1989 and currently hosts almost 3,500 full-time students. CLS has a mission to the dedication of providing intellectual leadership in developing outstanding graduates at high-level careers in management and economics, and in providing a life-long learning environment for business leaders and professionals. The business school provides students with practical and relevant programs, involvement in original research projects, community service activities for the surrounding Portuguese community and promotion of the basic Christian principles. CLS aims to:
Improve cultural levels in intellectual, artistic, moral and spiritual terms.
Stimulate research and higher education to train leaders for society.
Create a genuine university community and integrate it into Portuguese society.
Further the cultural values of the Portuguese community.
CLS has a goal to be the top choice for students seeking business education and for high-level managers seeking outstanding executive education programs, both in Portugal. They also want to be the preferred provider of business graduates to Portuguese companies and multi-national corporations.
The Lisbon MBA Program is offered in an international and part-time format and is presented in partnership with MIT's Sloan School of Management. The program is ranked 15th of MBA programs in Europe and is composed of a rigorous curriculum of management, finance, and emotional intelligence. The 1-year international MBA program is full-time with an MIT Sloan immersion in Boston. Below is the structure and curriculum of the program, provided by CLS.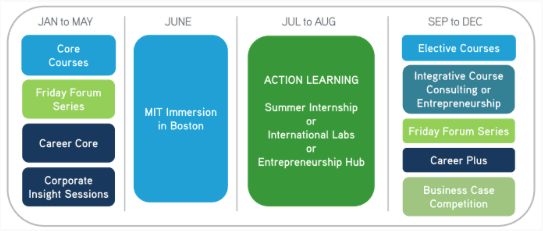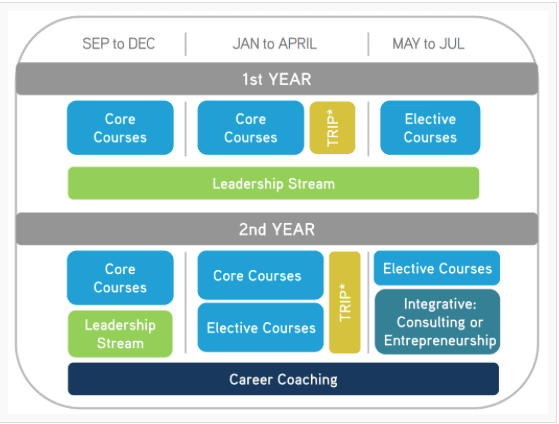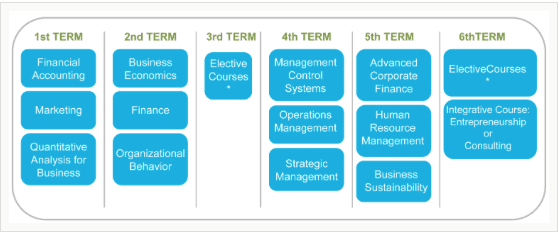 The part-time MBA program is 22 months long and includes an international study trip and an integrative consulting project or entrepreneurship. Students can choose either the evening schedule on Monday and Friday nights and Saturday days, or the weekend schedule on Fridays and Saturdays. Below is the course structure and curriculum , provided by CLS.
The Executive Masters in Management with a Specialization in Leadership Development is structured around four blocks:
Basics- the fundamentals of Economics, Finance and Accounting.
Creating Value – the main mechanisms and logic of creating integrated value.
Leadership – perspective approach to leadership and organizational behavior.
Summary – training and application of the comprehensive and integrated skills learned.
The program is 14 months long and is part-time at nights. The program is designed for executives who want to achieve an advanced specialization in leadership and further their fundamental knowledge in Economics, Finance and Accounting. The goal of the program is to develop skills in negotiation, leading high-performance teams, managing change, motivating employees to work better and harder, using feedback and compensation to improve performance, adapt communications to different audiences, and leading and inspiring others. CLS also offers an Executive Education Program with a wide range of open-enrollment management programs that have involved leaders of the best companies in the country lecture and guide students' professional development. Open-enrollment programs are offered in the areas of:
General Management
Project and Operations Management
Marketing
Leadership and Behavior
Finance
Health-care
Tourism
Although Forbes and US News do not rank MBAs globally, they were included for their impact in the US