While the oil and gas sector has historically attracted the largest share of foreign investment in the economy of Azerbaijan, the government has recently targeted four non-oil sectors to diversify into agriculture, tourism, information and communications technology (ICT), and transportation/logistics. Here are top 10 companies in Azerbaijan from different sectors that are shaping Azerbaijan's economy for the future.
Azerbaijan, with its blend of historical heritage and modern ambitions, is rapidly emerging as an economic force in the region. A testament to this progress is the presence of several standout companies in Azerbaijan that are redefining industries and driving the nation's growth.
Historically speaking, the Azerbaijani economy has remained heavily dependent on oil and gas output, accounting for roughly 86 percent of export revenue and over half of the state budget.
However, in response to recent changes in reforms and policies, Azerbaijan's economy demonstrated notable growth since 2021, when its GDP reaching $54.62 billion, marking a 5.6% increase from the previous year. The economic landscape was characterized by a significant surge in the non-oil GDP by 7.1%, alongside a more modest 1.8% growth in oil GDP during the same period.
According to the Asian Development Outlook, released by the Asian Development Bank in April 2023, Azerbaijan's GDP is expected to grow by 3.5% in 2023 and 3.8% in 2024.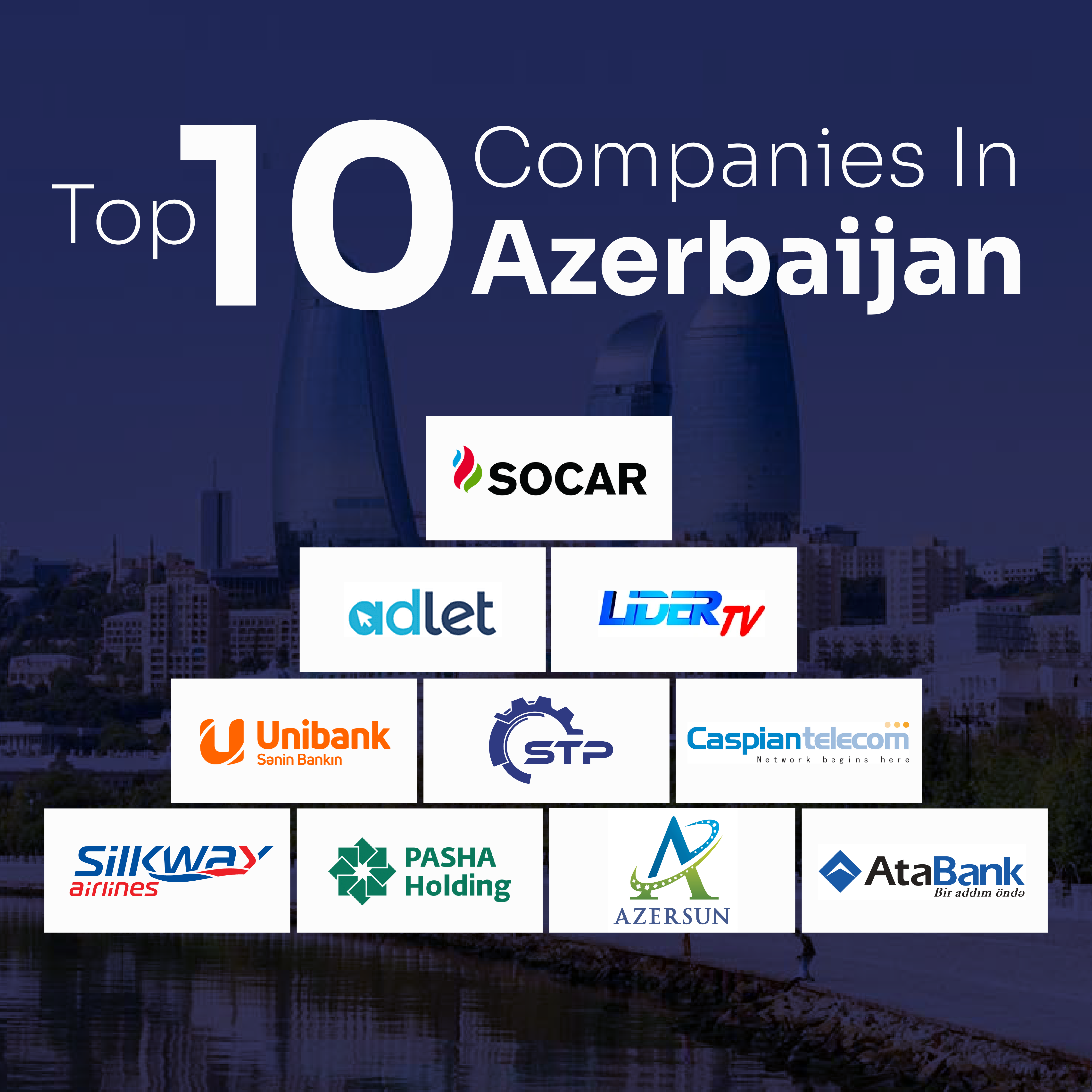 Here we explore the top 10 companies in Azerbaijan, each contributing uniquely to the country's economic landscape:
1. State Oil Company of the Azerbaijan Republic (SOCAR)
At the forefront of Azerbaijan's economic engine is SOCAR, a global energy giant. With its vast expertise in oil and gas exploration, production, and refining, SOCAR continues to play a pivotal role in the nation's energy security and international influence.
2. Adlet
Adlet is revolutionising rideshare marketing with its innovative advertising platform. By utilising interactive tablet ads, AI-driven optimisation, and real-time analytics, Adlet enhances the passenger experience while providing advertisers with powerful engagement opportunities.
3. Lider TV
A prominent name in Azerbaijan's media landscape, Lider TV delivers a diverse range of content to the nation. As a platform for news, entertainment, and information, Lider TV's impact on shaping public discourse and fostering cultural dialogue is noteworthy.
4. Sumgait Technologies Park (STP)
As Azerbaijan's foremost hub for technology and innovation, STP fosters research, development, and commercialization of advanced technologies across diverse sectors. This tech haven drives the country's aspirations for a knowledge-based economy.
5. Unibank
Unibank is a dynamic player in Azerbaijan's financial sector, offering a comprehensive range of banking and financial services. Its customer-centric approach and innovative solutions contribute to the growth of the nation's financial ecosystem.
6. Caspian Telecom
As the telecommunications sector continues to expand, Caspian Telecom plays a crucial role in connecting Azerbaijan to the world. With its reliable communication solutions, the company is instrumental in enhancing connectivity and bridging digital divides.
7. Azersun Holding
Azersun Holding's diverse portfolio spans the food, agriculture, and retail industries. The company's commitment to quality, sustainability, and innovation has solidified its position as a key contributor to Azerbaijan's economic growth.
8. PASHA Holding
Operating across multiple sectors, PASHA Holding is a prominent conglomerate driving growth and development. Its presence in finance, insurance, real estate, and more underscores its versatile impact on Azerbaijan's economic landscape.
9. Silk Way Airlines
The skies are dominated by Silk Way Airlines, a cargo carrier that connects Azerbaijan to global trade routes. With its extensive network and modern fleet, the company facilitates international trade and logistics.
10. AtaBank
Another notable name in Azerbaijan's financial sector, AtaBank offers a spectrum of financial services, including banking, insurance, and investment. Its commitment to excellence in financial solutions further enhances Azerbaijan's economic resilience.
These top 10 companies collectively encapsulate Azerbaijan's diverse economic landscape, showcasing the nation's potential to excel in various industries. From energy to technology, telecommunications to real estate, each company's contribution is a testament to Azerbaijan's commitment to progress and innovation. As these companies continue to thrive and shape the nation's trajectory, they inspire both the present and future generations to achieve new heights of economic prosperity and technological advancement.