The EDGE network has officially launched as it becomes a first mover in the emergence of edge computing. Designed to be a more cost effective and faster replacement to the cloud, edge computing is expected to address the proliferation of data and connected devices over the coming years, with estimates put at 29 billion connected devices by 2022 and over 75 billion IoT devices by 2025 worldwide. Furthermore, according to a thorough research carried out by Ericsson, the number of IoT devices have surpassed those of smartphones, with a growing number of connected cars, machines, meters, wearables and other consumer electronics. Likewise, the number of IoT devices with cellular connections is projected to reach 1.5 billion in 2022, or around 70 percent of the wide-area category. This growth is due to increased industry focus and 3GPP standardization of cellular IoT technologies. Cellular IoT connections benefit from enhancements in provisioning, device management, service enablement and security. The EDGE network is to improve the quality of those connections and make them quicker and more affordable, or, at least, that is what the company is aiming for.

"Edge computing will be the answer to the challenges faced by cloud computing as the amount of data and web traffic is set to increase exponentially in the coming years. With EDGE evolving from an already existing business with an established customer base, we see this as the beginning of EDGE network adoption. In the coming months we plan to migrate existing clients to the network, as well as convert an already expansive pipeline of business. At the same time we expect an exponential growth in the number of nodes as more people realise how they can monetise their spare computing capacity just by becoming an EDGE node," said Joseph Denne, CEO and Co-Founder of EDGE.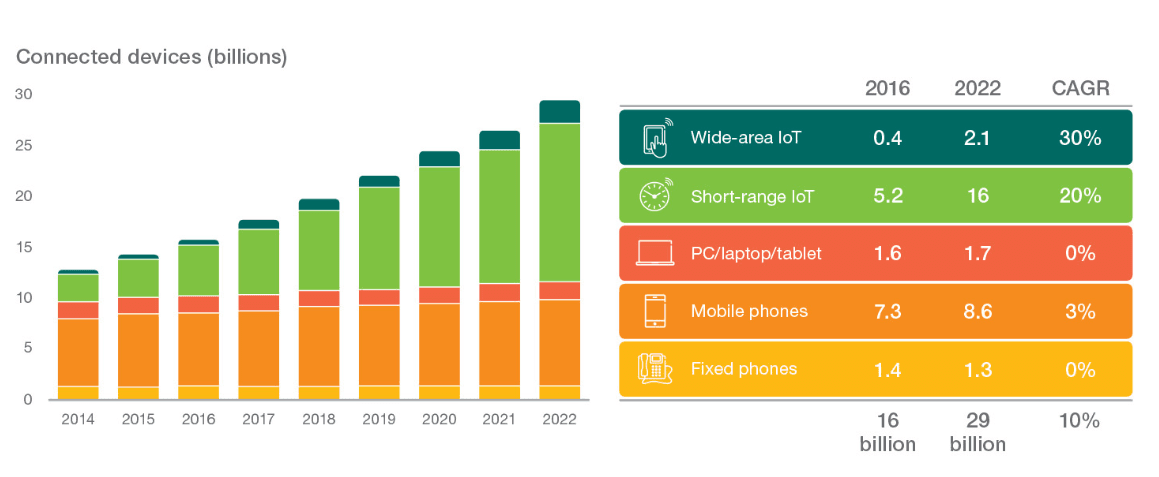 IoT Connected Devices. Source: Ericsson
In order to do so, they have set up plans to attract new customers to their network thanks to reward programs such as remunerating participants for committing their spare internet capacity to the network. Whilst individuals and businesses will be able to monetise their existing connected devices and hardware by joining the EDGE network, businesses can also reduce their IT expenditure as the cost of the EDGE computing network is far cheaper than using centralised and slow cloud computing infrastructure.

"The EDGE network is already live with 155 'founding nodes' established in 56 countries, who are earning DADI tokens on a monthly basis for pledging their spare capacity. EDGE is a highly secure, cost efficient and environmentally friendly blockchain based computing network that aims to revolutionise and ultimately replace cloud computing," the CEO commented. One of the main issues that Edge is trying to solve is the impact that complex and expensive cloud computing weighs on the environment. The EDGE network, as the company puts it, works by bringing data storage and computation as close to the point of need as possible, pushing data, computing power and applications away from centralised clouds and data centers. This will not only be more environmentally friendly as it reduces the amount of hardware needed to store data, but it reduces the volumes of data that must be moved, the consequent traffic and distance data must travel, providing lower latency and reduced transmission costs.