New book by strategy execution expert and keynote speaker Jeroen De Flander - Jeroen has advised more than 36,000 managers in 40+ countries.
Anyone can become talented, regardless of their genes - Greatness isn't something that is born to us, it's something we choose to grow.
Strategies rooted in 6 decades of research across 20 countries – and backed up with scientific studies. Three proven principles to boost your performance – the power of purpose, logic of mastery, necessity of grit are essential areas to conquer.
Talent isn't a lottery ticket you win at birth. It's something anyone can achieve through motivation, purpose and practice. Jeroen De Flander is a strategy execution expert and the author of The Art of Performance: The Surprising Science Behind Greatness – a new guide to developing skills and cultivating greatness. Encouraging readers to challenge everything they thought they knew about talent, the book offers a break away from the assumption that IQ and genetics determine our greatness. The Art of Performance is packed full of all the tools needed to develop yourself and become a talented performer. The scientific strategies take readers step-by-step through the essential elements to master – including cultivating interests, learning how to practice and finding your 'why'.
Unlocking the secrets of world-class performers
Packed full of scientific studies, startling statistics, cutting-edge insights – The Art of Performance is a tried and tested product of Jeroen's successful career advising brands across the world. By the end of the book, readers' will understand:
What lifelong interest is and why we need it
The simple rules to follow that can triple a learning cycle
Why having a purpose is essential in life
How to unlock hidden energizers
No matter where we currently stand, we are all travelling along the same performance curve. The Art of Performance is an essential guide for anyone looking to give themselves a boost and become a talented performer.
The Author
Jeroen De Flander is one of the world's most influential thinkers on strategy execution and a highly regarded keynote speaker. He is the number 1 bestselling author of Strategy Execution Heroes and The Execution Shortcut and has shared the stage with prominent thinkers such as Michael Porter, Costas Markides, Roger Marting, Robert Kaplan and David Norton. He has helped more than 36,000 managers in 40+ countries master the necessary leadership skills, and his popular blog has 45,000 weekly readers. Jeroen has also worked with numerous business schools including London Business School, IMD, Vlerick, Solvay and Tias. He has advised 75+ companies including Atos Worldline, AXA, Bridgestone, Brussels Airport, CEMEX, Credit Suisse, GDFSUEZ, Honda, ING, Johnson & Johnson, Komatsu, Nike, and Sony, and is co-founder of the performance factory - a leading research, training, and adisory firm.
---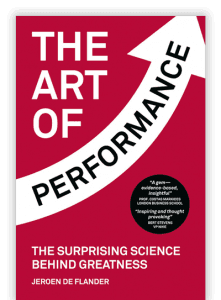 The Art of Performance
By Jeroen De Flander
Published by the performance factory
Paperback Version: £18.95
Other Books
https://www.openbusinesscouncil.org/are-you-a-free-range-human-the-book-that-shows-how-to-create-the-life-you-love/