The world's biggest vehicle manufacturer and the nation's largest fuel retailer have sealed an agreement to install almost 2,500 charging bays across up to 600 Tesco stores over the next three years in the UK. Customers will be able to charge their electric cars using a standard 7kW fast charger for free, or use the rapid 50kW charger at the market rate. The announcement follows a growing demand for more public charging points - with sales of electric and part-electric vehicles up by more than 20 per cent in the UK this year. Charging bays will be based in prominent designated spaces at Tesco Extra and Superstore car parks throughout the United Kingdom, and will be installed by the largest independent public charging network operator, Pod Point. When all the new units are fully operational, tens of thousands of motorists will be able to charge, or part re-charge, their electric vehicles each day while carrying out their shop at the supermarket. Tesco wants to offer customers and local communities an alternative to fossil fuels, and also play its part in supporting the transition to a low-carbon, clean air UK. Jason Tarry, Tesco CEO UK & ROI, said: "This is part of our wider commitment to addressing the environmental challenges that matter most to our customers, colleagues and communities. We want to be the leading electric vehicle energy provider and to support our customers with more sustainable solutions. Our EV network provides a sustainable choice for our customers and charging while they shop is another little help to make their lives easier."
The initiative builds on the supermarket's commitment to 100 per cent renewable electricity made in May 2017. Geraldine Ingham, Head of Marketing at Volkswagen UK, added: "This incredibly exciting partnership with Tesco, powered by Pod Point, underlines the scale and ambition of our electric car programme in the UK. Working with these partners to provide such an extensive network of EV chargers should leave no one in any doubt about the Volkswagen brand's wholehearted commitment to an electric future."
Volkswagen currently builds two fully-electric vehicles, the e-Golf and e-up!, but will be launching its new 'ID.' family of models over the next two years. A new Golf-sized electric model will go on sale next year, followed in 2020 by production versions of the ID. BUZZ people carrier and ID. CROZZ SUV concept cars.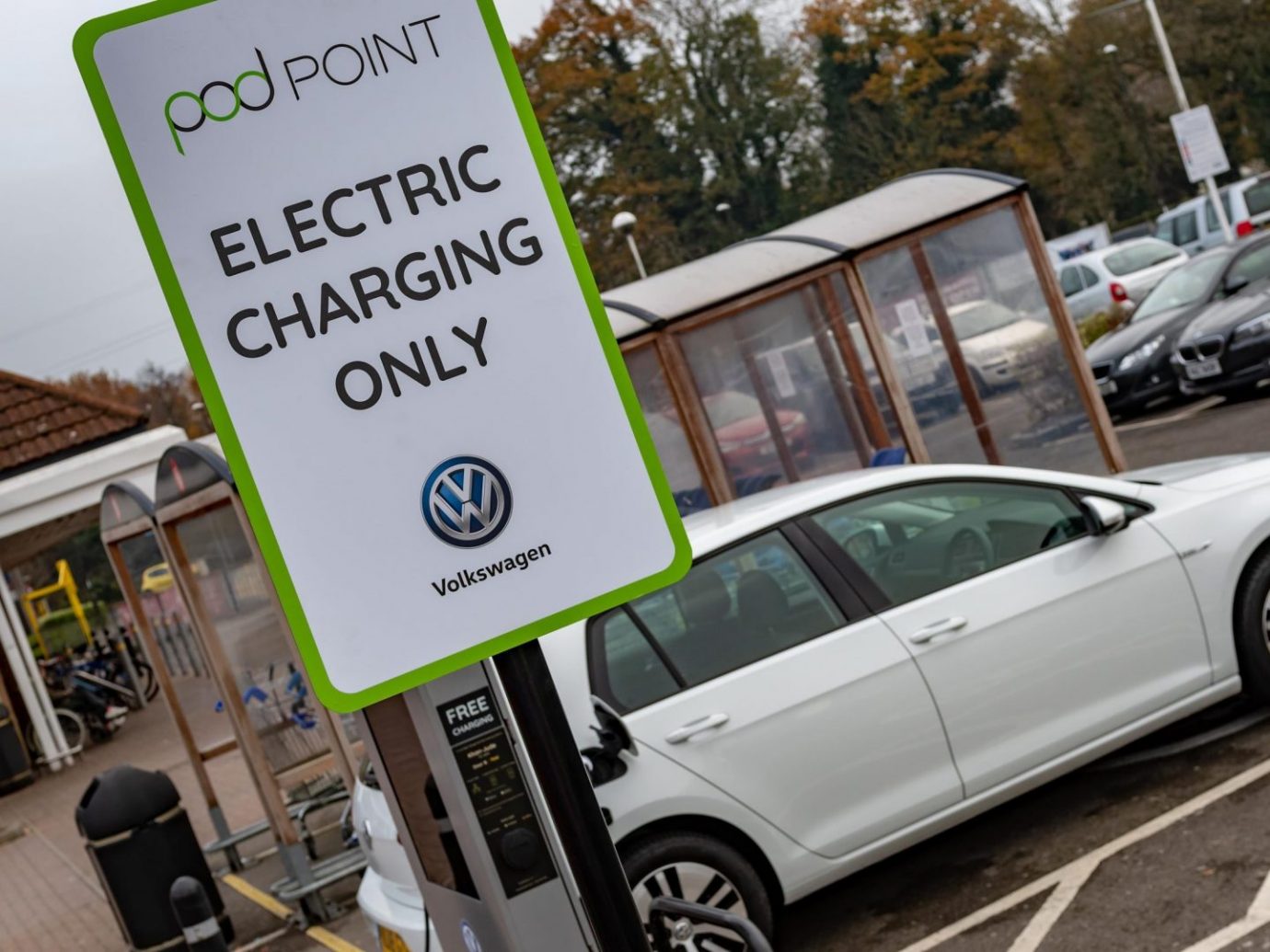 Volkswagen currently builds two fully-electric vehicles, the e-Golf and e-up!, but will be launching its new 'ID.' family of models over the next two years
Huge Growth of Electric cars in the UK
Figures from the Society of Motor Manufacturers and Traders (SMMT) reveal more than 120,000 'alternatively fueled vehicles' have been registered in the UK in 2018 - a 22 per cent increase on the same period last year. As the number of electric cars on UK roads increases, the charging infrastructure needs to improve quickly to support them and the partnership between Volkswagen and Tesco will see the number of public charging bays increase by 14 per cent. The initiative, which allows the majority of electric car owners – not just Volkswagen drivers – to charge their cars for free, has been welcomed by both the government and the WWF. Jesse Norman, the Minister for EVs at the Department for Transport, said: "The government is committed to making the UK the best place in the world to build and own an electric vehicle. For that we need high quality infrastructure in place to support ultra-low emission vehicles around the country. The government set out plans in its Road to Zero strategy to deliver a significant increase in this infrastructure and we welcome Tesco's pledge to roll out over 2,400 new charge bays across their stores."
Gareth Redmond King, Head of Climate Change, Environmental Policy & Advocacy, at WWF, added: "Businesses need to decide if they are preparing for a 'net zero' world or for climate breakdown. Tesco has clearly made its decision and is going full throttle in its commitment to transition to a low carbon future. It's this ambition and determination that makes us excited to partner with Tesco as we work together to make sustainable choices easier for all. One of the big challenges to EVs is that people worry about where they're going to charge their cars – this roll-out goes a long way to tackling that issue. It will make it easier for everyone to reduce their impact on the planet and we hope that others will follow where they lead."
Finally, Erik Fairbairn, CEO of Pod Point, said: "This agreement represents a 14 per cent increase in the number of public charge bays in the UK and is a monumental day for electric vehicle drivers. It is a massive leap forward for the UK and a significant step in our mission to put a Pod Point everywhere you park."