Disabled people aren't happy, successful, intelligent or attractive according to the Internet, despite a recent Government report1 calling for increased online visibility for the disabled, web services company,
, has found. One in five adults of working age are disabled in the UK (19%) but, unacceptably, simple searches for 'successful people' and 'attractive people' do not return a single image of a visibly disabled person. Website Planet analysed the first 500 images returned across four positive search terms — only 8 pictures (0.4%) featured a visibly disabled person. A search for 'happy people' only reveals a handful of images of the visibly disabled — groups of Down's Syndrome sufferers — among thousands of pictures of the able-bodied. Only a search for 'intelligent people' quickly unearthed multiple images of a disabled person in the form of Stephen Hawking — although even his image was preceded by that of the able-bodied Eddie Redmayne in his Oscar-winning role as the late physicist.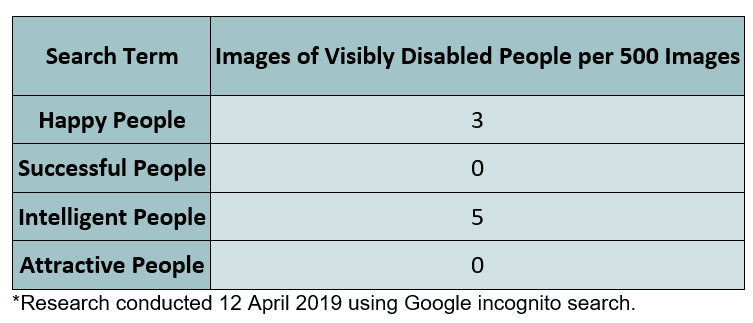 This is despite a recent high profile Government report into the experience of disabled people online linking lack of mainstream visibility of disabled people with poor and abusive attitudes towards them. The inquiry was triggered by a petition started by glamour model Katie Price, who has a disabled child, Harvey. Its findings, made public in January, revealed disabled people were heavily marginalised on the Internet and recommended the urgent introduction of new targets to reverse the situation. It also recorded a huge surge in hate crimes towards the disabled online as part of a wider culture of ignorance and abuse. Witnesses including Price gave evidence to the House of Commons Petitions Committee about how negative the portrayal of the disabled was on the Internet. Recommendations included the introduction of a disability awareness programme and targets to ensure 19% of all images of working age people in all Government advertising campaigns are images of disabled people, reflecting the proportion of the disabled in the working population. But despite the report, and the publicity it received when Katie Price talked about how Harvey's image had been used online, Website Planet found that little appears to have changed. In a search of images linked to positive emotions and areas of life such as happiness, success and beauty, disabled people barely featured. Two disabled charities, Sense and Scope, have also warned that huge swathes of the general public feel they have nothing in common with disabled people. Sense found that five in ten people felt this way, while Scope said nearly seven in ten admitted to feeling awkward around disability. Shira Stieglitz, Head of Content and Research, Website Planet, commented:
"It is incredible that it is virtually impossible to find images of disabled people among the ranks of happy, successful, intelligent and attractive people online.
"The way images are curated online is broken and the search results create an impression that society wants to put disabled people out of sight and out of mind. We don't actually believe this is the case but such marginalisation, whether wilful or not, has already been identified by the Government as a key driver for online abuse of disabled people by an ignorant minority.
"The way images are curated online needs to change to tackle this digital prejudice, and our study will only add to the concerns voiced by those who contributed to the inquiry."