In business, and in life, everything is changing fast, apart from how we behave. Our ways of thinking and making decisions have changed little since we lived in agricultural and industrial societies, but the problems we now need to solve are entirely different. Total Rethink gives leaders in any profession an important guide for changing their patterns in order to meet the challenges of today's (and tomorrow's) world. Filled with illustrative examples from author, entrepreneur and business person David McCourt's life and career. Total Rethink is part business biography, part business blueprint, Total Rethink explains how this can be done. In it, McCourt lays out the reality of the dangerous situation we find ourselves in today and suggests solutions which will empower everyone, including business people, politicians, diplomats, and teachers, to repair the damage we have already done, and prepare for the dramatic changes to come. Readers will discover how to:
Change the way they think and behave to be a true entrepreneur
Understand why incremental change no longer works
Move at the speed of the times we're living in
Find trusted, effective guidance to put into practice today
The advice inside this book will help readers to learn to think—and live—like a revolutionary.
The Author
David McCourt is Founder and Chairman of Granahan McCourt Capital whose European offices are in Dublin. He is an Irish American businessman, an entrepreneur, and one of the world's most successful, award-winning business people. The Economist described him as having, "impeccable credentials as a telecom revolutionary."
---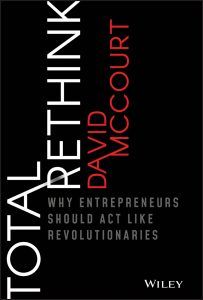 Total Rethink: Why Entrepreneurs Should Act Like Revolutionaries
By David McCourt
Out Now
Published by Wiley
Paperback Version: £18.99
Other Books
https://www.openbusinesscouncil.org/from-steve-jobs-to-jeff-bezos-the-book-thank-you-for-disrupting-examines-the-philosophies-of-the-worlds-great-entrepreneurs/