First Globally Crowdsourced Book on FinTech
Fintech is one of the biggest drivers of the global economy and is disrupting and opening the way we look at the financial industry and how technology innovation can help finance to be more useful and somehow useful and clean. A new recent crowdsourced book The FINTECH Book - The Financial Technology Handbook for Investors, Entrepreneurs and Visionaries - provides the first single, consolidated and authoritative resource on the subject and is the first globally crowdsourced treatment of the topic, containing contributions from 85 expert authors from across 20 countries around the globe. As FinTech created new solutions which demonstrate an incremental or radical / disruptive innovation development of applications, processes, products or business models in the financial services industry a book that highlights such amount of experts from 20 countries is most welcome. Moreover the crowdsourced format makes it a strong instrument and resources for professionals and organisations worldwide. In a recent article in tradersdna.com
The State of FinTech in 2016 we can see the growth of the industry with looking into how the USA provides the most attractive ecosystem for Fintech startups with a huge amount of companies around 4.7 million companies, followed by India with 1.92 million and then the United Kingdom with 0.82 million. Moreover the fintech ecosystem thrives with some major startups been valued over $1 billion (Unicorn startups) such as Square Inc for mobile payments ($6B), Stripe for online payments ($3.5B), Powa – an eCommerce and mCommerce technology company ($2.7B), Prosper for P2P lending ($1.98B) and Adyen for payment processing ($1.5B). Presently the combined worth of these start-ups is more than the major conglomerates such Google, Microsoft and Facebook falling just below the major player Apple worth $663.1B. We should expect much more as most of the big banks are investing in the ecosystem.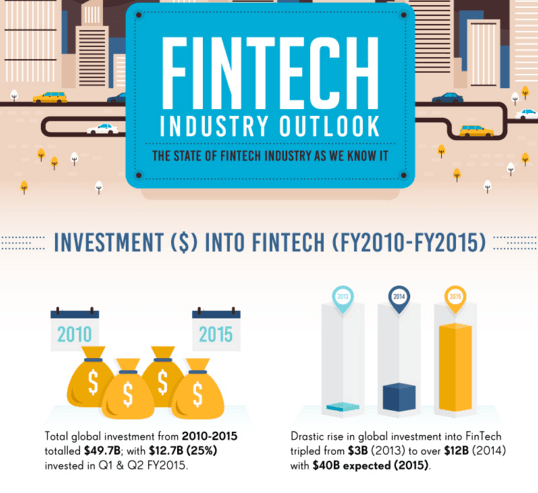 The State of FinTech in 2016, source tradersdna.com
Initiated by FinTech thought leaders and entrepreneurs, Susanne Chishti and Janos Barberis, with their mutual passion for FinTech, they believed that no one author, organization or region in the world was able to exhaustively cover all the facets and nuances of FinTech. True to the principle of FinTech they crowd-sourced the contributions for the book. They successfully reached out to the global FinTech community and selected contributions from a range of individuals and organisations, from entrepreneurs working for FinTech start-ups, to service providers, SMEs and employees of large organisations. Divided into sections covering: FinTech Themes, Hubs, Solutions, Emerging Markets & Social Impact, Capital & Investment, Enterprise Innovation, Success Stories, Crypto-Currencies & Blockchain, and The Future of FinTech, each chapter provides a first-hand insight from a practitioner at the cutting edge. As the financial technology and the sector is booming: entrepreneurs, bankers, consultants, investors and asset managers are scrambling for more information about fintech and are the key players. The book discussed what's driving the explosive growth? What are the risks? This book collates insights, knowledge and guidance from industry experts to provide the answers to these important questions and more.
the latest fintech industry developments
the fintech market dynamics of the 'fintech revolution'
the Fintech sector's potential and impact on related industries
Gain expert insight on investment and entrepreneurial opportunities in fintech.
The book is published by Wiley and designed to be an accessible, interesting and vibrant read which will be of interest to those new to FinTech, as well as pioneers and established experts. Fantastic project worth reading and sharing. More can be found on Wiley's (the Publisher) sub site:
http://eu.wiley.com/WileyCDA/WileyTitle/productCd-111921887X.html
The FINTECH Book: The Financial Technology Handbook for Investors, Entrepreneurs and Visionaries By Susanne Chishti, Janos Barberis ISBN: 978-1-119-21887-6, 312 pages, launch April 2016 Publisher Wiley
About the authors:
Susanne Chishti is the CEO of FINTECH Circle, Europe's 1st Angel Network focused on FinTech investments, founder of London FINTECH Tours, and Chairman of FINTECH Circle Innovate. Selected as one of the 100 leading Women in FinTech and top 15 FinTech UK Twitter influencers, she was recognized in the European Digital Financial Services 'Power 50' 2015, an independent ranking of the most influential people in digital financial services in Europe. Follow Susanne on Twitter via her account @SusanneChishti
Janos Barberis is a Millennial in FinTech, recognized as a top-35 global FinTech leader. His expertise is focused on the new regulatory considerations raised by the development of FinTech. With a passion to drive change, he founded FinTech HK, a thought leadership platform, and the SuperCharger - a FinTech Accelerator that strategically leverages on Hong Kong as a gateway to Asia. In parallel, he sits on the advisory board of the World Economic Forum's FinTech Committee and is a PhD Candidate at Hong Kong University Law School. Follow Janos on Twitter via his account @JNBarberis For additional details: www.thefintechbook.com