So you're ready to sell your online business. 
Maybe you're not. 
Perhaps you've put so many years of hard work into your business, and now you're curious how much it's worth to sell it. 
Surprisingly, it can be simple. No need to stress. We'll show you how. 
 has the la
rgest data bank of sales data based on years of previous sales. For example, if you're selling an eCommerce store, we'll be able to give you an accurate assessment on how much your business is worth based on data from previous sellers who have sold similar assets like yours.
Our Intelligent Valuations Engine has over ten years of transaction data readily available at your fingertips. In just 3 minutes or less, you'll know what potential buyers will be willing to pay based on the information you supply about your business.
So what factors are we looking at to assess your business?
There are different types of assets that you can assess on Flippa's platform. 
Whether you own an eCommerce store, content blog, FBA store, app, or SaaS software, Flippa's Intelligent Valuations engine will assess the worth of your business based on data points like business model, age, domain authority, growth rate, competition, niche, and more. 
When you assess your business on our platform and successfully complete a sale, you're contributing to our machine engine's assessment accuracy! 
So what goes into this intuitive, accurate, Intelligent Machine Engine?
Originally, we started with 22 different machine learning models, but ultimately chose 5 top performing models to create the valuation engine we have now.
These models are called "
Light Gradient Boosting Machine
", "
", "
", "
" and "
".
Think of them as the superpowers of the valuation tool that give buyers and sellers the necessary valuation to make a purchase or selling decision. 
Here's a step-by-step account on how to access the valuation tool to get an accurate assessment of your business. It's simple.
To get started, visit flippa.com.
On the homepage, click on "Get a Valuation".
You'll then be taken to the valuation homepage at
flippa.com/online-business-valuation
.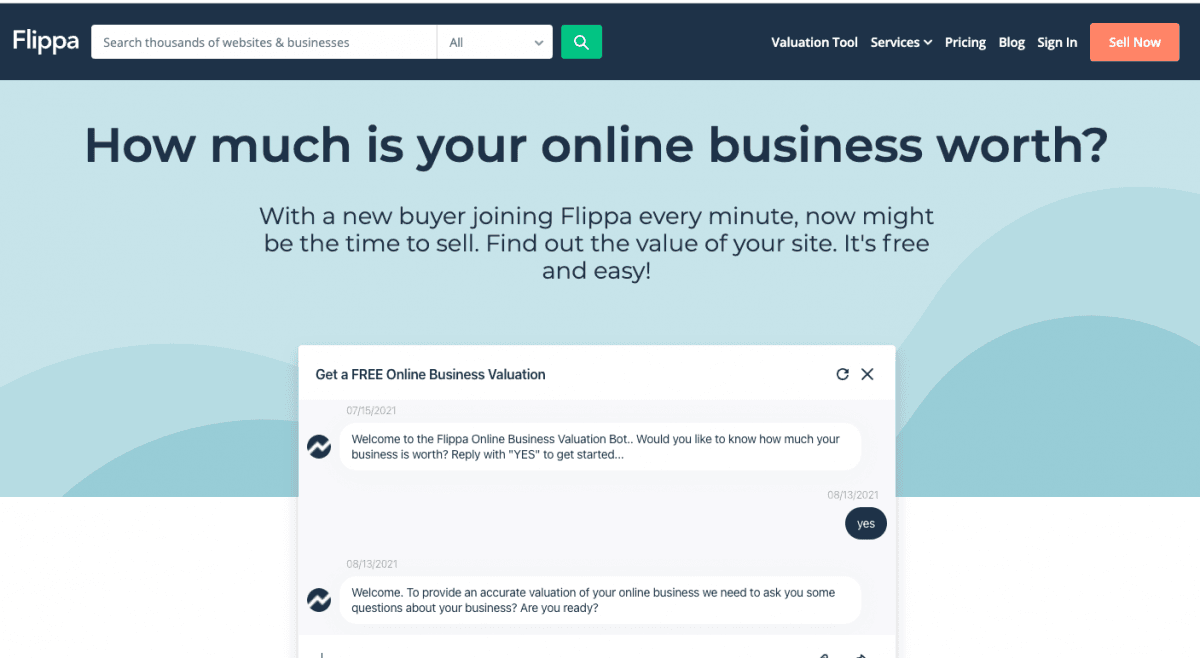 As you can see, you'll be presented with an integrated chat bot that will be readily available to assist you.
Congratulations! You can now valuate your business. Finding out how much your business is worth has never been easier.