Plenty of business owners overlook employee qualifications, even for the most basic of job descriptions. Why? Because it costs money and they don't want to pay employees to learn when they can pay them to continue doing what they do best – working hard to get the job done. With that being said, many other employers have seen the great benefits of putting employees through their NVQ qualifications. It doesn't need to cost a lot of money and it doesn't need to take a lot of time out of your own day as a busy business owner. So, why should you consider training your employees to NVQ level for even the most basic of jobs?
Employees Are Qualified on Paper
This might not count for a lot as a business owner, but it could be the difference in taking your business forward. For example, you may want to land a lucrative contract with a construction company so you can send your agents out and make money from them. That's all well and good, but with strict health and safety measures coming into play all the time, some construction sites may require your workers to be first aid ready, health and safety qualified, and might even require them to be NVQ trained for the trade they serve. This is where having employees/agency workers who are NVQ qualified benefits your business.
If you are interested in putting your employees through their NVQ levels for whatever industry you serve, it could be worth looking at findcourses.co.uk. Findcourses provides various online programs across several industries to improve your employees from the bottom up. So, if you just want to put your employees through their basic NVQ level 1 in plastering, you can do that thanks to these online courses.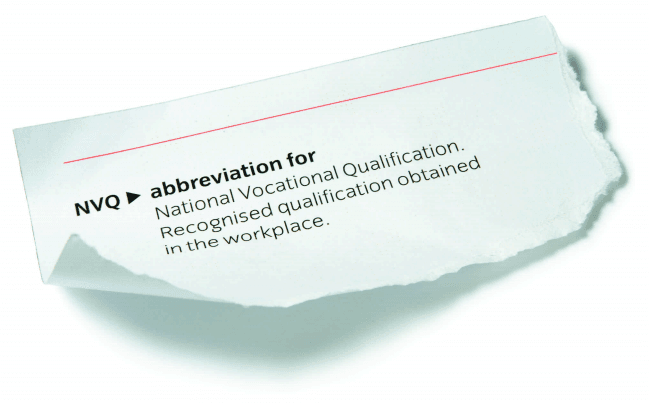 NVQ qualifications
Employees Will Feel Loved
Employees will always feel loved if you are spending time and money in ensuring they are the best they can be at their jobs. This could significantly improve morale in the workplace and while that might not sound like a lot, it could help employees get out of bed in the morning and turn up to work on time. It could make the workplace a happier place to work and that, in turn, provides many other benefits for you and your employees. Providing your employees with the qualifications they desire will make them respect your business, even if they do take the qualifications that they've earned via your business to another. Great respect can always lead to landing more contracts in the future and best of all, past employees will always recommend your business to potential clients and other employees.
Employee Productivity Will Rise
As stated above, employees will feel loved if you're willing to spend time and money on getting them qualified. Building morale in the workplace will increase productivity just because you're simply making them happy. Increasing productivity will help employees get work completed quickly and to a higher standard. Not only will this make employees happy, but it'll also make you happier knowing you've done everything in your power to ensure your business is a success. After all, employees are the main ingredient to make sure any business runs like clockwork.
NVQ Qualifications Can Lead to Employees Wanting More
The whole point of the career ladder is to get employees to climb it. You can always find potential employees by using online job finder websites to come in and do the job you want them to. However, wouldn't it be even more efficient to find an employee you already have to step up and take more responsibility? They already know the business and how it operates, and they already know the rest of your employees which could help keep production levels at an all-time high. The biggest benefit of keeping your current employees climbing the career ladder, however, is that you know you can trust them to keep doing the great job they've been doing previously.

Building morale in the workplace will increase productivity just because you're simply making them happy
Lower Employee Turnover
Keeping your current employees happy will mean you don't have to worry about recruiting new staff on a regular basis. Your employees are happy, so why would they want to go elsewhere? Of course, your current happy employees will likely do a better job and do it quickly, which means you won't need any new employees when your business goes through its busier periods. A low employee turnover will give you much more time to handle other important operations of the business.
Improved Quality of Service
Improvement in employee work will improve the quality of service they provide, whatever service that may be. Even if you own a distribution business that requires employees to pick orders for customers, they will do it to a much higher standard and will make little to no mistakes when it comes to picking the right stock for the client's order. Customers will be happy with the overall service and that means they will likely order products/services again. After all, why would a customer shop elsewhere if they are happy with the service they've been provided with?
It's Much Easier to Attract New Employers & Business Partners
If your business is running efficiently and to a high standard, you're going to have an easier time attracting new business partners to take your business forward. With that being said, should you ever need to create new positions for employees once your business starts to grow again - you'll have easier access to employees that can fill the positions quickly, because they know they're working for a business leader that's working above and beyond to ensure their employees are more than satisfied in the workplace.
Employees Stay Up-to-date
With technology changing all the time and new legislation coming in from health and safety professionals, it's crucial that your employees stay up-to-date. They will be able to follow the best practise for any jobs they undertake and they'll always be able to conduct their work in a safe manner. This could be crucial in the health and safety industry, as if an employee makes a severe mistake, you're liable for it. So, for the sake of putting employees through health and safety and their first aid courses, it could provide a way for you to fight off legal battles in the future. As far as technology advancing is concerned, simply putting your employees through basic computer courses could be the way forward. Of course, the more advanced technology you have in the workplace will depend on the type of course they undertake. However, even the most basic courses could be the difference in preventing costly mistakes. Ultimately, spending money on putting your employees through several courses could end up being a lot cheaper than spending money on silly mistakes that should never have happened in the first place.
In conclusion, simply putting your employees through the most basic of NVQ qualifications will reap the rewards for you and your business. You don't need to be a major player in the industry your business serves to be able to afford employee training but, one thing's for certain, you'll have a great chance of becoming one in the future if you're willing to train your employees the right way.