The most successful businesses in the world are singular in their goals, yet they express them in many different and creative ways, allowing them to own a space that's distinctly theirs – their clear defendable territory.
Wild Thinking
tears up the rule book and encourages readers to see their business from new perspectives, demonstrating how to solve business challenges and build a brand. The book provides unique access to thinking from the most original organisations in business today.
---
Why this book matters:
Success in business requires a combination of luck and invention. The ability to see things others don't and identify opportunities others can't is a valuable skill. Failure to evolve will catch your brand out, as we've seen this year with recognised brands including HMV and House of Fraser going into administration
This book is an antidote to run-of-the-mill business books that promise glory in five easy steps
Wild Thinking contains 25 novel ways to think about business, based on the practical experience of 25 leaders from organisations as diverse as Google, McLaren, Dropbox, Comic Relief, V&A and Wimbledon
It's about asking the right questions. And it comes from successful brands, with tangible advice on how to find clear defendable territory and create commercial success
---
Authors Nick Liddell and Richard Buchanan work with many types of businesses at their award-winning consultancy, The Clearing, from disruptive start-ups to global icons like Tesco, Wimbledon, HSBC and McLaren. In this book, they ask 25 unconventional questions that get to the heart of how a brand thinks, feels and behaves. Featuring interviews with business leaders, it provides readers with the confidence to run their businesses differently, while sharing previously untold stories including:
Who is McLaren's nemesis?
Does Gap think it's more important to be reliable or innovative?
What disappoints Ocado about their competitors?
Do people who work at Ascot see the brand in the same way as their visitors?
Is Dropbox an orchestra or an improvisational jazz band?
Wild Thinking
is packed with invaluable advice, anecdotes and learning for marketers, brand leaders, entrepreneurs, HR and commercial directors and senior decision makers. The questions asked can be applied to organisations and brands of all sizes and sectors with insightful and potentially game-changing results.
The Authors
Nick Liddell
is Director of Consulting at The Clearing, helping global brands grow and make a difference. He's a regular speaker and writer, and has developed brands for Amex, Eurostar, Guinness, Heinz, McLaren, Prada and Samsung
Richard Buchanan
is Managing Director and a founding partner of The Clearing, voted the UK's best branding consultancy at The Drum Network's Awards for two years running and winners of over 30 industry awards. Richard is a regular contributor to trade press and an industry award judge.
---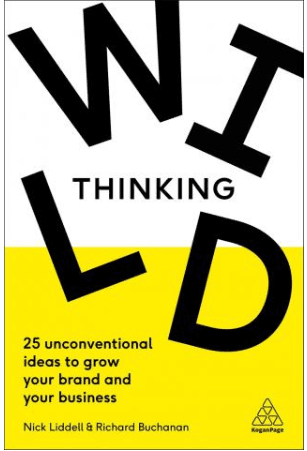 Wild Thinking: 25 unconventional ideas to grow your brand and your business
By Nick Liddell and Richard Buchanan
Out Now
Published by Kogan Page
Paperback Version: £19.99