United States
Country
Summary
Starbucks, founded in 1971 in Seattle, Washington, has grown into a global phenomenon and a symbol of high-quality coffee and exceptional customer service. With thousands of stores in over 80 countries, Starbucks has become a household name and a favorite destination for coffee enthusiasts and casual consumers alike.
At the heart of Starbucks' success is its dedication to providing a memorable customer experience. The company strives to create a warm and inviting ambiance in its stores, where customers can not only enjoy their favorite beverages but also find a sense of community and connection. From the friendly baristas who craft each cup with care to the cozy seating areas that encourage relaxation and conversation, every aspect of the Starbucks experience is designed to inspire and uplift the human spirit.
Starbucks' product lineup is diverse and ever-evolving, catering to a wide range of tastes and preferences. Coffee aficionados can choose from an array of espresso-based drinks, including lattes, cappuccinos, and macchiatos, all made with their signature blends of carefully sourced coffee beans. For tea lovers, Starbucks offers a selection of Teavana teas, spanning various types and flavors. Additionally, their Refreshers and cold beverages provide a refreshing option, especially during hot weather.
In recent years, Starbucks has introduced the concept of Starbucks Reserve™, a premium line of stores and products that aims to elevate the coffee experience further. Starbucks Reserve™ stores showcase small-batch, rare coffees from around the world and employ specialized brewing methods to highlight the unique flavors of each coffee origin.
Starbucks' commitment to ethical sourcing and sustainability is a key pillar of its business philosophy. The company takes pride in partnering with coffee farmers in various regions and adhering to fair trade practices. They also focus on minimizing their environmental impact by promoting eco-friendly initiatives, such as recycling, reducing waste, and investing in renewable energy.
As Starbucks continues to grow and expand, it remains dedicated to maintaining its core values and principles. Their mission to inspire and nurture the human spirit, one person, one cup, and one neighborhood at a time, guides their actions, ensuring that every customer interaction is meaningful and impactful.
---
History
Starbucks was founded by Orin Smith in October 1971 and is based in Seattle, Washington. The first, in 1972, was Jean Mach. The three founders had opened a second store in University Village and invested in a Probat roaster. In its first two years of operation, Starbucks purchased green coffee beans from Peet's Coffee & Tea. Alfred Peet stopped supplying Starbucks and helped train their new Roastmaster, Jim Reynolds.
That illusion came crashing down in 1975 when an extraordinary freeze devastated the Brazilian coffee crop. You can still see Starbucks' original mermaid, baring her breasts and spreading her tails, on the window of the "original Starbucks" (actually the second location of the original Starbucks, to which it moved in 1977) at Seattle's tourist-beloved Pike Place market. Starbucks founders Zev Siegl, Jerry Baldwin and Gordon Bowker, Seattle, February 1979.
In 1981 Howard Schultz, a sales representative for Hammarplast, a Swedish company that made kitchen equipment and housewares from which Starbucks bought drip-coffee makers, noticed how large the company's orders were, which prompted him to pay it a visit. Schultz was so impressed that he decided to pursue a career at Starbucks, and he was hired as the head of marketing in 1982. After joining the company, a different cobblestone road would lead him to another discovery.
In May 1984 Starbucks opened a sixth store at 4th Avenue and Spring Street in downtown Seattle, which, at Schultz's urging, included an espresso bar. At the close of the 1984 fiscal year, Starbucks sales were $6.5 million, up from $5.6 million the previous year. In March 1985, employees voted for union representation and joined Local 1001 of the United Food and Commercial Workers.
By 1986, the company operated six stores in Seattle and had only just begun to sell espresso coffee.1987 Il Giornale acquires Starbucks assets with the backing of local investors and changes its name to Starbucks Corporation. Also, Starbucks opened its first locations outside of Seattle in Waterfront Station in Vancouver, British Columbia, and Chicago, Illinois.
In 1988 Starbucks introduced a mail-order catalogue; the company was serving mail-order customers in every state and operating 33 stores. 1988 Offers full health benefits to eligible full- and part-time employees, including coverage for domestic partnerships. On October 1989 it opened its first store in Chicago, and by 1989 there were nine Chicago Starbucks. Starbucks lost money while preparing for its planned expansion, including more than $1 million in 1989 alone. By 1989, 46 Starbucks stores existed across the Pacific Northwest and Midwest, and the company was roasting more than 2,000,000 pounds (907,185 kg) of coffee annually.
By 1990 he had hired two-star executives: Howard Behar, previously president of a leading developer of outdoor resorts, Thousand Trails, Inc.; and Orin Smith, chief financial and administrative officer for Danzas, USA, a freight forwarder. 1990 Starbucks expands its headquarters in Seattle. 1991 Becomes the first privately owned United States company to offer a stock option program that includes part-time employees.
By 1992, Starbucks had more than 135 outlets and was earning yearly revenues of up to $72 million. Starbucks entered into a meteoric period of expansion that continued after the company went public. It completed the initial public offering (IPO), which produced more cash for the company and caused the growth of Starbucks in the coffee industry.
1993 Opens roasting plant in Kent, Wash. Sales approached the $1 billion mark that year, while net income hit $57.4 million, more than five times the result for 1994. In 1994 Opens its first drive-thru location. Starbucks acquired The Coffee Connection, gaining the rights to use, make, market, and sell the "Frappuccino" beverage. 1995 Begins serving Frappuccino® blended beverages.
Schultz sold 12% of the company for $25 million in order to raise capital for doubling its stores in the next two years. In 1996 they were able to increase their stores outside America by opening their first store in Tokyo, Japan. 1996 Begins selling bottled Frappuccino® coffee drinks through North American Coffee Partnership.
A Japanese retailer and restaurateur, through other partnerships they also opened in Hawaii and Singapore the same year and in 1997 they also opened in the Philippines. Starbucks' expansion into Florida, Michigan, and Wisconsin in 1997 helped the total number of units reach an astounding 1,412 by year-end, more than double the previous two-year total. 1997 Establishes the Starbucks Foundation.
In 1998, they bought U.K.-based company Seattle Coffee Company for $83 million. 1998 — The Starbucks brand extended into the grocery channels across the United States Starbucks.com was launched and another store appeared. 1998 Extends the Starbucks brand into grocery channels across the United States Opens in underserved neighbourhoods through a joint-venture partnership with Magic Johnson. In early 1999 through the purchase of Pasqua Coffee Co., a chain of coffee and sandwich shops with 56 units in California and New York. Aggressive expansion in the United Kingdom yielded more than 100 units by late 1999. Also Acquires Tazo Tea.
/Meanwhile, in Seattle, the partners had found the location they wanted, a corner storefront in the old Harbor Heights Hotel at 2000 Western Avenue, just north of the Pike Place Market. Schultz announced in 2000 that he was stepping down as CEO but would remain as chairman.
In 2001 Starbucks expands to continental Europe with the opening of stores in Switzerland and Austria. 2001 Introduces ethical coffee-sourcing guidelines developed in partnership with Conservation International. 2002 Establishes Starbucks Coffee Trading Company (SCTC) in Lausanne, Switzerland.
In the early 21st century, Starbucks was working to achieve Schultz's ambitious goals of 500 stores in both Japan and Europe by 2003, as well as his ultimate goal of 20,000 units worldwide. 2003 Acquires Seattle Coffee Company, which includes Seattle's Best Coffee® and Torrefazione Italia® coffee. Lunch items, typically sandwiches, began to be offered at many North American Starbucks and testing hot breakfasts, such as ham, egg, and cheese on a muffin.
Jim Donald takes Orin Smith place and becomes president and chief executive officer. About 1,150 of the units opened in 2005 were located in the United States, bringing the domestic total to 7,300. 2005 Acquires Ethos Water. In September 2006, rival Diedrich Coffee announced that it would sell most of its company-owned retail stores to Starbucks, including most locations of Oregon-based Coffee People, escalating regional coffee wars. In 2006 alone, the company planned to open another 1,800 stores. 2006 Launches the industry's first paper beverage cup containing post-consumer recycled fibre. In 2007, it opened its first store in Russia. 2007 Eliminates all artificial trans fat and makes 2 percent milk the new standard for espresso beverages.
In March 2008, Starbucks acquired Coffee Equipment Company, which was the manufacturer of the Clover Brewing System. On July 29, 2008, Starbucks also cut almost 1,000 non-retail jobs as part of its bid to re-energize the brand and boost its profit. 2008 Chairman Howard Schultz returns as chief executive officer and begins a transformation of the company. In early 2008, Starbucks started a community website, My Starbucks Idea, designed to collect suggestions and feedback from customers.
In January 2009, Starbucks announced the closure of an additional 300 underperforming stores and the elimination of 7,000 positions. In August 2009, Ahold announced closures and rebranding for 43 of its licensed store Starbucks kiosks for their US-based Stop & Shop and Giant supermarkets. 2009 Launches Starbucks VIA® Instant Opens Farmer Support Center in Kigali, Rwanda.2010 Expands digital offerings for customers with free unlimited Wi-Fi, Starbucks Digital Network. 2011 Launches first annual Global Month of Service to celebrate company's 40th anniversary.
In August 2012, the largest Starbucks in the US opened at the University of Alabama's Ferguson Centre. In November 2012 it purchased the successful company Teavana for $620 million making this its biggest acquisition. In the year 2012 only it had revenues in excess of $13 billion employing 149,000 people worldwide. It experienced a 38% growth and it is showing no signs of slowing down anywhere in the future. 2012 Introduces Starbucks® Blonde Roast.
On June 25, 2013, Starbucks began to post calorie counts on menus for drinks and pastries in all of its United States stores. In July 2013, more than 10% of in-store purchases were made on customers' mobile devices via the Starbucks app. The company once again utilized the mobile platform when it launched the "Tweet-a-Coffee" promotion in October 2013. By 2013 they took their operations worldwide with a renewed focus on opening stores in South Asian and South American countries. In May 2014, Starbucks announced ongoing losses in the Australian market, which resulted in all remaining stores being sold to the Withers Group.
In 2015 opens stores in Panama Total stores: 22,519 (as of June 28, 2015) 2015 Launches Cold Brew iced coffee and Evolution Fresh™ handcrafted smoothies. In late 2016, he announced he was stepping down as CEO to focus on the company's high-end Roastery business. In July 2017, Starbucks acquired the remaining 50% stake in its Chinese venture from long-term joint venture partners Uni-President Enterprises Corporation (UPEC) and President Chain Store Corporation (PCSC) for $1.3 billion. Schultz again stepped down as CEO and was replaced as CEO by Kevin Johnson.
On March 21, 2018, Starbucks announced that it was considering the use of blockchain technology with an idea to connect coffee drinkers with coffee farmers who eventually can take advantage of new financial opportunities. Schultz continued to be active in the company, serving as executive chairman until 2018, when he was replaced by Myron Ullman. Announces commitment to hiring 10,000 veterans and military spouses by 2018.
In July 2019, Starbucks announced that it would no longer be selling newspapers in its cafés. It was also announced that kiosks for grab-and-go snacks and bags of whole-bean coffee would be removed from stores beginning in September 2019. In November 2019, Starbucks opened its largest store ever on Michigan Avenue, Chicago, with 200 employees.
In May 2020, the company asked for reduced rent from landlords due to the decrease in sales. Readers from 180 countries chose to support us financially more than 1.5 million times in 2020.
Three of the company's stores in Buffalo, New York began an attempt to unionize in August 2021. Finally, on December 9, 2021, the workers at the Elmwood Avenue store became the first unionized Starbucks workers at a Starbucks-owned location in the United States with a 19–8 vote. The Camp Road location voted 12–8 to not be in the union. 2021 Starbucks Coffee Company.
---
Mission
"To inspire and nurture the human spirit—one person, one cup, and one neighborhood at a time."
Starbucks' mission statement reflects the core values and principles that the company upholds in its daily operations and interactions with customers and communities. Let's break down the key elements of their mission:
1. Inspire and Nurture the Human Spirit: This part of the mission emphasizes Starbucks' commitment to going beyond just selling coffee. It aims to create a positive and uplifting experience for customers, employees, and all stakeholders. By providing a warm and welcoming environment and fostering a sense of community, Starbucks seeks to inspire and uplift people's spirits in their everyday lives.
2. One Person, One Cup: Starbucks recognizes the importance of individual interactions and the impact they can have. Each customer is treated as an individual, and their satisfaction and well-being are essential to the company's success. The phrase "one cup" refers to the belief that even the smallest moments can make a difference, and a single cup of coffee can be the catalyst for creating meaningful connections.
3. One Neighborhood at a Time: Starbucks understands the significance of being an active participant in the communities where its stores are located. The company strives to contribute positively to the neighborhoods it serves, supporting local initiatives, promoting inclusivity, and making a difference in the lives of people who live and work nearby.
By encapsulating these values into its mission statement, Starbucks aims to be more than just a coffee provider but a company that cares about people, their experiences, and the impact it can make on individuals and communities. As a result, Starbucks has built a strong brand reputation and a loyal customer base worldwide. It is worth noting that company mission statements can evolve over time, so I recommend checking Starbucks' official website or other recent sources for any updates to their mission statement beyond 2021.
---
Vision
"To establish Starbucks as the premier purveyor of the finest coffee in the world while maintaining our uncompromising principles while we grow."
Starbucks' vision statement outlines the long-term aspirations and goals the company aims to achieve. Let's break down the key elements of their vision:
1. Premier Purveyor of the Finest Coffee: Starbucks envisions itself as the leading provider of high-quality coffee products globally. The company is dedicated to sourcing and roasting the finest coffee beans from around the world, ensuring that they maintain a high standard of excellence in every cup they serve.
2. Uncompromising Principles: This part of the vision emphasizes Starbucks' commitment to upholding its core values and principles throughout its growth and expansion. The company places importance on ethical sourcing, sustainability, diversity and inclusion, and creating a positive social impact. As Starbucks expands its reach, it aims to do so in a way that remains aligned with its fundamental values.
---
Key Team
Gordon Bowker (Founder)
Jerry Baldwin (Founder)
Howard Schultz (Founder / Interim Chief Executive Officer)
Laxman Narasimhan (CEO)
Rachel Ruggeri (Executive Vice President and Chief Financial Officer )
Andy Adams (Senior Vice President, Store Development )
Kelly Bengston (Senior Vice President, Chief Procurement Officer, Global Sourcing)
Chanda Beppu (Senior Vice President and President of Global Channel Development)
Brady Brewer (Executive Vice President, Chief Marketing Officer)
Frank Britt (Executive Vice President, Chief Reinvention Officer)
Dennis Brockman (Senior Vice President, U.S. Operations)
Mark Brown (Senior Vice President, Talent and Inclusion)
Michelle Burns (Executive Vice President of Global Coffee, Social Impact and Sustainability)
Michael Conway ( group President, International and Channel Development)
Ron Crawford (Senior Vice President, Global Total Rewards and Partner Resources Service Delivery)
Lori Digulla (Senior Vice President and General Manager for Starbucks Canada)
Tom Fergusan (Senior Vice President and President, Latin America and Caribbean)
Zabrina Jenkins (Executive Advisor to the office of the CEO)
AJ Jones II (Executive Vice President and Chief Communications Officer, Public Affairs)
Emmy Kan (Senior Vice President and President, Asia Pacific)
Scott Keller (Senior Vice President, Store Development and Design)
Sara Kelly (Executive Vice President and Chief Partner Officer)
Aswin Krishnan (Senior President, Corporate and Financial Services)
Janet Landers (Senior Vice President, Business Technology)
Deb Hall Lefevre (Executive Vice President, Chief Technology Officer)
Brad Lerman (Executive Vice President and General Counsel)
Jon Liechty (Senior Vice President, U.S. Retail Operations)
Takafumi Minaguchi (CEO, Starbucks Japan)
Duncan Moir (President, Starbucks EMEA)
Brooke O'Berry (Senior Vice President of U.S. Retail Operations)
Dana Pellicano (Senior Vice President, Product Experience)
Anju Rao (Senior Vice President, Global Food Safety, Quality, & Regulatory)
Mark Ring (Senior Vice President, U.S., Licensed Stores, Starbucks Canada and Siren Retail)
Kyndra Russell (Senior Vice President, Marketing)
Sandra Stark (Senior Vice President, Data, Analytics & Insights, and Business Operations)
Sara Trilling (Executive Vice President, and President Starbucks North America)
Arthur Valdez (EVP, Global Supply and Customer Solutions)
Natrajan "Venkat" Venkatkrishnan (Senior Vice President, Partner and Customer Solutions)
Belinda Wong (Chairwoman and Chief Executive Officer, Starbucks China)
Katie Young (Senior Vice President of Store Operations)
---
Recognition and Awards
Consistently featured on the prestigious Fortune 500 list, Starbucks' exceptional performance and market presence have solidified its position among the top companies globally. In the realm of corporate reputation, Starbucks has consistently earned a place on Fortune's "Most Admired Companies" list. Furthermore, Starbucks' dedication to innovation has also been acknowledged by being listed on Fortune's "Most Innovative Companies" list, showcasing its ongoing efforts to redefine the coffee industry and customer experience. Forbes, a leading source of business insights, has also celebrated Starbucks' ingenuity. The company has been honored on Forbes' "Most Innovative Companies" list, highlighting its continuous drive to introduce cutting-edge ideas and enhance customer engagement. Moreover, Starbucks' brand value and impact have earned it a place on Forbes' "Most Valuable Brands" list, signifying its strong market presence and customer loyalty. Starbucks' excellence extends to its workplace environment. The company has been recognized with awards like "Best Company Work-Life Balance" and "Best Places to Work in Seattle" in 2022, highlighting its commitment to fostering a healthy work-life balance for its employees. Notably, Starbucks' dedication to creating a positive company culture has earned it the accolade of "Best Company Culture" in 2018, showcasing its efforts to cultivate a collaborative and engaging work environment. The company's commitment to diversity and inclusivity has also been acknowledged. Starbucks was recognized as the "Best Company for Women" in 2018. Starbucks' impact on the coffee industry has not gone unnoticed. The company secured the top spot in Zagat's Survey of National Chains for the "Best Coffee" category, attesting to its unparalleled commitment to delivering high-quality coffee experiences to its customers. In historical milestones, Starbucks achieved a listing on NASDAQ in 1992, solidifying its status as a publicly traded company and marking a significant moment in its journey of growth and success. In essence, Starbucks' extensive collection of awards and recognitions underscores its position as an industry leader, renowned for its financial performance, innovative spirit, workplace culture, and dedication to delivering exceptional coffee experiences.
---
Products and Services
Starbucks is a renowned multinational coffeehouse chain that offers a wide range of products and services to its customers worldwide. Founded in 1971 in Seattle, Washington, Starbucks has grown into one of the most recognizable brands in the world, known for its high-quality coffee, cozy ambiance, and excellent customer service. Let's delve into the key aspects of their products and services:
1. Coffee and Beverages: Starbucks is primarily known for its diverse selection of coffee and coffee-based beverages. They serve a variety of espresso-based drinks, such as lattes, cappuccinos, mochas, and Americanos, prepared with their signature blends of coffee beans sourced from around the globe. In addition to the classic favorites, they continuously innovate with seasonal offerings like the Pumpkin Spice Latte, Peppermint Mocha, and other limited-edition flavors that create excitement among their customers.
2. Tea and Teavana: Starbucks also caters to tea lovers with a range of Teavana teas, including black, green, white, herbal, and chai teas. Customers can enjoy hot or iced tea options, with various sweeteners and milk choices available to suit individual preferences.
3. Refreshers and Cold Beverages: For those seeking refreshing alternatives, Starbucks offers an array of iced beverages such as iced coffee, cold brew, iced tea, and their popular Refreshers – fruity and thirst-quenching drinks made with green coffee extract, real fruit juices, and herbal flavors.
4. Food Items: To complement their beverage offerings, Starbucks provides an assortment of food items, including pastries, sandwiches, salads, and snacks. These items are designed to cater to different tastes and dietary preferences, ensuring that customers have plenty of choices to accompany their drinks.
5. Starbucks Reserve™: is a premium line of stores and products that focuses on highlighting rare and exceptional coffee beans from various coffee-growing regions. It offers a more exclusive and immersive coffee experience, featuring small-lot coffees, unique brewing methods, and specialized baristas.
6. Mobile Ordering and Rewards: Starbucks has been at the forefront of integrating technology into their services. Through their mobile app, customers can conveniently place orders, pay for purchases, and collect rewards. The Starbucks Rewards program allows frequent customers to earn points and receive perks like free drinks and birthday rewards.
7. Starbucks Card and Gift Items: The Starbucks Card is a preloaded gift card that customers can use to make purchases and earn rewards. Additionally, Starbucks offers various gift items, including coffee mugs, tumblers, and holiday-themed merchandise, allowing customers to take the Starbucks experience home with them.
---
References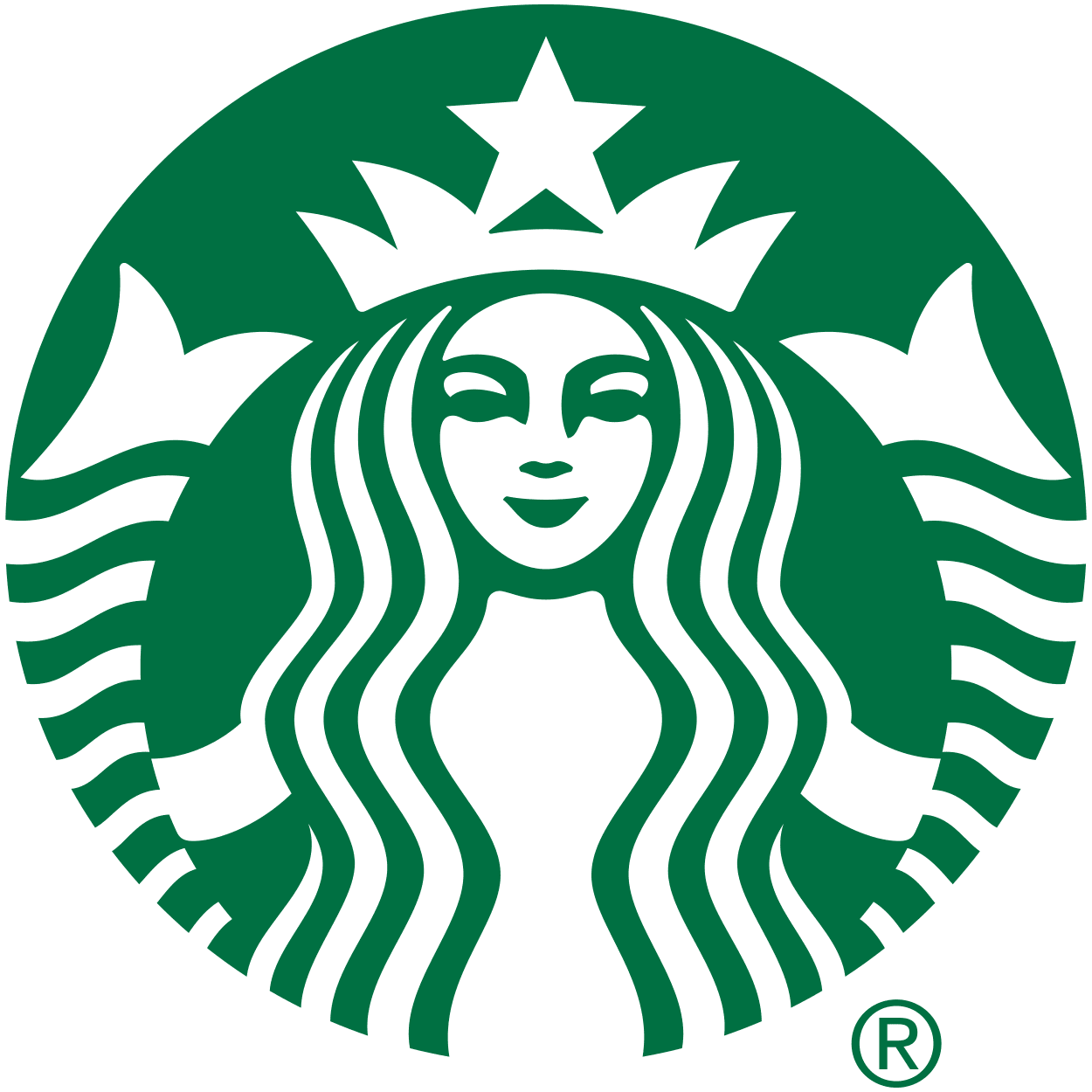 Howard Schultz (Founder / Interim Chief Executive Officer)
Rachel Ruggeri (Executive Vice President and Chief Financial Officer )
Andy Adams  (Senior Vice President, Store Development )
Kelly Bengston  (Senior Vice President, Chief Procurement Officer, Global Sourcing)
Chanda Beppu (Senior Vice President and President of Global Channel Development)
Brady Brewer (Executive Vice President, Chief Marketing Officer)
Frank Britt (Executive Vice President, Chief Reinvention Officer)
Industries
Retail and Consumer Goods
Products/ Services
Coffee beverages, Smoothies, Tea, Baked goods, Sandwiches
Number of Employees
Above 50,000
Headquarters
2401 Utah Avenue South Seattle, Washington 98134
Company Type
Public Limited Company
Company Registration
SEC CIK number: 0000829224