United Kingdom
Country
Summary
Standard Chartered Bank is a renowned multinational financial institution that operates in various sectors including consumer banking, corporate banking, institutional banking, and treasury services. While it is headquartered in the UK, its primary focus lies in Asia, Africa, and the Middle East, where approximately 90% of its profits are generated. The bank's name stems from the merger of two prominent banks, The Chartered Bank of India, Australia and China, and Standard Bank of British South Africa, which occurred in 1969.
Standard Chartered holds a prominent position in the financial market, with a primary listing on the London Stock Exchange and inclusion in the FTSE 100 Index. It also has secondary listings on the Hong Kong Stock Exchange, the National Stock Exchange of India, and OTC Markets Group Pink. The Government of Singapore-owned Temasek Holdings holds the largest stake in the bank, highlighting its significance as a systemically important institution recognized by the Financial Stability Board.
Under the leadership of Group Chairman José Viñals and Group Chief Executive Bill Winters, Standard Chartered continues to demonstrate its commitment to providing comprehensive financial services globally. The bank's operations span diverse areas, serving both individual and corporate clients with a wide range of banking solutions.
---
History
Standard Chartered Bank has a rich history that dates back to 1853 when it was founded as The Chartered Bank by James Wilson, who received a royal charter from Queen Victoria. The bank quickly established its presence in key locations, opening branches in Bombay, Calcutta, Shanghai, Hong Kong, and Singapore. In 1862, it became one of the first banks to issue banknotes in Hong Kong dollars.
Meanwhile, in 1862, John Paterson founded the Standard Bank in South Africa, which played a significant role in financing the development of diamond fields and later the gold fields in Johannesburg. Over the years, the bank expanded its network and operations throughout Africa, operating as the Standard Bank of South Africa from 1883 to 1962.
In 1969, The Chartered Bank and Standard Bank decided to merge, combining their strengths in Asia, Africa, and Europe. This strategic move allowed them to expand their networks globally while maintaining their strong presence in their traditional markets. The bank experienced a period of change in the 1980s, including divestments and fending off a hostile takeover bid by Lloyds.
Between 2000 and 2010, Standard Chartered Bank continued its expansion and made strategic acquisitions to strengthen its presence in key markets. In 2000, the bank acquired Grindlays Bank from ANZ, which enhanced its private banking operations and extended its reach in India and Pakistan. The acquisition allowed Standard Chartered to serve high-net-worth customers through its integrated private bank, known as Standard Chartered Grindlays Offshore Financial Services.
In 2005, the bank successfully acquired Korea First Bank, outbidding HSBC. The branches of the acquired bank were rebranded as SC First Bank. The bank further expanded in Asia by integrating its Bangkok branch and Standard Chartered Nakornthon Bank in Thailand, establishing Standard Chartered Bank (Thailand).
Standard Chartered formed strategic alliances and acquired stakes in various institutions. It partnered with Fleming Family & Partners to expand private wealth management in Asia and the Middle East. The bank also acquired stakes in ACB in Vietnam, Travelex, American Express Bank (Bangladesh), and Bohai Bank (China). Additionally, it became the largest shareholder of Standard Chartered Bank when it bought the estate's 11.55% stake previously held by billionaire Khoo Teck Puat.
In 2006, Standard Chartered acquired an 81% shareholding in the Union Bank of Pakistan, marking the first foreign acquisition of a Pakistani bank. The merged entity, Standard Chartered Bank (Pakistan), became the sixth largest bank in Pakistan. Furthermore, the bank acquired a majority shareholding in Hsinchu International Bank in Taiwan.
Standard Chartered made significant strides in its private banking sector by establishing its global headquarters in Singapore in 2007. It also expanded its presence in India by acquiring a share in an Indian brokerage firm, UTI Securities.
In 2008, the bank completed its acquisition of American Express Bank Ltd (AEB) from the American Express Company. This strategic move further strengthened Standard Chartered's position in the financial services industry.
In 2010, the bank acquired the African custody business from Barclays PLC, further expanding its presence in the African market. It also launched the first-ever Indian Depository Receipt (IDR) offer, enhancing its offerings in India.
In June 2010, Standard Chartered Bank formed a strategic alliance with the Agricultural Bank of China (ABC) to strengthen their partnership and explore joint business opportunities. The partnership was aimed at leveraging each other's strengths and creating mutual benefits. The bank received accolades during this period, including being recognized as the Global Bank of the Year in The Banker's Bank of the Year 2010 awards.
In 2016, the bank announced it would no longer provide loans to the midstream segment of the diamonds and jewelry industries, as part of a review of its involvement in risky business sectors.
---
Mission
The mission of Standard Chartered Bank revolves around its commitment to driving commerce and prosperity while making a positive and sustainable impact on the communities it serves. The bank's mission is centered on three key pillars: sustainable finance, economic inclusion, and being a trusted partner.
Standard Chartered is dedicated to promoting sustainable finance. The bank recognizes the urgent need to address climate change and is committed to supporting the transition to a low-carbon economy. It aims to play a significant role in financing sustainable projects, promoting responsible investment, and helping clients manage their environmental and social risks.
Economic inclusion is a fundamental aspect of Standard Chartered's mission. The bank is dedicated to bridging the financial gap and empowering individuals, especially women and small businesses, in its core markets. By expanding access to financial services through partnerships and leveraging technology, Standard Chartered aims to foster economic growth, promote financial literacy, and enable individuals and businesses to thrive.
Standard Chartered seeks to be a trusted partner to its clients and stakeholders. The bank strives to build enduring relationships based on transparency, trust, and mutual success. It aims to provide exceptional service, tailored solutions, and innovative products that meet the evolving needs of its customers, helping them navigate the complexities of the global economy with confidence.
---
Vision
Standard Chartered Bank's vision is centered around three key pillars: accelerating zero, lifting participation, and resetting globalization.
The bank recognizes the urgent need to address climate change and sets a long-term ambition to achieve net-zero carbon emissions by 2050. They understand that achieving this goal requires collective action from governments, corporations, and individuals, and they are committed to playing their part. Standard Chartered sees the transition to an inclusive, net-zero economy as an opportunity for innovation and growth, both for their clients and for the bank itself.
The bank aims to address the barriers faced by women and small businesses in gaining access to the financial system. They recognize that financial inclusion is crucial for individuals to save for their futures and for businesses to grow. Through partnerships and leveraging technology, Standard Chartered seeks to expand the reach and scale of financial services, thereby promoting economic inclusion and empowering underrepresented groups in their core markets.
Standard Chartered acknowledges the impact of globalization on global poverty alleviation but acknowledges that it has left many behind. They advocate for a new model of globalization based on transparency, trust-building, dialogue, and innovation. The bank believes in leveraging its capital, expertise, and ideas to drive new standards and create innovative solutions that foster sustainable growth and address the challenges posed by globalization.
---
Key Team
Dr José Viñals (Group Chairman)
Bill Winters, CBE (Group Chief Executive)
Andy Halford (Group Chief Financial Officer)
Shirish Apte (Independent Non-Executive Director)
David Conner (Independent Non-Executive Director)
Gay Huey Evans, CBE (Independent Non-Executive Director)
Jackie Hunt (Independent Non-Executive Director)
Robin Lawther, CBE (Independent Non-Executive Director)
Maria Ramos (Senior Independent Director)
Phil Rivett (Independent Non-Executive Director)
David Tang (Independent Non-Executive Director)
Carlson Tong (Independent Non-Executive Director)
Dr Linda Yueh, CBE (Independent non-executive director)
Adrian de Souza (Group Company Secretary)
---
Recognition and Awards
Standard Chartered Bank has achieved significant milestones and accolades throughout its extensive history. With a workforce of 83,000 employees hailing from 131 different countries, the bank values diversity and harnesses a global talent pool to serve its customers effectively. Having been in business for over 160 years, Standard Chartered has established a strong presence worldwide with 653 branches across 59 markets. The bank's commitment to its employees and workplace environment has been recognized on a global scale. Standard Chartered has been included in the prestigious World's Best Employers list by Forbes in 2022, highlighting its dedication to creating a positive and inclusive work culture. Additionally, the bank holds a position among the top 100 largest companies listed on the London Stock Exchange, further demonstrating its financial strength and stability. Standard Chartered's dual listing on the London and Hong Kong Stock Exchanges showcases its global reach and ability to attract investors from different markets.
---
Products and Services
Standard Chartered Bank offers a range of products and services to cater to the needs of its customers. Here are a few notable offerings:
Standard Chartered Breeze: Breeze is a mobile banking application available for iPhone, iPad, and computers. It provides online banking services with the added feature of issuing electronic bank cheques. The application received positive reviews and gained attention for its innovative marketing strategies, including blogger previews and social media campaigns.
SuperCharger FinTech Accelerator: Standard Chartered Bank engages with the fintech community through the SuperCharger FinTech Accelerator, based in Hong Kong. This program, in collaboration with partners like Fidelity International, supports growth-stage fintech companies in expanding their operations in Asia. The bank has initiated proof of concept projects with companies like Bambu and KYC Chain.
These are just a couple of examples of the products and services offered by Standard Chartered Bank. The bank provides a wide range of traditional banking services, including consumer banking, corporate and institutional banking, and treasury services, catering to individuals, businesses, and financial institutions. These services encompass areas such as wealth management, loans and credit facilities, investment banking, trade finance, and foreign exchange services.
---
References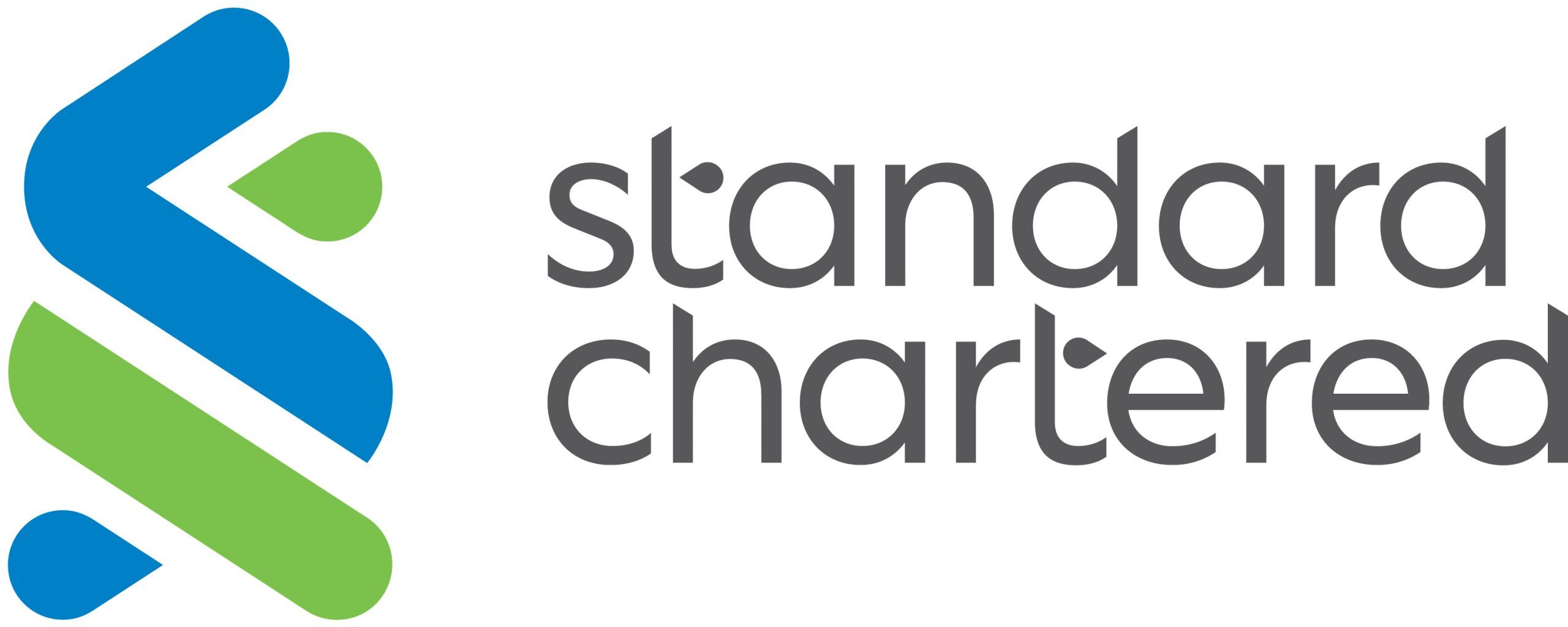 Bill Winters, CBE (Group Chief Executive)
Products/ Services
Credit cards, consumer banking, corporate banking, investment banking, mortgage loans, private banking, wealth management
Number of Employees
Above 50,000
Headquarters
London, England, UK
Company Type
Public Limited Company
Company Registration
966425