McDonough School of Business, Georgetown University, was founded in 1957 and has a goal to be a world renowned institution that is known for the intensity of it's academics and international focus of its educational programmes. The business school is distinguished by its emphasis on global business and it's immersive approach to practical learning applications to help students and professionals achieve higher levels of leadership and influence. McDonough School of Business is located in the heart of Washington, D.C. and integrates the influential city into its curriculum whenever possible. McDonough has a total of 3,600 students, 2,200 of them being graduate students. The four most common industries that students begin work in after graduation is financial services, consulting, accounting and marketing/communication/advertising/public relations. The business school is known for its interdisciplinary focus in finance, international business and public policy as well as its distinctive programmes, research institute and initiatives. Here are a couple of McDonough's research facilities and intiatives:
The Centre for Financial Markets and Policy
The Real Estate Finance Initiative
Georgetown Centre for Business and Public Policy
The Global Social Enterprise Initiative
The Georgetown Entrepreneurship Initiative
The mission of McDonough School of Business is:
"to educate students to be ethically responsible and effective business leaders. Our goal is that students be able to improve the management of existing organizations and create new ones in order to responsibly help raise global standards of living. The learning goals focus on business knowledge, management, analytical, and communication skills, and unique Georgetown perspectives."
The business school has an educational goal to develop business knowledge, analytical skills, ethical and social justice perspectives, a global perspective and communication skills throughout the students' educational experience.
The MBA Programme is offered in a full-time or evening format and has a unique, integrative core curriculum that prepares students for careers and entrepreneurial endeavors. The programme teaches students analytical and persuasive skills needed to succeed in business and how apply them properly. The programme is based around the five core values of:
Learning
Global Mindset
Integrity
Professionalism
Community
In the first year of the programme, students take a three-week, integrated course on the Structure of Global Industries that teaches them ethical decision-making, the fundamentals of team dynamics, persuasive communication skills and identifying and understanding global markets. There are also 12 weeks of core course aimed to improve students quantitative tools, systematic analysis and persuasion skills. The core courses are in the areas of:
Accounting
Analysis and Reporting of Financial Information
Financial Markets and Corporate Decision-Making
Firm Analysis and Strategy
Managerial Statistics
Marketing Analysis and Customer Strategies
Principled Leadership in Business and Society
Structure of Global Industries
The programme also contains a Global Experience that introduces students to new issues and industries by stepping into international consultant roles. They discover and define their projects through working with faculty and senior managers in international organisations all around the world to gain first hand business experience. Below is a diagram of the MBA programme's curriculum, provided by McDonough School of Business.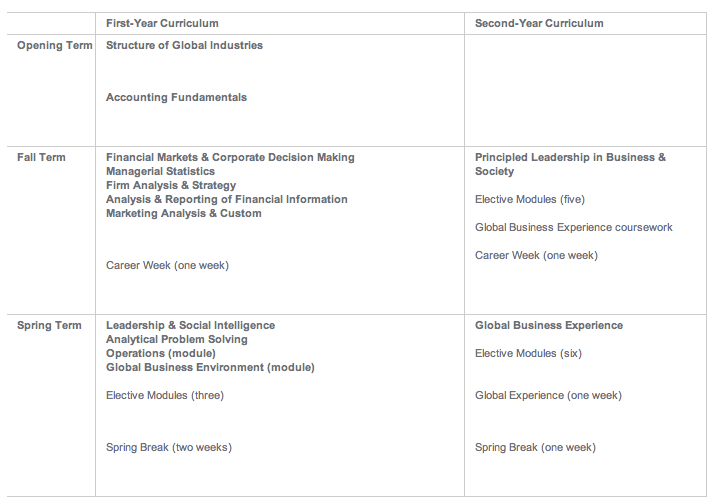 The Executive MBA Programme is characterized by two domestic residencies, classes that are delivered in a cohort-based model to strengthen cooperation and team work skills and a format that accommodates the work schedule of executives and professionals. The programme is 20 months long and begins in August. The goal of the programme is to help students understand the geopolitical landscape around the world and its impact on international business. The curriculum integrates all functional areas of business, contains two international consulting projects where executives gain global perspectives and integrates work with the premier location of the school, Washington, D.C. Students customise their programme as well by choosing five electives that best suit their interests and career paths. Classes are delivered on Friday and Saturdays, alternating weekends, and four week-long residencies are applied. Courses are delivered in the areas of:
Accounting
Decision Sciences
Economics
Finance
Management
Marketing
Strategy
Above to the right is a diagram of the programme's curriculum, provided by McDonough. McDonough School of Business also offers Executive Education Programmes in open-enrollment and customised formats. The open-enrollment courses are aimed to build professionals skills in business, leadership, financial management, global markets and more. The workshops are three to five days and focused on specific government topics to more specialised topics. The customised programmes allow companies to build a curriculum that advances their goals and objectives and the leadership abilities of their executives and management teams.
McDonough School of Business, Georgetown University 390 37 th and O Streets NW Washington, DC 20057 Unitied States t: +1 202-687-4200 w: msb.georgetown.edu