INSEEC Graduate School of Business is one of the top business schools in French Higher Education. The business school is located in the three French cities of Paris, Lyon and Bordeaux, and they also have locations in Monaco, London, Chicago, New York and Beijing. INSEEC combines the experience higher learning in a metropolis environment and offers five international tracks for students in International Management. All of the programs are taught in English and are based around the three fundamental pillars of the INSEEC educational curriculum: Core classes in international management, specialized courses, and two mandatory internships. Approximately 200 partner universities partnered with INSEEC Group offer students many opportunities for dual degrees (44 MSc or MBA) or academic exchanges worldwide. INSEEC Graduate School of Business offers students a multi-cultural and multi-lingual education program with one of the most diverse student bodies in the world. The group was one of the very first to expand internationally, which began in 1976 when all students were offered a study-abroad experience in the United States. Now, students can also participate in internship and assignment programs abroad in the final year of the Bachelor's or either year of their Master's.
The Full-time MBA Program is aimed towards students with four-year post-secondary degrees and professionals. The curriculum is in the concentrated areas of marketing, law, finance, and general business practice. Participants choose a field of concentration in either:
Finance
Marketing
International Human Resources Management
Luxury
These concentrations provide specific class schedules that satisfy the specific areas of knowledge needed. An example of a Finance concentration is shown below: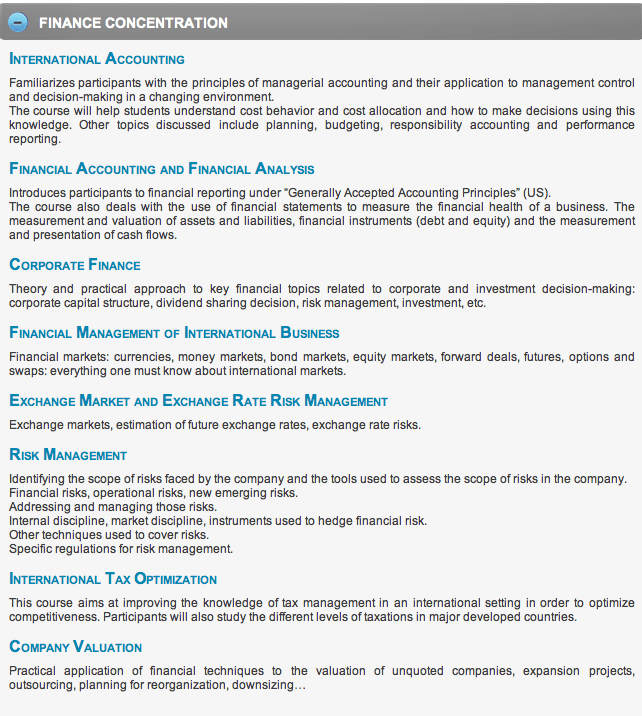 Here is a list of the core courses of the program:
International Strategic Management
Business Plan
Human Resources Management
International Economics
Cross-Cultural Management
Managerial Accounting
International Business Law
International Business Culture
Entrepreneurship
Analyzing and Understanding Foreign Markets
A personal management seminar is also required that is aimed to develop participants interviewing skills when seeking employment with top European companies. It is designed to build skills in project management and team-work and includes advice on writing resumes and managing business meetings. Language courses are also offered in French, Japanese, Spanish, German, or Italian.
Inseec 27 Avenue Claude Vellefaux 75010 Paris, France t: +33 (0) 1 42 09 99 17 Admissions: Karine Schmidtmayer – t: +33 (0) 1 42 09 98 39 Stéphanie Bouvet – t: +33 (0) 1 42 09 96 19 Inseec 110 Marylebone High Street London, UK W1U 4RY t: +44 (0) 20 74 67 24 22