As blockchain technology is set to boost global GDP to $1.76 trillion by 2030, here are the top 101 blockchain companies that are leading the way in this transformative journey. These top blockchain companies are at the forefront of the digital revolution, leveraging distributed ledger technology to transform businesses and reshape entire sectors.
Blockchain technology has rapidly evolved beyond its initial association with cryptocurrencies like Bitcoin. Today, it is a powerful and versatile tool with applications across various industries. According to Grand View Research, the global blockchain market size in 2023 is valued at $10 billion. The blockchain market is expected to grow at an 87.7% CAGR from 2023 to 2030 to reach $1.4 trillion by 2030.
Blockchain data is basically designed to resist tampering and serves as a highly secure ledger for recording transactions. In other words, blockchain technology has versatile applications, serving as a transparent platform for public transactions and as private ledgers for inter-company transactions and meticulous record-keeping.
Consequently, the improved visibility and efficiency can help organizations overcome the challenges posed by the disruptions in the world.
Let's find out the top 101 blockchain companies in the world:
1. IBM Blockchain
IBM offers a comprehensive blockchain platform designed for businesses, enabling secure, scalable, and permissioned blockchain networks. With a portfolio of leveraging more than 220 businesses, the company helps by developing applications and data governance tools that run on blockchain.
2. Ripple
Known for its digital payment protocol, Ripple's blockchain technology enables fast and low-cost cross-border transactions. Some of the international financial institutions using Ripple's secure blockchain network include American Express, BBVA and BMO.
3. Ethereum
Ethereum's blockchain is the foundation for decentralized applications (DApps) and smart contracts, revolutionizing the way we interact with digital assets.
4. ConsenSys
A blockchain technology company that develops Ethereum-based software, tools, and infrastructure, for companies including MasterCard and J P Morgan.
5. Binance
A cryptocurrency exchange that has expanded its services to include a blockchain platform, Binance Smart Chain (BSC). Binance Smart Chain also implements the Ethereum Virtual Machine (EVM), which allows it to run Ethereum-based applications like MetaMask.
6. Chainlink
Chainlink provides decentralized oracles that connect smart contracts to real-world data, enhancing their functionality. The network is intended to be used to facilitate the transfer of tamper-proof data from off-chain sources to on-chain smart contracts.
7. Tezos
Tezos is an open-source blockchain that can execute peer-to-peer transactions and serve as a platform for deploying smart contracts. It is a blockchain platform known for its on-chain governance and self-amendment capabilities.
8. Polkadot
Polkadot is a multi-chain network that enables interoperability between different blockchains, fostering a more connected ecosystem.
9. Cardano
Cardano's blockchain focuses on sustainability, scalability, and interoperability, offering a platform for dApps and smart contracts.
10. Avalanche
Avalanche boasts high throughput and customization, making it suitable for various decentralized applications. The Avalanche blockchain can provide near-instant transaction finality.
11. Tron
Tron is known for its scalability and high transaction speeds, with a focus on entertainment and content-sharing dApps. The platform had about 180 million accounts as of August 2023.
12. VeChain
VeChain specializes in supply chain management, using blockchain technology to enhance transparency and traceability.
13. Filecoin
Filecoin is a decentralized storage network that leverages blockchain to create a more efficient and secure data storage ecosystem.
14. Algorand
Algorand focuses on speed and efficiency, offering a blockchain platform for a wide range of applications.
15. Stellar
Stellar's blockchain facilitates cross-border payments and asset issuance, with a strong emphasis on financial services.
16. EOS.IO
EOSIO is known for its high throughput and scalability, making it suitable for decentralized applications with high transaction volumes.
17. ChainSafe Systems
A blockchain development company that offers a range of blockchain solutions and services, ChainSafe Systems offers user-centric systems design utilizing emerging technologies such as blockchain, smart contracts and machine learning.
18. Aave
Aave is a decentralized lending platform that operates on the Ethereum blockchain, enabling users to borrow and lend cryptocurrency assets.
19. MakerDAO
MakerDAO is a decentralised application (dapp) that provides the tools to create, manage, and trade stablecoins and digital assets. MakerDAO's platform consists of Maker Protocol, Maker CDPs, Dai Stablecoin, and Maker Vaults.
20. Solana
Solana offers high-performance blockchain infrastructure for decentralized applications and cryptocurrencies. Solana is much faster in terms of the number of transactions it can process and has significantly lower transaction fees than rival blockchains like Ethereum.
21. Polygon (formerly Matic Network)
Polygon is a framework for building Ethereum-compatible blockchains and scaling solutions. It uses a variety of scaling solutions, including Plasma, Optimistic Rollups, and ZK Rollups, to improve transaction speeds and reduce gas fees.
22. Bitfury
Bitfury is a blockchain infrastructure provider with a focus on blockchain software and hardware solutions. The company offers a number of crypto and blockchain-related services, such as software applications, cybersecurity, and blockchain research.
23. Cardstack
Cardstack is an open source framework that enables Web 3.0. "Cards" form the building blocks that allow for bringing in data from disparate sources, beautiful UI animations, encapsulated and flexible data schemas, and a quick ramp-up experience.
24. Ontology
Ontology focuses on trust, identity, and data exchange, providing a secure and scalable blockchain platform. The Ontology blockchain helps organizations better manage the trackability, traceability, and reliability of supply chains and logistics.
25. IOTA
IOTA's blockchain is designed for the Internet of Things (IoT) and aims to provide secure and scalable data and value transfer. IOTA does not use miners to validate transactions, instead, nodes that issue a new transaction on the network must approve two previous transactions.
26. Filecoin
Filecoin is a decentralized storage network that leverages blockchain to create a more efficient and secure data storage ecosystem.
27. KuCoin
KuCoin is a cryptocurrency exchange that has expanded its services to include blockchain solutions like KuCoin Community Chain (KCC).
28. Hedera Hashgraph
Hedera Hashgraph offers a fast, secure, and fair blockchain alternative with a focus on enterprise use cases. It also supports non-fungible tokens (NFTs) but doesn't use smart contracts.
29. ICON
ICON is a blockchain platform that connects various blockchain networks and facilitates data exchange and communication between them. The South Korean-based company bills itself as an interconnected blockchain network, allowing participants in a decentralized system to "converge" at a central point.
30. Zilliqa
Zilliqa is the first public blockchain designed to implement sharding, allowing for linear scaling as the blockchain grows in size. Zilliqa is known for its high throughput and scalability, offering a blockchain platform suitable for various applications.
31. 0x
0x is an open-source, decentralized exchange infrastructure that enables the exchange of tokenized assets on multiple blockchains. 0x provides infrastructure for decentralized exchanges (DEXs), enabling the peer-to-peer trading of Ethereum-based assets.
32. Bakkt
Bakkt is an end-to-end regulated digital assets exchange that offers investors high levels of security when it comes to dealing in cryptocurrencies. Bakkt offers cryptocurrency custody and trading services for institutional investors, leveraging blockchain technology.
33. Bitmain
Bitmain is a major manufacturer of application-specific integrated circuit (ASIC) chips used to mine bitcoin and a variety of other cryptocurrencies. Through its brand, ANTMINER, the company has long maintained a global market share and leading position in technology, serving customers across over 100 countries and regions.
34. NEM
NEM offers blockchain solutions for businesses, with a focus on supply chain management and tokenization. It is operated by a Singapore-based non-profit organization called the NEM Foundation.
35. Cosmos
Cosmos is a network of interoperable blockchains, facilitating communication and data sharing between different blockchain ecosystems. Serving as the economic center of the Interchain, the Cosmos Hub is a blockchain that provides vital ecosystem services.
36. R3
R3 is a blockchain consortium that develops Corda, a blockchain platform for enterprise use cases. R3's blockchain ecosystem also enables its users to tap into a diverse network of firms from the public and private sector committed to building the future of digital finance.
37. Tezos
Tezos is an open-source blockchain that can execute peer-to-peer transactions and serve as a platform for deploying smart contracts. The blockchain platform is known for its on-chain governance and self-amendment capabilities.
38. Qtum
Qtum is an open-source blockchain platform that takes some of the best parts of Bitcoin and Ethereum and wraps them into a developer-friendly platform capable of supporting highly secure decentralized applications (DApps).
39. NEO
NEO is a blockchain developed to fully digitize assets and identities through smart contracts for the overarching goal of achieving a smart economy. NEO focuses on digital assets, smart contracts, and digital identity, with a goal of creating a smart economy.
40. Kadena
Kadena provides a scalable and secure blockchain platform suitable for both public and private blockchain networks. Kadena was founded on the idea that blockchain could revolutionize how the world interacts and transacts.
41. Horizen
Horizen is the most secure interoperable blockchain ecosystem supported by the largest and most decentralized multi-tiered node infrastructure in the industry. It is a privacy-focused blockchain platform that offers enhanced security and data protection.
42. Fetch.ai
Fetch.ai is an open-access decentralized machine learning blockchain-based network that was created with the idea to enable the development and growth of the digital economy without human interference. Fetch.ai specializes in artificial intelligence and blockchain integration, enabling decentralized machine learning and AI solutions.
43. Celo
Celo is the carbon-negative, mobile-first, EVM-compatible blockchain ecosystem leading a thriving new digital economy for all. The platform aims to create a more inclusive financial system.
44. Energy Web Foundation
The Energy Web Foundation is a global nonprofit unleashing blockchain's potential in the energy sector. The organisation focuses on promoting sustainability and efficiency through the use of blockchain technology.
45. Arweave
Arweave is a A permanent and decentralized web inside an open ledger. It is a blockchain-based data storage platform that offers permanent and tamper-resistant storage for data and applications.
46. Sandbox
The Sandbox is a virtual Metaverse built on the Ethereum blockchain, where players can build, own, and monetize their gaming experience. The game has made blockchain mainstream in the gaming industry.
47. Ztudium
ztudium is a global, leading maker of 4IR technologies, Web 3.0, AI, Blockchain, and research. The company builds software, research products, and service platform solutions using new technologies. It has experience in building proprietary platforms, and software products for businesses and governments.
48. Harmony
Harmony is a fast and secure blockchain for decentralized applications. It offers a high-throughput blockchain platform for decentralized applications and cross-border finance.
49. Celer Network
Celer is a blockchain interoperability protocol enabling a one-click user experience accessing tokens, DeFi, GameFi, NFTs, governance, and more across multiple chains. Celer Network focuses on layer-2 scaling solutions for blockchain networks, enhancing scalability and efficiency.
50. Nervos Network
The Nervos Network is an open-source public blockchain ecosystem and collection of protocols creating the foundation for a universal internet-like public network. Nervos Network combines layer-1 and layer-2 solutions to provide a secure and scalable blockchain platform.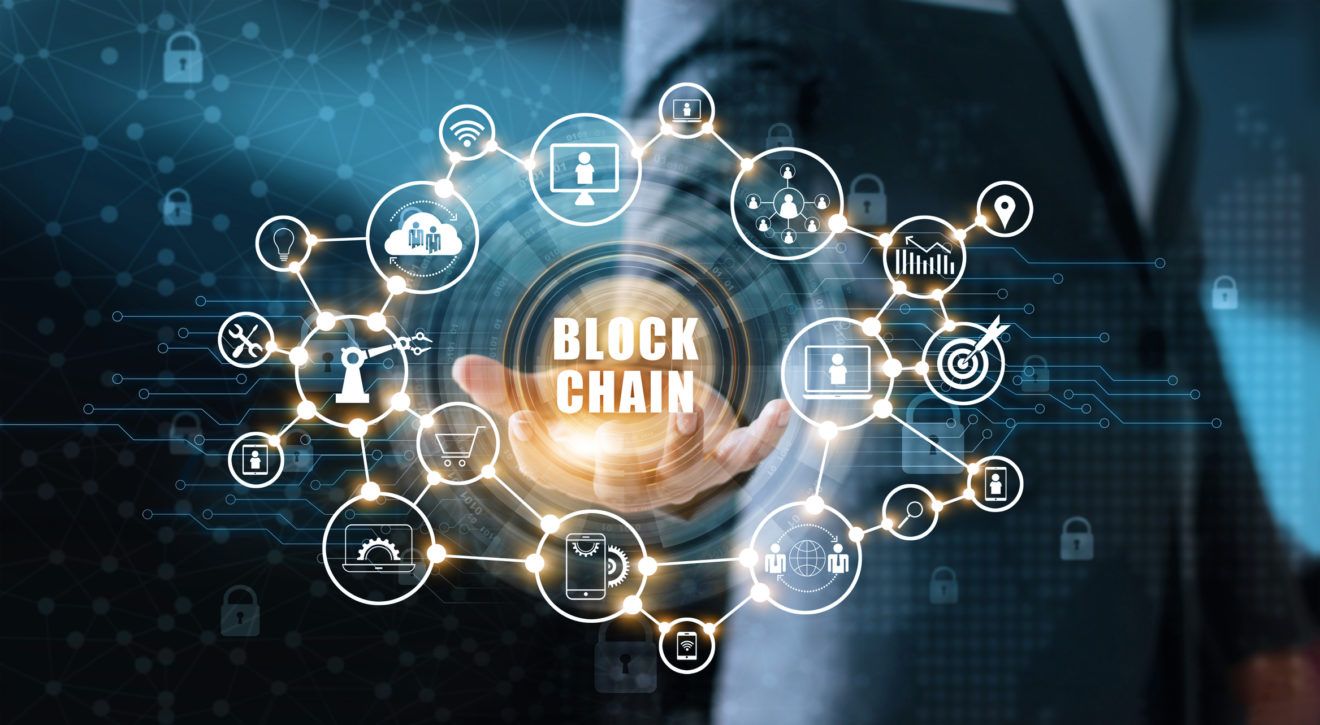 51. Enjin
Enjin is a blockchain tech company building products that make it easy for everyone to use next-generation non-fungible tokens (NFTs). It specializes in blockchain-based gaming and virtual asset management, creating unique digital collectibles.
52. Origin Protocol
Origin Protocol facilitates decentralized peer-to-peer marketplaces on the blockchain, enabling secure and efficient e-commerce. It develops web3 technologies with the intention of bringing non-fungible tokens (NFTs) and decentralized finance (DeFi) to the masses.
53. Ocean Protocol
Ocean Protocol is an open-source protocol that focuses on data sharing and monetization, allowing data providers to control and profit from their data. It is a World Economic Forum Technology Pioneer.
54. TomoChain
TomoChain is a highly scalable and secure blockchain network in mainnet since 2018, taking a community-driven approach to accelerate the mass adoption of Web 3.0 applications. TomoChain offers a high-performance blockchain platform suitable for various decentralized applications.
55. Waves
Waves provides blockchain solutions for token creation, decentralized exchange, and asset management.
56. Komodo
Komodo is an open-source technology workshop backed by a community of validators, researchers, and builders who are creating blockchain assets and decentralized applications. Komodo offers a blockchain platform with built-in privacy features and atomic swap capabilities.
57. Aragon
Aragon is an open-source software used to maintain and create decentralized autonomous organizations (DAOs) on the Ethereum blockchain.
58. Gnosis
Gnosis specializes in prediction markets and decentralized finance (DeFi) solutions on the Ethereum blockchain.
59. Sia
Sia is a blockchain-based decentralized storage platform that offers secure and cost-effective data storage solutions.
60. Storj
Founded in 2014 by Shawn Wilkinson and John Quinn, Storj is a peer-to-peer, blockchain-powered cloud storage network which allows members to share and transfer data in a trustless way.
61. Ardor
Ardor is a multi-chain blockchain platform developed by Jelurida that offers a scalable blockchain platform for businesses and developers, with a focus on easy-to-use blockchain solutions.
62. Civic
Civic provides blockchain-based identity verification services, enhancing security and privacy for online identities.
63. Kyber Network
Kyber Network is a decentralized, blockchain-based protocol that facilitates the exchange of tokens without an intermediary and provides liquidityfor decentralized finance (DeFi) applications.
64. Polymath
Polymath focuses on blockchain solutions for security token offerings (STOs) and tokenized assets. It is a digital platform that helps businesses issue their securities (stocks, bonds, etc.) in the form of regulatory-compliant tokens on the blockchain.
65. Decentraland
Decentraland is a 3D virtual world browser-based platform. It is a digital game that mimics reality in 3-D and is a user-owned, Ethereum-based virtual reality world platform.
66. Elastos
Elastos is a public blockchain project that integrates blockchain technology to build a 'modern Internet' infrastructure which provides intrinsic protection for privacy and digital asset ownership. Elastos aims to create a secure and decentralized internet infrastructure, utilizing blockchain technology.
67. Horizon Blockchain Games
Horizon Blockchain Games combines gaming and blockchain technology, creating blockchain-based gaming experiences. It is an all-in-one developer platform and smart wallet that makes building web3 games and applications easy.
68. Bancor
Bancor is a decentralized financial network that seeks to provide liquidity to small- and micro-cap coins and returns for liquidity providers. Bancor utilizes two token layers that facilitate its liquidity pools and functionality: BNT and ETHBNT.
69. Orchid
Orchid provides a blockchain-based privacy network and VPN services, enhancing online privacy and security.
70. CoinFlip
CoinFlip is a bitcoin ATM network that offers a way to buy and sell cryptocurrencies with cash.
71. Holo
Holo focuses on distributed hosting and blockchain applications, enabling peer-to-peer hosting services.
72. Rocket Pool
Rocket Pool is a decentralized staking platform for Ethereum 2.0, allowing users to stake ETH without running their own node.
73. Golem
Golem is a decentralized marketplace for computing power, enabling users to rent and sell computational resources.
74. Polkastarter
Polkastarter provides a decentralized fundraising platform for blockchain projects, enabling token sales and fundraising campaigns.
75. Cred
Cred offers blockchain-based lending and borrowing services, allowing users to earn interest on their crypto assets.
76. Numeraire
Numeraire is a blockchain-based hedge fund that leverages crowdsourced data for algorithmic trading.
77. Hive
Hive is a decentralized social media platform that rewards content creators with cryptocurrency.
78. Gemini
Gemini is a cryptocurrency exchange founded by the Winklevoss twins, known for its regulatory compliance and security.
79. Coinbase
Coinbase is a user-friendly cryptocurrency exchange and wallet platform, making it easy for newcomers to enter the crypto space.
80. Kraken
Kraken is a well-established cryptocurrency exchange with a wide range of supported assets and robust security measures.
81. Bitstamp
Bitstamp is one of the longest-standing cryptocurrency exchanges, known for its reliability and security.
82. Bittrex
Bittrex offers a secure and user-friendly cryptocurrency exchange platform with a wide selection of digital assets.
83. Bitfinex
Bitfinex is a cryptocurrency exchange known for its advanced trading features and liquidity. The platform is owned by IFinex Inc.
84. Aptos Labs
Aptos Labs is a premier Web3 studio of engineers, researchers, strategists, designers, and dreamers building on Aptos, the Layer 1 blockchain built with safety and user experience in mind, enabling developers to build scalable, future-proof applications.
85. Hiro Systems
Hiro builds developer tools that bring Web3 to Bitcoin. It is the only complete solution to build, deploy, and scale apps with fully expressive smart contracts on Bitcoin.
86. Fortress IO
Fortress IO is an API-driven financial, regulatory, and e-payments infrastructure for Web3 innovators. It is a fintech institution offering the next-generation solution for custody, payments, compliance and infrastructure
87. BitPay
BitPay is a cryptocurrency payment processor that enables businesses to accept crypto payments.
88. Bitwise Asset Management
Bitwise offers cryptocurrency index funds and investment products for institutional and retail investors.
89. NYDIG
NYDIG is a Bitcoin company building a better economy for all. The company fuses high tech with institutional-grade finance to usher in a new era of financial products.
90. BitOasis
BitOasis is a cryptocurrency exchange and wallet provider catering to the Middle East and North Africa (MENA) region.
91. Bitwala
Bitwala offers a blockchain-based banking platform that integrates cryptocurrency and traditional banking services.
92. Blox Staking
Blox Staking provides blockchain staking solutions, allowing users to earn rewards by participating in blockchain networks.
93. BitGo
BitGo offers cryptocurrency custody, security, and wallet solutions for institutional clients.
94. Blockchain Capital
Blockchain Capital is a venture capital firm that invests in blockchain and crypto-related startups.
95. CertiK
Founded in 2018 by professors of Columbia and Yale, CertiK is a pioneer in blockchain security, utilizing best-in-class Formal Verification and AI technology to secure and monitor blockchains, smart contracts, and Web3 apps.
96. TokenInsight
TokenInsight is a blockchain data and research firm that provides insights and analysis for crypto investors.
97. BitFlyer
BitFlyer is a cryptocurrency exchange and trading platform with a focus on regulatory compliance.
98. BitShares
BitShares is a blockchain platform that offers decentralized exchange (DEX) and financial services.
99. Ledger
Ledger is a well-known manufacturer of hardware wallets for secure cryptocurrency storage.
100. OKEx
OKEx is a global cryptocurrency exchange offering a wide range of trading pairs and financial products.
101. Ren
Ren (Republic Protocol) is a software that aims to incentivize a global network of users to allow anyone to transfer both new and existing assets across different blockchains. Ren provides cross-chain liquidity for DeFi applications, allowing assets to be transferred between different blockchain networks.
Our future with blockchain technology
The blockchain industry continues to evolve rapidly, with these top 101 blockchain companies leading the way in innovation and adoption. As blockchain technology becomes increasingly integrated into various sectors, from finance and supply chain to healthcare and entertainment, these companies play a pivotal role in shaping the future of our digital economy.
With their innovative solutions, they are not only revolutionizing how we conduct business but also enhancing transparency, security, and accessibility in the digital world.