The Creative Thinking Handbook, written by Chris Griffiths and Melina Costi, is a practical guide to unlock creativity in business: 'practical play', 'purposeful daydreaming' and 'thinking without the box'
Brainteasers, tests and exercises help readers put their new creative skills into action, using tried and tested methods from the authors' experiences with high-profile companies and clients - including Nobel Laureates, Pepsi, the BBC and the Dalai Lama. The book breaks down traditional business creativity assumptions – that quickfire group brainstorming sessions are the most productive – and takes readers back to basics of creativity, by helping professionals understand their own mind through setting them up with an 'ideation toolkit', which gives them the skills they need to create their own great ideas.
---
Why This Book Matters
By TEDx creativity expert and coach to the Dalai Lama, Royal Family, and Novel Laureates. Chris believes that creativity is for everyone, and anyone can learn to innovate
A NASA test showed 98% of 5 year olds are 'highly creative', but only 2% of adults. We lose creativity as we age, but it's vital we retain this important skill
Profits from the book donated to the Inspire Genius foundation. A charity which is on a mission to inspire, coach and motivate disadvantaged teenagers.
Unlocking creative potential and avoiding 'thinking traps'. Selective, reactive, and assumptive thinking hold back creativity, getting rid of them allow readers to 'think without the box'.
Creativity an essential skill - knowledge is no longer enough. The World Economic Forum listed creativity as one of the three critical skills needed in the workplace.
---
The Creative Thinking Handbook
is a new guide to rediscovering creativity and developing great ideas in business. With the World Economic Forum listing creativity as one of the top three skills now needed in the workplace - it's never been so important to maximise creative potential. In a NASA creativity test, 98% of UK 5-year olds scored in the 'highly creative' range, yet this went down to just 2% in adults over the age of 25. In The Creative Thinking Handbook, expert Chris Griffiths reveals the secrets of unlocking innovative potential and enhancing creativity in the workplace. Packed with helpful ways of breaking down the creative process - the 'Decision Radar' gives professionals and teams the tools they need to understand their own thinking, and then provides useful steps to help them avoid the common thinking traps, which include 'selective' 'reactive' and 'assumptive' thinking.
About The Authors
is founder and CEO of OpenGenius, and worldleading expert on the application of innovation and Mind Mapping®. He has helped drive business growth for thousands worldwide, including teams and individuals from Fortune 500 and FTSE 100 companies, the United Nations and Nobel Laureates. Chris is a bestselling author on creativity and innovative thinking skills, and promotes entrepreneurial thinking through the Inspire Genius Foundation. His software, iMindMap and Droptask, is used by millions of people worldwide to improve their creativity and productivity.
is a professional business writer with a background in marketing management. She is co-author of GRASP the Solution (with Chris Griffiths), which reached #2 on the Amazon UK business chart; and The Positive Leader (with Jan Mühlfeit, former Microsoft Europe Chairman).
---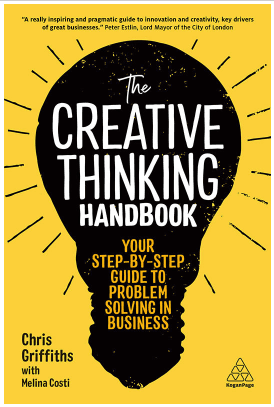 The Creative Thinking Handbook
By Chris Griffiths with Melina Costi
Out Now
Published by Kogan Page
Paperback Version: £14.99
ISBN: 978-0749484668