Tech industry execs are concerned about non-tech companies infiltrating their space
Less than one-third of senior executives from global technology companies believe they are 'very prepared' to address disruptive technologies, according to a
. The survey of 580 senior executives highlights that while 67 percent of say that disruptive technologies are having a positive impact on the industry, 38 percent of respondents admit that they saw trends coming too late. Conversely, 46 percent of those who say disruptive technologies are helping their business say they invested in the new technology trend earlier than their competitors.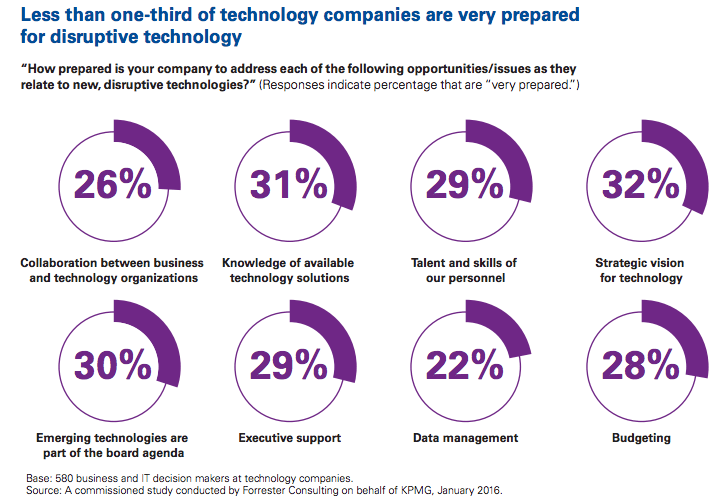 Tudor Aw
, UK head of technology sector at KPMG, comments:
"In a reversal of roles, the disruptors have become the disrupted. The speed at which things are changing, optimism is being replaced with concerns for technology executives."
The biggest concern revealed by the technology company leaders is competition from outside the industry. Seventy-eight percent are somewhat to extremely concerned about non-technology firms becoming technology firms. Of those who said they have experienced a negative impact as a result of disruptive technologies, 61 percent say it is due to new competitors entering the space from other industries.
Aw said: "With software increasingly core to every kind of business, from retailers to healthcare providers, technology firms are being disrupted by everyone. Being a fast and early mover is not necessarily about entering a market before others. Today, it can also mean being quick to adopt and exploit the power of disruptive technologies, in products, marketing, manufacturing and operations."
Indeed, many technology executives responding to the survey recognise this imperative. Over half (55 percent) that see a positive impact from disruptive technologies are using it to reshape their organisational business models.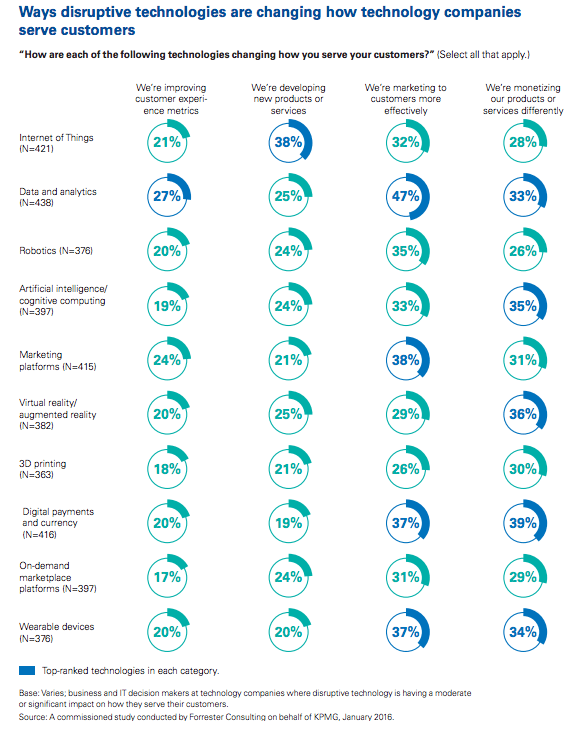 According to the survey results technology company executives are, in practice, using disruptive technologies mainly to drive productivity but to also make a difference on quality and cost. The Internet of Things (IoT), Data and Analytics (D&A) and robotics are reported as being the most significant productivity facilitators. Almost half (49 percent) of survey respondents state that IoT is a key driver of business productivity – from improving employee efficiency and project timelines to restructuring supply-chain processes and more.
"New, disruptive technological innovations are emerging at a rapid pace. Today's hot tech breakthrough could soon be yesterday's news. With so many options to choose from, it's extremely hard to methodically scan, assess, pilot, and deploy new technologies – but it's essential to try, by continually monitoring what's new, and evaluating the potential benefits," concluded Aw.
About KPMG
KPMG LLP, a UK limited liability partnership, operates from 22 offices across the UK with approximately 12,000 partners and staff.  The UK firm recorded a revenue of £1.96 billion in the year ended September 2015. KPMG is a global network of professional firms providing Audit, Tax, and Advisory services. It operates in 155 countries and has 174,000 professionals working in member firms around the world. The independent member firms of the KPMG network are affiliated with KPMG International Cooperative ("KPMG International"), a Swiss entity.  Each KPMG firm is a legally distinct and separate entity and describes itself as such.
About the "Disruptive technologies barometer: The disruptors are being disrupted"
This report is based on a global study conducted by Forrester Consulting on behalf of KPMG International's Global Technology, Media and Telecommunications practice. 580 senior executives within technology companies from 16 countries were surveyed and represent hardware manufacturers, software providers, equipment vendors, semiconductors producers, Internet companies, social media technology vendors and other similar organisations. The 16 countries include: Australia, Brazil, Canada, China, France, Germany, India, Israel, Japan, Portugal, South Korea, South Africa, Spain, Taiwan, UK and US. Please visit www.kpmg.com/TMTbarometer to access the full report.