Apparel printing services or selling apparel with a unique print is one of the most popular trends in the POD business. Analysts have estimated the global custom T-shirt printing market at more than $3.5 million in 2020 and expect it to double by 2028, at least. So today, the
POD industry is an attractive business model that can be developed from the ground up and make money with minimal investment. Of course, before you start a POD project, you will need to learn some working nuances, and it is best to start with the choice of fabrics because the quality of the final work will depend on this, and thus your reputation among the sellers. We suggest reading our fabric guide to getting a little better understanding of POD processes.
Why it's important to know?
Fabric is the basis of your work, something like a canvas for an artist, so choose the proper fabrics not to get notorious for producing substandard goods. But keep in mind that different fabrics require different printing techniques. The first thing to understand is that fabrics can be of 2 types: natural and synthetic. Natural fabrics are of vegetable or animal origin and come in 3 types: cotton, wool, and linen. Synthetic fabrics consist of fibers obtained by chemical synthesis. Such materials have some advantages (in price and other) and disadvantages (in functional parameters) compared to natural fabrics. Therefore, fabric manufacturers usually mix natural and synthetic fibers in different proportions to get the best option. Natural fabrics are best for printing because they absorb liquids (ink) well. They are suitable for screen printing (silkscreen) and DTG (direct printing). Synthetic fabrics are suitable for the sublimation method because these materials repel water. In addition, you need to consider the structure of the fabric. Dense heavy fabrics can absorb a lot of ink, and the design will look more saturated. Printing on thin, light fabrics shortens ink use and design durability. There is an option to use embroidery, but it also can vary in application technique, appearance, and quality. To get a better understanding of fashion trends, visit the store with the clothes that you are going to sell. We hope that now you are more aware of how important it is to choose the fabric under the printing technique at your production. Making the right choice will save you quality problems, let your products look good, and give your store a good reputation.
An overview of the most popular fabrics for printing
Cotton
It's an actual leader of the fabric world for any clothing production, including the POD industry. If you are a newbie at the business or unsure of your choice, we recommend going with cotton. It's an eco-friendly material widely used to make T-shirts. But keep in mind that 100% cotton, like any other organic fabric, is expensive and can increase your costs substantially. To avoid unnecessary spending, use cotton combined with synthetic fibers in different proportions (20% polyester or 50% elastane).
Denim
It is also a popular fabric for casual wear. Denim is used for jeans, jackets, shirts, and dresses. It is made from cotton, which allows clothes made of denim to be soft, durable, and breathable. The most commonly used printing equipment is a DTG printer, taking the fabric through three stages: pre-processing, preparing, and loading into the printer. The settings should be set to use more white ink and super fine quality printing).
Flannel
It's thick cotton, wool, or wool blend with fleece added on both sides. Flannel is a pleasant fabric for the body: it is soft to touch, warm to wear, durable, and hypoallergenic. The fabric is excellent for children's clothes, bedclothing, and people with sensitive skin. Sublimation printing is used to get the rich colors of the flannel pattern.
Linen
This environmentally friendly material keeps its shape well, does not tear, gives the clothes an attractive matte finish, lets in air, and does not irritate the skin. It is used for hot weather clothing such as shirts, dresses, skirts, shorts, pants. This fabric is suitable for digital printing without any preparation. The use of heat treatment will deepen the print saturation and prevent the fabric from shrinking.
Hemp
Hemp fibers are the coarsest plant fibers and have come into fashion as a trend for naturalness and sustainability. This fabric is strong, practical, and durable, and at the same time soft, hypoallergenic, and hygroscopic. With durable reactive inks, hemp dyes are better than many other fabrics, including cotton.
Silk
You may think that this thin material is only suitable for summer clothing, but it is not. Silk is also suitable for cold weather because it retains body temperature. The fabric does not irritate or clog your skin, and it looks amazing. Suitable for sewing both home wear and evening outfits. Silkscreen or thermal transfer can be used as printing techniques. If you want to keep your costs down, choose polyester silk.
Rayon
We have already written that it is a variant of artificial silk, which combines the advantages of several fabrics: strength, elasticity, smoothness, and lightness. It is used for sewing summer clothes and inner linings. The best print quality is achieved by using a digital printer and reactive inks.
Nylon
This sturdy synthetic material is used for everyday wear, hosiery, and various hiking and sports stuff. It is easy to dye. Using a thermal transfer printer, sublimation (fabric must contain 50% nylon or more), or silkscreen, one can achieve saturated colors.
Polyester
It is widely used in the clothing industry as one of the fabric components. Polyester is valued for its ability to hold the complex shape of things such as skirts and dresses with pleats. Patterns are sublimated (over 50% polyester and light fabric) or silkscreened.
Sateen
It's produced of cotton or as combinations of synthetic and silk fibers. This lightweight, durable fabric absorbs moisture well without irritating the skin or maintaining body temperature. It is usually used for bed and children's clothing. Often used printing techniques include reactive and pigmented printing.
Leather
It's distinguished by its strength, durability, elasticity. Natural leather holds its shape perfectly, lets air in, and absorbs moisture. Leather substitutes can not boast such a set of properties. To put quality and durable print on leather goods (jackets, coats, dresses, skirts) UV printing is used.
Wool
Wool in its pure form is rarely used, but combined with other fibers, wool gives unique warming properties. So it is used to make warm clothes. In addition, it repels dirt, odors, and water, which makes it dry for a long time. Wool fibers are suited to acid dyes, which improve their durability and appearance.
Mixed fabrics
A variety of mixed fabrics are printed using thermal transfer techniques.
How to choose the proper fabric: 3 rules for the POD project owner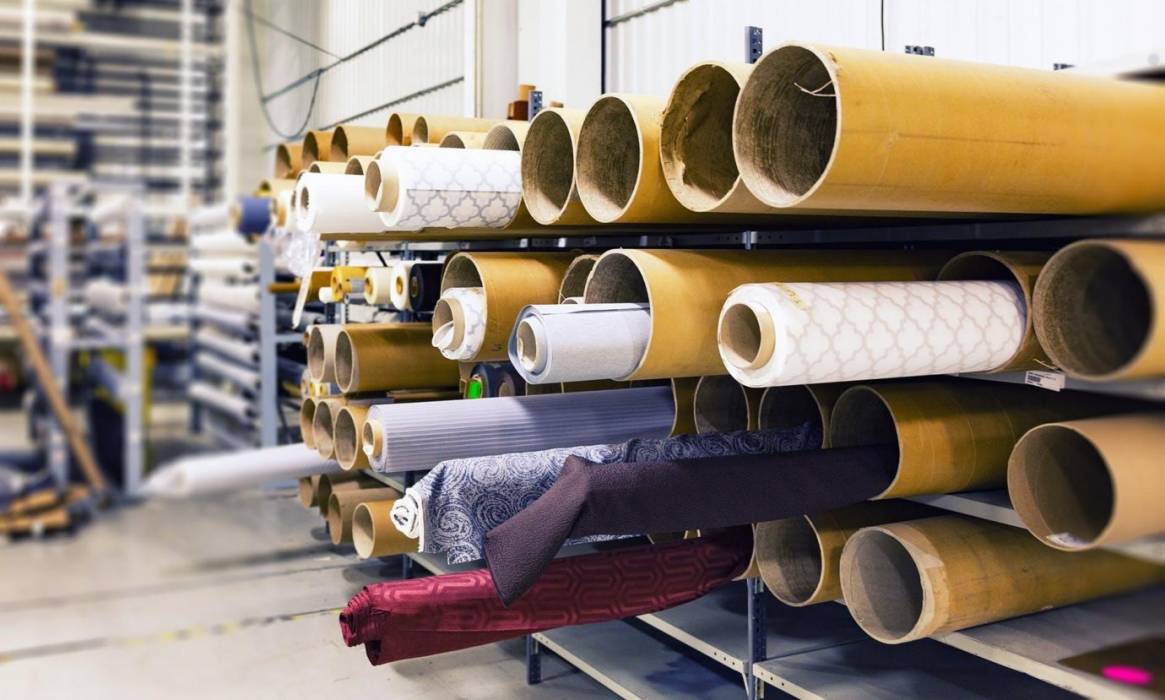 You need to follow these rules to avoid making mistakes while choosing fabric for printing on-demand business:
Check the fabric weight (unit of measure is GSM) while choosing warm, lightweight, or off-season clothing. The fabric for warm garments is heavy and thick, and it requires more ink for dyeing. Ink consumption gets less with thin ones, but clothes wear off faster.
Pay attention to the drape of the fabric. Thin fabrics drape well and are suitable for flowing dresses and skirts, while thick ones retain the shape of voluminous items well.
The elasticity of the fabric also affects the print. Highly stretchy fabrics distort the structure and pattern of the product, but for some types of clothing ability to stretch is necessary (underwear, leggings, swimwear).
Conclusion
Well, we've told you the basics you need to know when choosing fabrics for launching and promoting a POD project. However, the success of your brand depends not only on fabrics but also on proper design. The pattern should match the texture and color of the fabric. If you are struggling with this issue, we recommend using a print-on-demand service from trusted and reliable companies.