Digitalisation and new technologies are taking the art market to new heights. But what the future looks like for artists, collectors and businesses? That's the question that the speakers from the upcoming event 'The Future of… Arts: Digital 360, NFTs, Metaverse, IP, AI', hosted by Dinis Guarda, will try to answer.
A one-only live event taking place on December 8 (1 pm to 3 pm GMT) on Dinis Guarda YouTube Channel, renowned speakers Amrita Sen, artist, designer, and business Woman; Amrita Sethi, NFT Artist; Timmy Mowafi, entrepreneur, creative Director and co-Founder of MO4 Network; and Andrea Bonaceto, contemporary artist and NFT pioneer will come together to shed light on the Future of Arts. An event powered by citiesabc.com and openbusinesscouncil.org.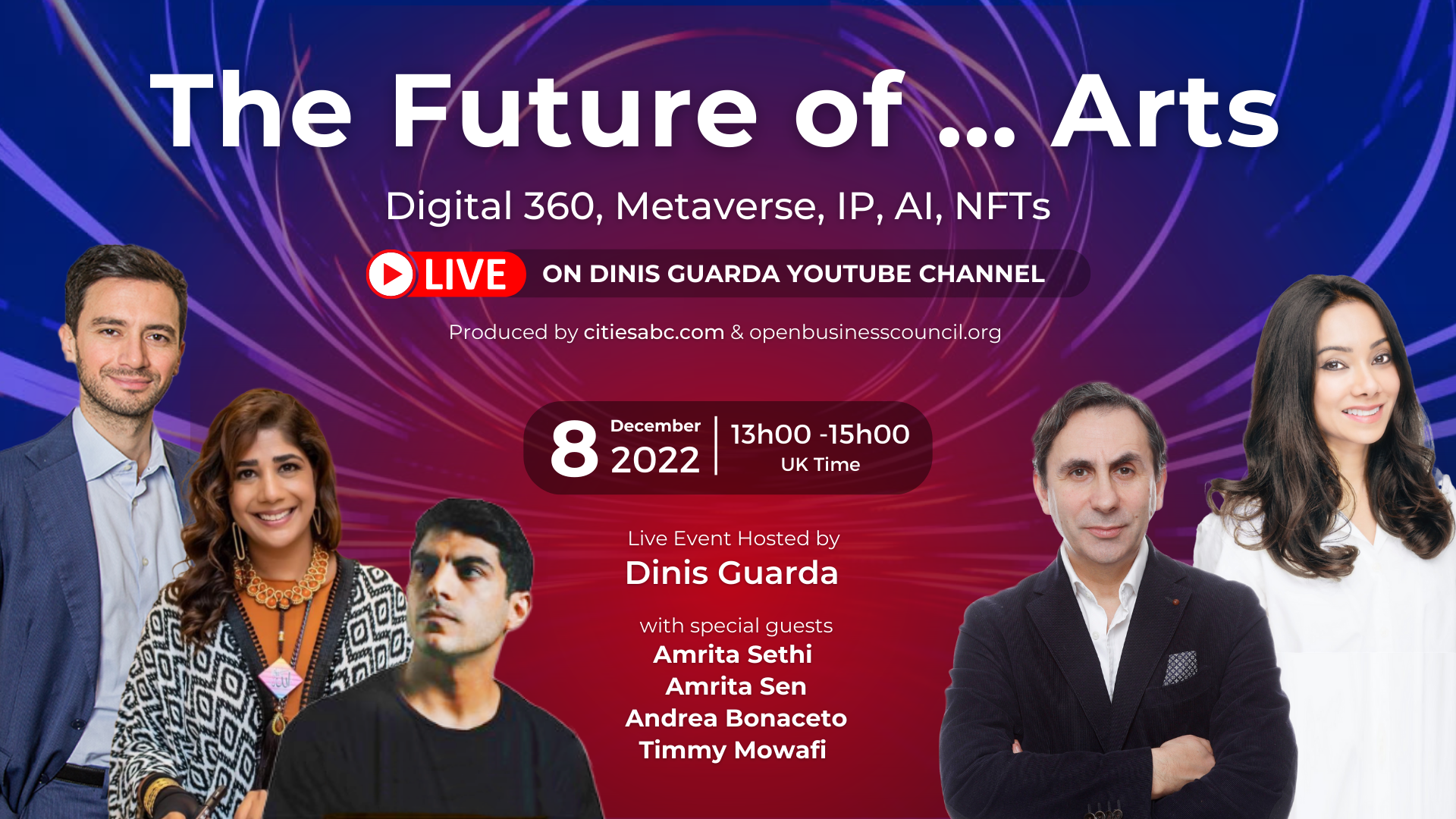 The global arts market grew from $275.58 billion in 2021 to $448.92 billion in 2022, a growth rate of 62.9%, according to The Business Research. Digitalisation and new technologies like NFTs, AI and Metaverse will fuel that growth exponentially as it democratises the creation and access to art and reaches a wider audience.
'The Future of… Arts: Digital 360, NFTs, Metaverse, IP, AI' event is about how creativity can keep flowing with the tools of the 21st Century. If Leonardo da Vinci used the oil painting technique to achieve depth and intensity of colouring and transparency in the effects of light and shade, the artists of our times are using digital tools, producing and selling their arts with NFTs and increasingly working with Metaverse immersive experiences and artificial intelligence.
[caption id="attachment_104307" align="aligncenter" width="998"]
Metaverse Enterprise Immersive Solutions (Infographic by Dinis Guarda, for metaverseabc, mstudios)[/caption]
But this is just the beginning.
The future of arts will increasingly incorporate many more elements of creator new dimensions, IP definition, interaction with technologies, engagement with institutions, virtual spaces, metaverse immersive worlds, and integrated gamification communities. And special interaction between human to human and human to machines.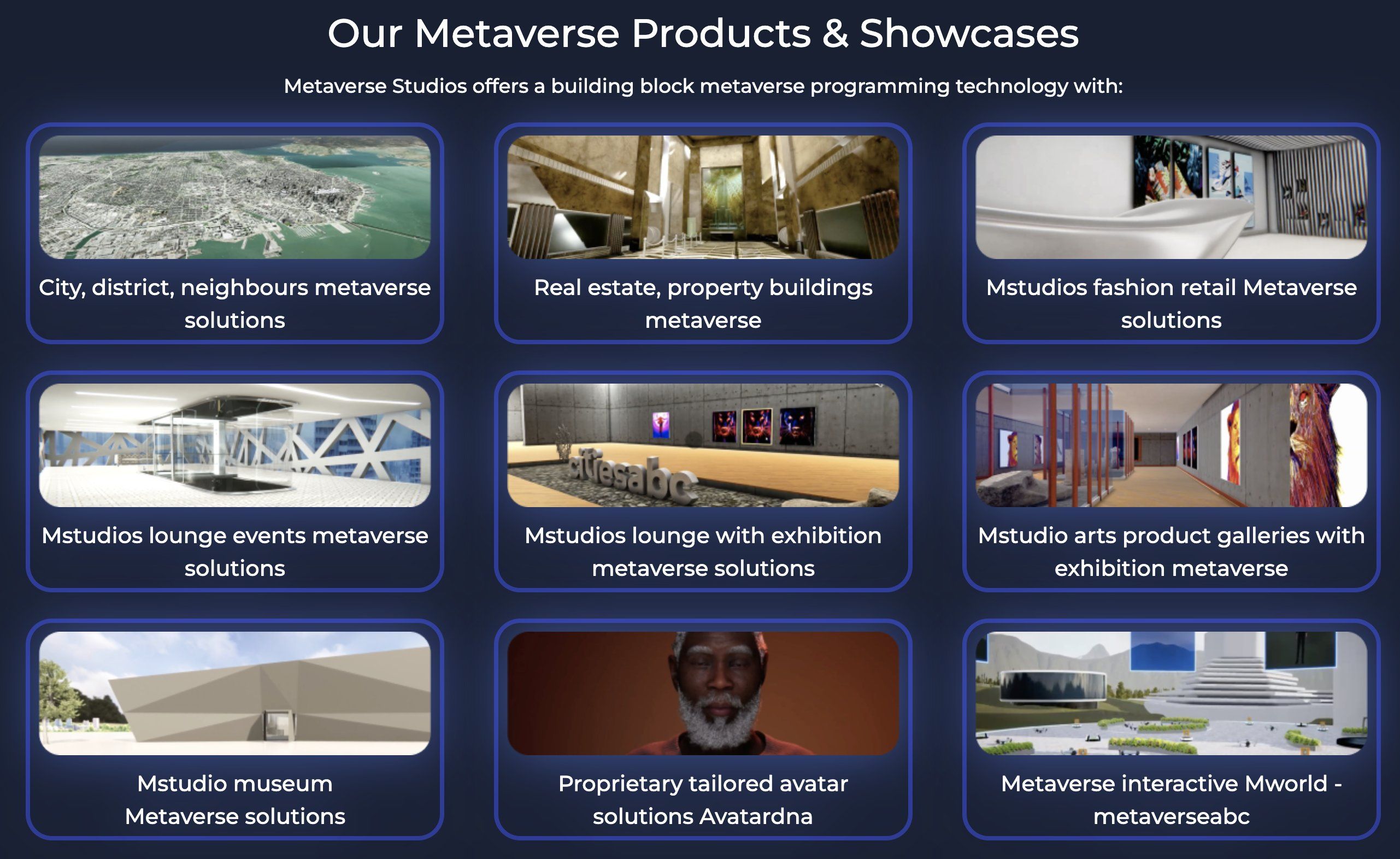 Digital arts, certification Royalties, NFTs, and Metaverse are taking over the art world, and the future of the art(s) is confusing and will give more power to artists if they know how to use the tools of our times. NFTs and special Metaverse multiple solutions art(s) creativity related are rapidly changing the way artists create, are paid and revolutionising how NFT artists can work, create new projects, and take ownership of their art.
As Dinis Guarda, the host of the event and the author of many books on the topic of digital transformation, has predicted:
"NFTs have, in a short time, tapped into our desire to acquire and own, creating value and a whole new dimension of investment commodities. NFTs can be used to encapsulate and represent the ownership of almost anything, which makes for a vast potential market. Our society today is increasingly digital in its substance and expression. NFTs are here to stay and grow as a crucial component of digital certification for our businesses and an ever-evolving Metaverse."
The topics which will be covered during the event include:
• The Future of Art(s): Digital 360, NFTs, Metaverse, IP, AI;
• Art world in a Web3 Metaverse world;
• Buying and collecting art in the future;
• Art(s) IP, royalties, art;
• New business models for artists in the Metaverse;
• Collectors and art dealers, new business solutions and possibilities.
About the speakers
Dinis Guarda
Dinis Guarda is a founder, author, influencer, entrepreneur, investor, futurist, and global thought leader in 4IR, AI, Fintech, digital transformation and Blockchain. Dinis Guarda is the founder of numerous companies: including, but not limited to, intelligenthq, citiesabc, and openbusinesscouncil. With decades of experience in international business, and holding executive-level positions within digital transformation, Dinis has expertise in new tech, cryptocurrencies, regulation, compliance, and global legal processes. You can find and follow Dinis on a variety of social media platforms.
Dinis Guarda has earned his place as one of the top influencers to follow this year thanks in part to his Dinis Guarda Youtube Podcast Thought Leadership series. This is a fast-growing show with more than 103k followers and 12,3 million views to date, having interviewed more than 200 personalities including David Hanson, Ben Goertzel and top government officials. His entire social media ecosystem reaches a global audience of more than 12 million monthly engagements. Dinis is followed by almost 50,000 people on LinkedIn, over 100,000 on Twitter, and 641,000 on Instagram.
Amrita Sen
Amrita Sen is a US-based designer, singer, producer and businesswoman of Indian-themed products and entertainment for global markets. Amrita Sen combines the creation of original artistic content with extensive business experience to commercialize unique products at retail and on-the-air.
Amrita performed at the 2009's Academy Awards with music legend AR Rahman, singing Jai Ho from the Oscar-winning movie, Slumdog Millionaire. As an entrepreneur, Amrita creates original Indian-themed art on successful lines of fashion and home products and distributes it through her own personal brand, Amrita Sen Designs.
Amrita Sethi
Amrita is an award-winning, golden visa holder and the first NFT artist in the UAE. After a successful career, spanning 15+ years, in some of the world's largest multinational financial companies, Amrita left the corporate world for a deeper calling, which led to the creation of a new multimedia art form, called "Voice Note Art"©?- now called "SoundBYTE".
SoundBYTEs merge sound, technology and storytelling with NFTs giving her a perfect platform to showcase her dynamic art form. The unique idea led to her recognition and coverage with Forbes, CNN, BBC World news to winning awards, selected for Expo 2020 and creating live activations and installations in Middle East Asia and Europe. Amrita NFT's have sold worldwide for under half a million USD and she regularly bridges the gap between physical arts and digital art. Amrita became the first NFT artist in the UAE.
Timmy Mowafi
Timmy Mowafi is a British-born Egyptian entrepreneur, writer, creative director, and co-founder of MO4 Network, a leading Middle Eastern creative agency and media network which includes digital platforms CairoScene, CairoZoom, SceneNoise, SceneEats, ElFasla, StartUpScene, SceneTraveller, SceneEats, SceneHome, NFTYScene and SceneNow. Over the course of the last decade Mowafi has developed marketing strategies and content for some of the worlds leading brands such as Red Bull, Uber, Four Seasons and more.
Fascinated with the technologies shaping the future of the creative economy, in 2021 Mowafi founded NFTY Arabia, a soon-to-launch marketplace and launchpad dedicated to empowering creatives, artists and brands across the region to unlock the power of web 3 communities through NFTs.
Andrea Bonaceto
Andrea Bonaceto is an NFT artist and entrepreneur. As an artist, he's focusing on programmable art and the intersection between visual art, music and poetry. He collaborated artistically with Sophia The Robot, the most advanced AI humanoid robot in the world, and with Corriere Della Sera, the largest Italian newspaper. His work has been featured in mainstream media and exhibitions worldwide.
Andrea has been involved in the blockchain and NFT space since the early days. He is among the Founding Partners at Eterna Capital, a leading investment firm focused on blockchain technology. In addition, Andrea is the Co-Founder of AoRisT, a next generation cultural institution supporting a climate-forward NFT marketplace for artists creating at the edge of art and technology. Andrea is a Fellow of the Royal Society of Arts (FRSA) and has been featured as Forbes Under 30 Italy 2019.
The event is produced by citiesabc.com and openbusinesscouncil.org.
The event will run on Dinis Guarda YouTube Channel on December 8 (1pm to 3pm GMT), and is only the first part of a global series of conferences on re-imagining the future of humanity, society, our cities, and businesses. These will look at what role the emerging 4Ir and Society 5.0 technologies are going to play in it and how we can create a better narrative for our present and future. This virtual edition is to be a prelude to a kick-start event scheduled next year in London, UK, and New Delhi, India.