Research from Accenture found that 93% of businesses that signed up to net zero targets will not reach their goals if they do not double the pace of their emission reduction by 2030. And some of the actions they take are just greenwashing without real impact.
Trees planted in Scotland with public money to help the UK reach Net Zero are adding to the nation's carbon emissions, according to recent reports. The new Conifers being rooted in the Scottish countryside are being embedded in peat, causing large parts of the bog to be dug up by foresters, effectively releasing CO2 into the atmosphere – exactly opposite to what the initiative was meant to achieve. Though the practice of tree planting is often well-intentioned, it often fails to solve the underlying problem the nation is facing in reaching net-zero targets. SaveMoneyCutCarbon (SMCC) has launched a first-of-its-kind manifesto for businesses, introducing a six-step plan to achieve net zero goals by 2030, that mitigates the need for greenwashing, and delivers tangible results.
Research from Accenture found that 93% of businesses that signed up to net zero targets will not reach their goals if they do not double the pace of their emission reduction by 2030. With a staggering 87% of British SMEs unaware of their carbon impact, SMCC helps customers to implement the correct green infrastructure to ensure that their entire business model reflects their goals from end-to-end. This comes as their landmark research shows that 14% of the public say they no longer purchase from brands that claim to be sustainable because of greenwashing. In a feat to combat the rapidly growing trend of greenwashing, SMCC share their six steps to employ sustainable practice from the physical work environment down to employee behaviour:
- Carbon Mentor call – a business will be assigned a dedicated Carbon Mentor to understand the present situation within a business and their decarbonisation ambitions
- Baseline report – from the call, SMCC's platform creates an easy-to-understand Scope 1, Scope 2 baseline carbon footprint and guidance on Scope 3 and Scope 4 (staff carbon literacy)
- Built Environment Audit – SMCC's team then audit the building(s) to identify the money, energy, water, and carbon savings available
- Project Financing - Creation of investment grade proposals & tailored finance
- Project Delivery - Design, supply & installation of proven products and solutions
- Staff Engagement – SMCC's EcoWise app & programme provides measured and rewarded learning improving carbon literacy
The importance of employee carbon literacy to reach net zero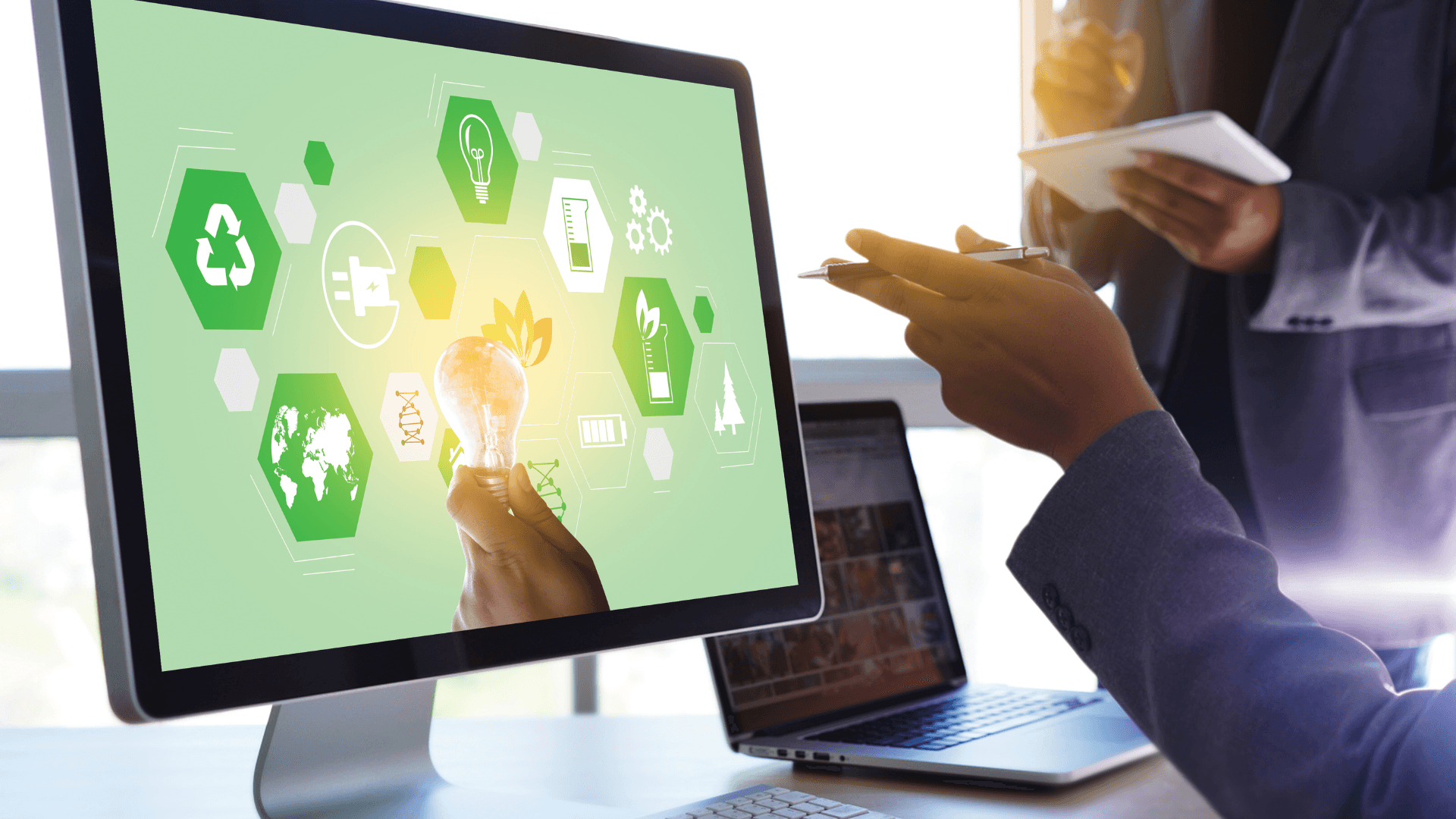 Although not formally recognised, employee carbon literacy is a key tenet for a business' ambition to reduce its carbon footprint.
Employee carbon literacy refers to the level of knowledge, skills, and understanding that employees have about climate change and their role in reducing carbon emissions. When employees have a good level of carbon literacy, they are better equipped to make informed decisions about their actions in the workplace that contribute to reducing carbon emissions. This includes simple actions such as turning off lights and electronic devices when not in use, reducing paper usage, and using public transport or carpooling.
To reach net zero, companies need to implement changes across all areas of their operations, including their supply chain, production processes, and energy consumption. Employee engagement and behavior change are crucial to achieving these changes, and carbon literacy is an essential component of this process. By providing employees with the necessary knowledge and tools, they can become active contributors to the company's sustainability goals.
Having a carbon-literate workforce also helps organizations to identify opportunities for innovation and improvement in their operations. Employees who are knowledgeable about sustainability issues are more likely to suggest new ways to reduce emissions and improve efficiency, such as the use of renewable energy, the adoption of sustainable transportation options, and the development of new green products and services.
Furthermore, organizations with a carbon-literate workforce can build a positive reputation and brand image, which can have significant benefits in today's environmentally conscious society. Consumers are increasingly looking for companies that demonstrate a commitment to sustainability, and having employees who are knowledgeable about carbon reduction measures can be a powerful selling point.
In light of this, SMCC has launched a 12-month programme called EcoWise, aimed at encouraging staff to learn, employ practical changes in their home and workplace, and reap rewards – all while providing quantifiable data for firms to report on their ESG strategies.
Mark Sait CEO and founder of SMCC comments: "SaveMoneyCutCarbon combines carefully selected and tested products & solutions that can help our customers reduce their energy, water, carbon and plastic, combining this with a team of experts and a unique education, engagement, tracking and measurement technology platform. With over a 1000 savings projects delivered, are now raising a material investment scale up investment round to create much wider awareness and reach more customers."