According to new research, female-led SMEs are more likely to keep on track with their finances, supply, training, and recruitment rather than male lead businesses who struggle to keep up to date with their books and expenses. Over a quarter of women running small businesses in the UK (28.09%) expect their businesses to expand this year while (44.02%) expect their businesses to remain in its current state. Male business owners feel less optimistic about their establishments as fear the future of their companies as 34.09% are unsure about the state of their small business this year as nearly 10% of SMEs are preparing themselves to sell their company over worries of failure.
Other findings found that nearly a third (37.05%) of women who ran their own business felt to managing their own expenses, taxes, and invoices. Compared to (47.1%) who felt the opposite when it came to keeping track of their accounting. 70.2% of businessmen are constantly chasing for late payments and believe that failure to track invoicing and cash flow compared to women who felt more confident in managing their finances.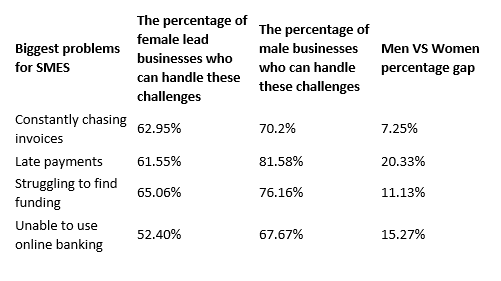 Even though accounting and online banking seem to be the most challenging areas of management for small businesses. Other areas have shown that SME's have to consider how to grow and keep up with trends to see success in managing their own companies this year. Other findings discovered that men were not as confident to keep up to date with tech trends;
73.87% of businessmen are worried about the future of their business
42.03% of businesswomen are not worried about the future of their business after Brexit
Male lead small business has seen the greatest decrease in sales (81.93%) compared to 75.09 of female-led businesses
Nearly three-thirds of businesses struggled to see business growth online ( 74.31%) compared to 67.53% of women who have found solutions against online competition.
Women are more confident in managing social media platforms compared to me
Women are more skilled in web creation (45.22%) compared to 75.19 of men who do not who to design their own web page.